By
for on October 13th, 2019
'The Durrells in Corfu': Season 4 Episode 3 Recap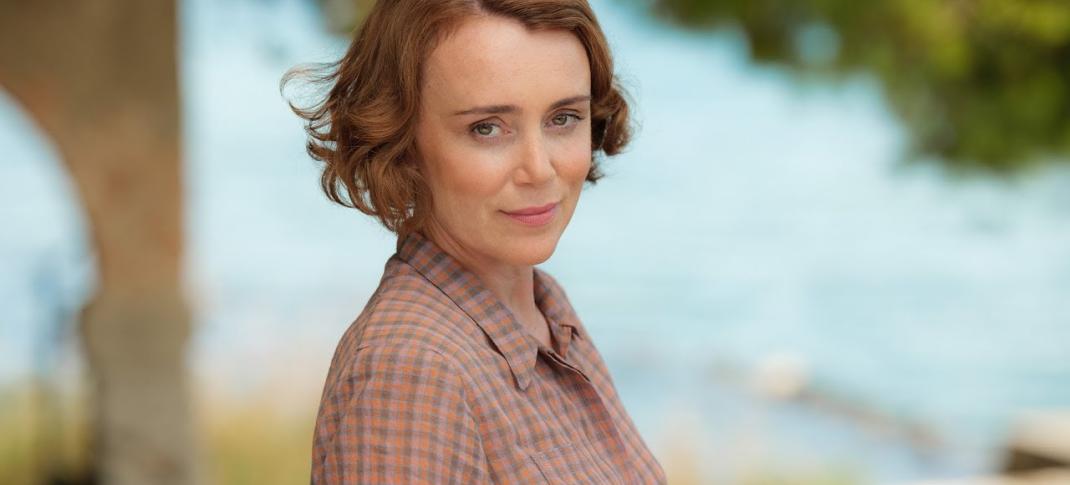 As the final season of The Durrells in Corfu continues, the chaos and nest leaving persists.
Last time we were in Corfu, Leslie organized a disastrous boar hunt for a lodger in spite of Gerry's adamant objections, Margo ran away from home to work out her future and Louisa and Spiros couldn't seem to make a platonic friendship work. The full rundown of Episode 2 can be found here. 
This week, we meet Spiros's elusive and fiery wife, the family ventures out on a picnic from hell, Margo finds her feet in Dorset and Larry continues his bohemian ways on the Continent. 
The Picnic in Kalami
The Durrell guesthouse continues to draw a peculiar clientele, but at least it pays the bills. With fewer offspring around to help (even though it's not like Larry and Margo weren't pitching in much), Louisa is absolutely knackered. Since they can't take a proper holiday, she suggests a day trip up the coast to see Larry, complete with picnic. With Louisa boycotting contact with Spiros again, Leslie's boat, the Sea Cow, will have to get them there.
Mrs. Durrell goes into town to shop for picnic provisions and runs into Spiros and his wife Dimitra (Marina Aslanoglou). After a very awkward introduction, Louisa invites the couple to join the family outing just to be polite. Dimitra accepts to Spiros and Louisa's dismay.
Louisa returns home rattled. She tells Leslie about her encounter in town and describes Dimitra as intense. An unusually observant Leslie suggests that Spiros's wife just wants to get a proper look at Louisa and thinks that the couple joining them for the picnic is a good thing. Louisa couldn't disagree more.
"It'll be awkward, and painful. And Dimitra will turn up with her trump cards, her children. Not literally. They're away, in Athens. And her sultry Greekness. And above all, her unattainable, quietly-lovely husband."
Nevertheless, everyone gathers for the picnic. In addition to the family and the Hakiopuloses, Theo, Basil (yes, he's still here) and Lugaretzia have been invited along. Leslie divides the group, strategically putting Louisa in the car with Spiros, Dimitra and Basil despite the fact Theo is prone to extreme seasickness.
In the car, the conversation begins civilly enough with the women complimenting one another's dresses. But benign chit chat quickly turns tense and not for the last time that day either. For the sake of privacy, Spiros and Dimitra conduct their bickering in Greek.
Meanwhile on the boat, Lugaretzia is very uneasy and Theo is very queasy.  Even the dolphins swimming alongside them can't distract Theo from his seasickness and he ends up vomiting on Leslie. Gerry unsympathetically applauds and Leslie pushes him in the water. Then from out of nowhere, a boom erupts on the water. Theo suspects it's someone dynamiting for fish, an illegal activity punishable by prison time.
The car and the boat arrive almost simultaneously at Larry's place. Unfortunately, despite Louisa sending him word of their visit in advance, Larry is inconsiderately not at home. Seeing as they came all this way, the group prepares to go ahead with the picnic as planned. Spiros thanks Louisa for the food which sets off another quarrel with his wife.
The fish dynamiting continues, this time very close to shore. The picnickers run over to the waterfront where they take turns admonishing the lawbreakers- the most spirited being Spiros's threat to turn them into fish food.
In another unlucky turn of events, goats move in and start gobbling Mrs. Durrell's delicious meal while the party is distracted. Basil, who has been fawning over Dimitra all afternoon, suggests they locate a taverna and all will be well.  What they find is a sketchy establishment owned by none other than Captain Creech (James Cosmo), that man they "meet about once a year, and something bad always happens."
On this particular occasion, Creech provides three things - an unpalatable yet expensive lunch, information that Larry has moved on to Paris without receiving Louisa's letter and two curious lemurs from Madagascar for Gerry's collection of zoo animals.
The luncheon is fraught with uncomfortable interactions and they all involve Dimitra. There's the inappropriate flirting with Basil, her confrontations of Louisa and her escalating private squabbles with Spiros. Lugaretzia mumbles to Leslie that it's bad for a couple to be strangers. Theo's stripped down translation of the pair's disagreement seems to be that Spiros thinks his wife "doesn't like him much anymore."
Leslie leaves the restaurant to check on his boat and finds the dynamiting fishermen towing the Sea Cow from the shore.  They untether Leslie's craft then proceed to blow it to smithereens as they motor away. This leaves Leslie in a screaming rage.
With the Sea Cow out of commission, our motley band of eight people, Roger the dog and two lemurs pile into Spiros's car. On the road, the vehicle overheats and so do the passengers' tempers. Louisa tries to see the bright side and when Spiros smiles at her, his wife lays down an ultimatum. She will walk home unless he turns Louisa out of the car. Spiros refuses so Dimitra starts her self-righteous hike down the road.  Spiros apologizes to everyone having to witness his private problems. Louisa tenderly tells him he didn't ruin their day.
When they finally make it home, Louisa muses that a benefit of her husband dying young was they didn't have time to irritate the hell out each other. Leslie brings up the Louisa-Spiros-Dimitra triangle but Louisa takes quite an objective view on the situation. She's glad to have met Dimitra properly. She's not scary, but rather a lot like herself. Les hints that the marriage is in trouble and if Louisa plays her cards right, she could be with Spiros. (Of course, he also suggested that pushing Dimitra into the sea would mean a happily ever after for Louisa and Spiros!)
Margo in Dorset
Margo has arrived in England and hopes to get a new start in Dorset. When she shows up at the home of Cousin Prue (Felicity Montagu) and Geoffrey (Jeff Rawle) they aren't expecting her. (Apparently the Corfu postal service isn't the most reliable.) After a moment of hesitation, they invite her to stay. She explains that she's come back to England to find herself and become self-reliant.
That evening Margo works on a letter to her family while Geoffrey plans a community talk about being an insurance broker.
 the general public aren't as fascinated by insurance as Geoffrey is and the audience is unabashedly fleeing. Margo feels sorry for him and tries to fill the time with stories of her life in Corfu. Not surprisingly, her entertaining impromptu speech morphs into a hair demonstration. Prue and Geoffrey jump on the Margo bandwagon saying she is very much a part of their gang.
Apparently, the general public aren't as fascinated by insurance as Geoffrey and the audience is unabashedly fleeing. Margo feels sorry for him and tries to fill the time with stories of her life in Corfu. Not surprisingly, her entertaining impromptu speech morphs into a hair demonstration. Prue and Geoffrey jump on the Margo bandwagon saying she is very much a part of their gang.
Back at Prue and Geoffrey's place, they discuss Margo's impressive debut in Lytchett Matravers. Margo decides she might hang around and says she's discovered the key to confidence is being able to express herself - in English specifically.  We'll see if her self-assurance wavers when she takes on governess duties for Maud, who Margo herself describes as "a child who looks like she killed and ate her predecessor."  
Larry in Paris
We learned through Creech that Larry has moved on to Paris, but in authorly style, he provides the details in his more cerebral letters. Basically, he's living the bohemian life – penniless, stealing wine, crashing for free based on the critical success of his "exquisite filthy novel."  Sadly, he never did get his celebratory bottle of champagne from Henry Miller.
Larry also mentions talk of coming war assuring Margo will be insulated from such fears thanks to the good old British refusal to acknowledge that the rest of the world matters or even exists.
We're halfway through the final season already! The Durrell children continue to scatter across Europe while Louisa and Spiros can't seem to stay apart for long. Are your opinions of Dimitra as kindly as Louisa's? Will Margo's resolve be broken by her new charge?  Will we see more of those cheeky lemurs in future episodes? The comments section awaits your thoughts on the season so far.
---
By
for on October 13th, 2019
More to Love from Telly Visions