By
for on November 5th, 2017
'The Durrells in Corfu': Season 2 Episode 4 Recap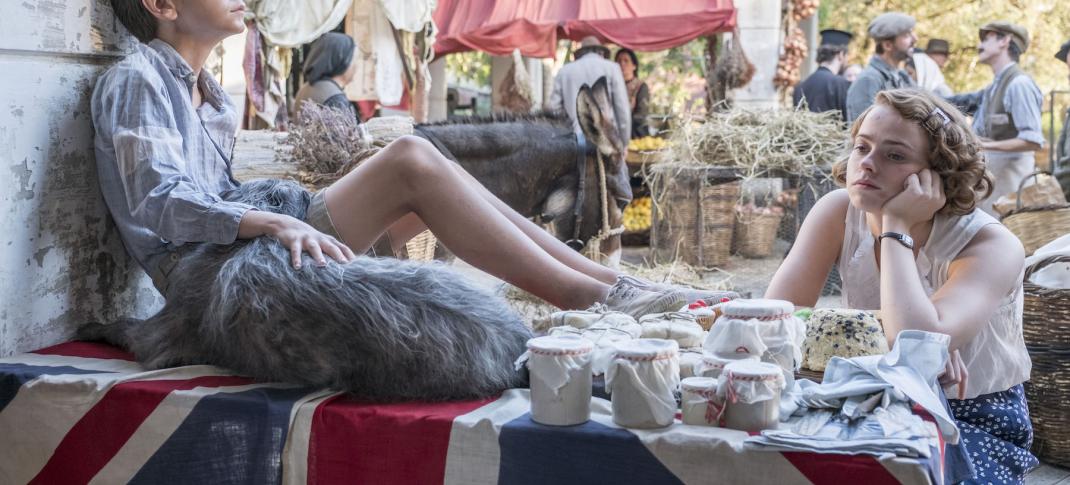 Last time on The Durrells in Corfu, Louisa railed against the reality of getting older; Gerry's avoidance of a traditional education continued; Leslie discovered he has a talent for photography; and Vasilia's seduction of Larry scored a dismaying result. Oh, and Margo was preoccupied with her spots…
This week however, an unusual weather event I'll refer to as The Deluge commanded the everyone's attention. Lugaretzia declares the storm an omen of death and leaves the cursed and extremely leaky house in a hurry. Gerry insists on bringing his menagerie inside which appears to be an inconvenience to which the family is resigned. And the family awaits the return of Aunt Hermione (Barbara Flynn) which has everyone on edge anyhow.
Let's look at the factors that resulted in a "too close for comfort" situation and prompted Louisa to refer to her children as Lumpy, Grumpy, Spotty and Ignorant, shall we?
First off, Larry has the mumps and is convinced Vasilia infected him. The prodigal has returned home to be nursed by his mercifully loving mother. Unfortunately for Louisa, her first born son is an insufferable patient. Larry's obsessive concern is that his affliction will "travel south" and render him infertile.
It's later revealed why Larry is so anxious about this precise complication. In one of those poignant conversations between mother and son that always reduces me to tears, Larry explains that he sees procreation as the supreme act of creativity. He and his siblings are Louisa's masterpieces, momentous works of art that she created. Oh, Larry how can you be so deep and still be drawn in by that dangerous siren of a woman?
Meanwhile Leslie is cooped up in the house and his discomfort is palpable. Stir crazy is too mild a word for this avid young outdoorsman. At first, he takes the constructive step of organizing a roster of family entertainments. The lineup includes Margo with her presentation on fashion, Gerry's conservation talk, Larry's reading of a lofty work in progress and Leslie sharing his most recent artistic foray – a lovely watercolor of the house and grounds. New lodger and Gerry's hapless tutor Donald (Ben Hall) is eager to share his love poetry, but it only draws uncontrollable laughter from his friend Larry and uncomfortable squirms from the object of Donald's affection, Margo.
Poor Leslie finally cracks by heading out into the pouring rain for a frenzied song and dance rendition of "When the Saints Go Marching In". It ends with the overwrought lad flat on his back in the mud, defeated by the elements and asking for his mummy.
The most significant turn of events in this whole deluge scenario, of course, was the introduction of spiritualist Mrs. Haddock (played by Sherlock's Una Stubbs) into the mix. Aunt Hermione happened upon the self-professed medium on the train from London and apparently invited her along to Corfu. The normally skeptical spinster believes her companion to be the real deal though Theo is suspicious of her claims and appalled by her disapproval of science.
Seeing as Louisa has been missing her dearly departed husband a lot recently, the timing of Mrs. Haddock's arrival is curious. Mrs. Durrell considers her marriage the defining decision and glory of her life and moving on is difficult. Larry suggests that marriage is merely paperwork and his mother should look forward to a relationship with a live man – i.e., Hugh. Leslie is angered by his brother's insensitive attitude which only contributes further to his foul mood.
Mrs. Haddock's continual references to the late Mr. Durrell – how he loved the rain, hated to be alone, and is suffering at the prospect of his wife's male admirers- is annoying yet astonishing at the same time. Margo, in particular, is fascinated by Mrs. Haddock who assures she can cure the young girl's spots with faith healing…and cruciferous vegetables. (That cabbage mask was vintage Margo!) As we already know from her brief nun obsession, young Miss Durrell is drawn to the spiritual world so when the medium suggests a séance, Margo is totally onboard.
Despite Louisa's displeasure at the air of morbidity that Haddock has brought to her house, she feels compelled to go ahead with the séance to determine if this odd woman is a fraud or not. With the entire household (including Spiros, Theo and the recently returned Lugaretizia) around the table, Mrs. Haddock goes into a trance and calls forth her "Red Indian" spirit guide, Mawake.
The windows burst open, a pan flies across the room and Louisa detects ectoplasm on her hand. Leslie pulls out his camera to capture the return of his father's spirit and, in the light of the flash, reveals that Mrs. Haddock has a syringe full of slime in her hand.
Aunt Hermione questions what her spiritual friend would have to gain by duping them. It's then that Margo, Leslie and Louisa each sheepishly admit they paid Mrs. Haddock for her services in confidence. The con-artist flees the house as the family searches for evidence of her deception, with the help of one of Theo's books of course.
Louisa comes up with her own way to say goodbye to the spirit of her husband by reading the poem "They Are Not Long" by Ernest Dowson. Larry walks over to comfort his mother as does Leslie, who takes Larry's hand in an offer of reconciliation. (How sweet those Durrell boys can be when they want to, right?)
So in the end, the sun comes out as do the animals and everyone is immediately cheerier. Aunt Hermione, who felt guilty about bringing a fraud into their home, returns with a gentleman friend and a happier outlook. Word comes via Spiros that Vasilia now has mumps and offers to take Larry to town to see her. And after their long and painful captivity, Louisa cuts Gerry a break and excuses him from taking Donald's test.
And Hugh finally makes an appearance– his olive crop was in danger of ruin during the storm – bringing Gerry a new puppy as a peace offering. When he tells Louisa he wants to take care of her and calls her "my angel" she is initially shaken as it was the endearment her husband had always used. After a moment's reflection, however, she accepts it (perhaps as a sign) and tells Hugh that for the first time she feels like she is all his.
Now it's your turn to react and share. I know there is some anti-Hugh feeling out there; I've had some distrust myself. Did this episode change your mind at all?  Did you like the way Louisa was given closure? With only two more weeks to go, the comments section awaits your opinions and predictions about what's in store for the Durrells.
---
By
for on November 5th, 2017