By
for on October 22nd, 2017
The Durrells in Corfu: Season 2, Episode 2 Recap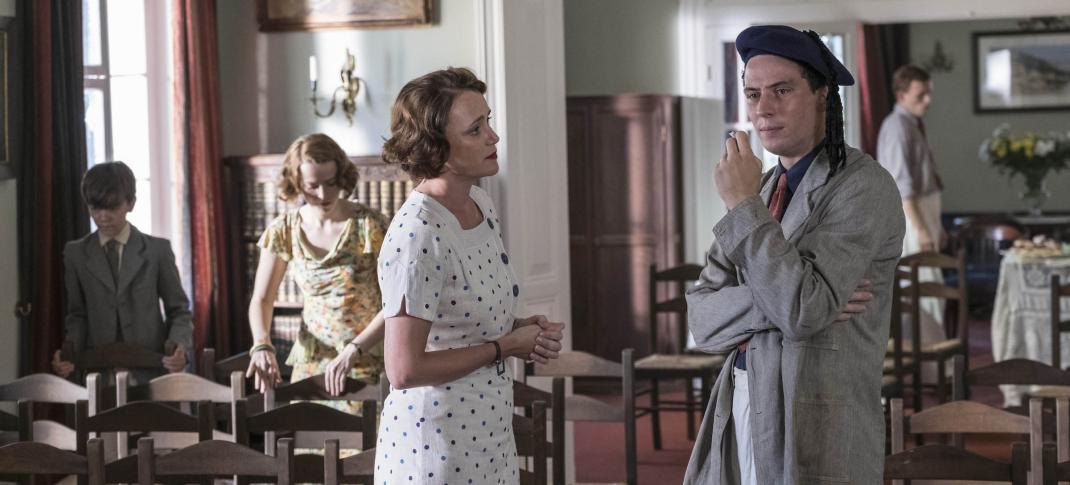 When we last left the Durrells, Louisa had gained a potential new suitor in wealthy British businessman Hugh Jarvis and a rival in new landlady Vasilia Prifona. Gerry's pursuit of animal conservation led to an otter breeding enterprise. Margo's infatuation with a young monk and his peaceful lifestyle resulted in some spiritual reflection. Leslie made amends for his heinous, albeit accidental, wounding of Gerry's canine companion, Roger. And Larry discovered a treasure trove of writing material was under his nose all along. Oh, yeah there was that village-wide "food poisoning by Scotch egg" fiasco as well.
Let me start by saying this episode featured a lot of difficult parenting moments for Louisa. Not that raising kids is ever a doddle, but we find Mrs. Durrell struggling to strike the correct balance between letting her children be themselves and properly supervising them. Essentially, she questions if she's a good mother. More on that later, but first, let's examine what transpired in the life of the Durrell family this week in more detail.
A tutor for Gerry. When Margo informs Louisa that Gerry hasn't slept in his room that night, she panics. The fear of where he might be is coupled with guilt over how she could have lost track of his whereabouts in the first place. The boy's return to the house shortly thereafter prompts a family group hug and the resolution to provide more consistent oversight. Housekeeper Lugaretzia (Anna Saava) is deputized and charged with the task of keeping Gerry in the house. She takes her powers seriously as evidenced by her bold choice to tether the child to the stair railing.
Next Louisa goes on the hunt for a tutor well-versed in math, an area in which several of her children appear to be deficient.  Her first choice, Theo, refuses preferring to remain Gerry's friend and mentor. We'e told the lad growled at Theo when the he attempted to suggest Gerry step up his hygiene habits.
When Sprios is approached he agrees, but his brand of discipline (shouting and belittling) reminds a tearful Gerry of his headmasters in England. The chauffeur and family friend apologizes by bringing the boy a pair of magpies, or magenpies as Sprios pronounces it. When Louisa overhears Spiros teaching automobile maintenance and the philosophy of American women, she dismisses him as Gerry's teacher. And just in time seeing as Gerry's otters are finally getting romantic.
Finally, Louisa recruits the literary-minded Mr. Kralefsky (Vernon Dobtcheff) to be a serious tutor for her wayward child. And serious he intends to be if the stack of reading material he drops off for Gerry to review is any indication. How long will the elderly tutor last is anyone's guess but I would wager not more than an episode or two. Gerry isn't a traditional student, but a tactile, experience-based learner.
Leslie becomes a distiller. Upon overhearing Pavlos telling Margo about the kumquat liqueur the monks make at the monastery, Leslie's entrepreneurial spirit is sparked. When Leslie presents his idea of getting into the alcohol distilling business, he is surprised to find that Larry considers it a good idea and even comes up a with clever slogan.
Leslie sees this as a long-awaited opportunity for he and his brother to work together on a project. Alas Larry has no interest in participating in any meaningful aspect of the liqueur business and tries to humor Leslie by taking charge of the nebulous "strategy planning".
Leslie's disappointment continues when he asks Theo if he can put him down for a crate of this homemade tipple. Theo declines saying barely drinks because, like the English, he cherishes his inhibitions. He also notes Leslie has spelled "liqueur" incorrectly on the bottles' labels.
Though he can't seem to sell a bottle to save his life, Leslie's liqueur appears to be able to get the job done when imbibed at a family celebration. Under its influence Margo thinks drinking the stuff makes her wise, Lugartezia rides a bike into a bush and Theo attempts to walk on water. Guess he was willing to part with his inhibitions in this case, huh?
In the end, Leslie realizes his business idea is a bust and decides to cut his losses by selling his remaining stock to the monks. Unfortunately, Pavlos isn't there when the young businessman makes his pitch and the monks, who don't speak English, assume Leslie is giving them the liqueur instead.  
Larry spreads his wings. Larry's novel, The Pied Piper of Lovers, has been published in England and no one seems to care; not friends from England sending congratulations, not the women sitting in the square, not Pavlos who says the Bible is the book that offers everything and especially not his family. Theo alone seems to have read it, but that's a given considering he's the most bookish, cultured person on the island.
Louisa turns very practical, suggesting Larry write for greeting cards or go to work for Hugh at this olive press factory if the writing goes nowhere. Even Leslie notices how much her dismissiveness hurts his brother and tells Louisa she should be kinder to Larry. Mrs. Durrell takes this to heart and apologizes to her son telling him she wants to help with his career. She also assigns the novel as mandatory reading to the entire family. (Except Gerry. It's too rude for a twelve-year-old after all.)
She also enlists Theo to arrange a book reading in the town to promote Larry's novel. The family invites everyone they know yet on the day of the reading, one lone intellectual shows up, Gerry's soon-to-be tutor, Mr. Kralesfsky. Margo drags another man off the street with the promise of free food.
Mortified, Larry calls the event off. Meanwhile Louisa is angered that her friends Florence and Hugh didn't even care enough to show up. In fact, when she goes by Hugh's house to confront him he seems surprised that his attendance mattered that much to her and that he prefers when it's just the two of them. Louisa explains that she comes as part of a bundle. This event was important to Larry so it was important to her.
As luck would have it, Theo salvages the day by checking in at the post office. It appears the Durrells' mail wasn't being delivered because the postman was afraid of Gerry's animals. In the tardy delivery, Larry has a packet of letters from colleagues back in Britain telling him how well his novel was being received. A toast is made to Larry and the party continues back at the Durrells. Unfortunately, the celebratory spirit doesn't quell Larry's restless unhappiness.  The next morning, he blames his mother for the failure of the book reading, the restrictions placed on him in the house and even Gerry's thieving magpies who stole a large number of pages from his latest manuscript. He has decided to move to a room above a bar in town. 
As an recent empty nester, this storyline really hit home. It was touching to see how Larry haltingly worked to make sense of his life. First he entreats his mother for support and her assurance that everything will be all right. However, upon this departure, he reassures Louisa that she is a good mother, but if anything, he is too happy there and needs to experience the harder side of life. When Louisa tells Larry that his leaving is like becoming a widow all over again, I understood exactly what she meant.  "I'll wait for you to say something and you won't be there." I must admit I shed more than a few tears watching that scene. 
So Louisa's left with Margo, who by her own admission, likes boys too much to make a good nun; Gerry who is becoming more feral by the minute; and Leslie who, despite how much he'll miss having Larry around, may actually blossom in his older brother's absence. Louisa must also be pondering her need for the companionship of someone other than her children. Do you think she should look to Hugh, the man she described as either crackers or very self-confident, or do you think she should hold out for someone better? And what about that surprise announcement that Florence is pregnant after all these years? 
Now is the time to discuss all the stuff that happened and the feelings the Durrells made us experience this week. The comments section is awaiting your reactions and predictions!
---
By
for on October 22nd, 2017