By
for on September 27th, 2019
'The Durrells in Corfu' Highlights: Season 1 Episode 6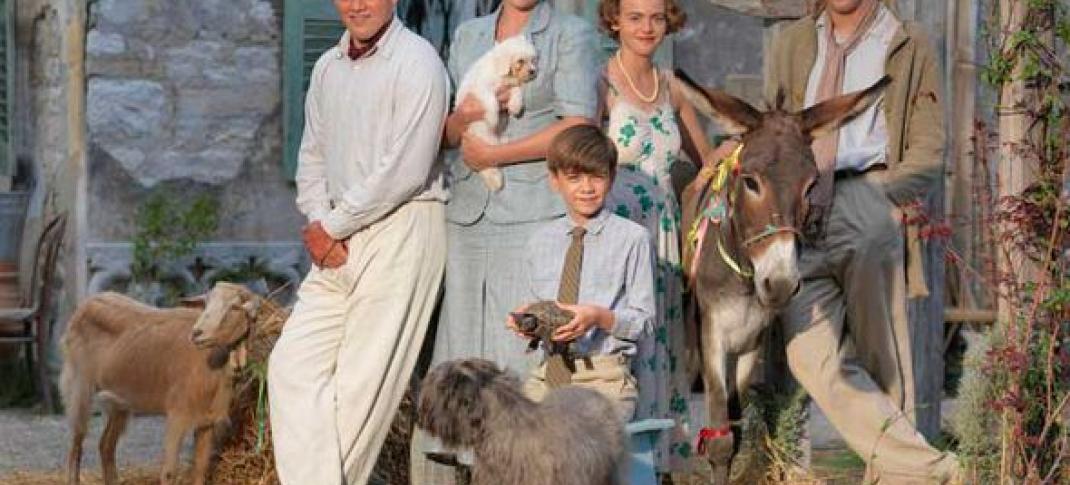 The fourth and final The Durrells in Corfu season debuts on Sunday, September 29, so we're finishing up these season one highlight recaps just in time!
Last time Louisa's disapproving Aunt Hermione tried to force the Durrells to return to dreary Bournemouth, Larry gave manual labor a try, Margo neglected her job duties and Sven and Louisa got engaged.
The main story of the season one finale is, of course, the last-minute unraveling of Louisa and Sven's relationship. The other Durrells have things going on as well, but it's all woven together with their mother's sudden engagement and wedding plans. Therefore, we will break down the highlights of this episode in stages rather than storylines.
The Engagement Is Announced
Louisa informs the family of her and Sven's engagement. Everyone is congratulatory except Leslie. Mrs. Durrell explains that she adored their father, but she's been alone for eight years. Sven is resourceful, handsome and she loves him.
Meanwhile Gerry feels moved to share his animals with the public. The Countess's fragile mood continues which Margo is finding boring. They just stay inside with the shutters drawn.
The Durrell kids invite Sven to the house to fill out a questionnaire that they've devised. He good humoredly refuses so they proceed to interrogate their mother's fiancé.
Larry's girlfriend Nancy, who arrived from England with Aunt Hermione in the last episode, has stayed on living with Durrells.  She's beginning to feel like an intruder in their crowded, chaotic house and suggests that she and Larry should get a place of their own. He doesn't seem terribly keen on the idea.
A Date Is Set
Despite the vague reservations of some family and friends about their marriage, Sven and Louisa move forward to choose a wedding date. He wants to get married soon, like in a week or two. A bit surprised by his haste, Louisa suggests getting to know one another a bit better first. But when Sven says he doesn't believe in sex before marriage, the long-celibate widow agrees to the two-week time frame.
Gerry is preoccupied with other matters as he and Theo prepare to open his menagerie to the people of Corfu. Margo takes the opportunity to pick Theo's brain about the Countess's refusal to leave her house. He suspects she suffers from agoraphobia, a fear of open spaces and suggests Margo try relaxation and reassurance to help her employer feel more in control.
At dinner, Louisa informs her children that the wedding will take place in two weeks. Larry asks if she's pregnant and the others express various concerns. Nancy simultaneously congratulates Louisa and annoys Larry with her "no time like the present" platitudes.  
Louisa notices the touchiness between the couple and presses Larry to confess that he and Nancy have discussed moving out. Despite her own life-changing nuptials, Louisa seems blindsided by the idea that Larry would leave. Though he's sad too, Larry tries to sell the idea as a better economic situation for everyone.
Mrs. Durrell has no intention of letting go of her eldest child and contrives a heart-to-heart with Nancy. Louisa feigns concern for her son's beloved suggesting that Nancy is too young to settle down, and even worse, that Larry is incapable of being faithful to her.
A bit later after Louisa has scooted off to town, Sven shows up with a loaner goat for Gerry's zoo. Larry is typing on the veranda, so Sven facetiously asks if he's ever coming back to work for him. Larry admits to drinking Sven's ouzo and questions the "emergency wedding thing."  Sven reiterates his stance on premarital sex but then contradicts himself when Larry asks if that means he's never had sex with a woman.
Sven departs but their conversation has sparked a memory of the male nude sketches Larry saw in the farmer's house. He confides his suspicions about Sven's sexuality to his siblings and asks if he should tell their mother. 
The Wedding Planning Begins
Margo begins her project to help the Countess by inviting her to her mother's wedding.  The elderly woman immediately declines, but Margo dangles the idea of lending her stylish touch to their humble, at-home reception which intrigues the Countess.
So far Louisa's only plans for the reception are serving little sausages, so she appoints Leslie as her wedding organizer. He suggests a guard of honor with a shot for every year of her life and Lugaretzia offers to make a prune wedding cake.
Spiros brings Gerry a carful of customers for his zoo which delights the youngest Durrell immensely. As he gives a thoroughly informative tour to his guests, a distracted Leslie gets stung by a scorpion in a jar. Gerry assures him stings are harmless unless you're very unlucky. This does nothing to reassure Leslie who shouts "I am very unlucky! Look at my life!"
Meanwhile Margo's scheme to cure the Countess encounters a setback when she arranges for Spiros to take them to the Durrells's house. The Countess gets in the car, but puts a stop to the excursion before they even leave the grounds.
Louisa Discovers Sven's Secret
The night before the wedding, Louisa sets out for a romantic celebratory dinner at her fiancé's house. Larry cryptically suggests she spend the night to "check everything works."
At Sven's place, Louisa is treated to a post-dinner accordion serenade and her bridegroom informs her he will also be playing at the wedding. When he goes to tend to an errant goat, Louisa takes the opportunity to sabotage the offending instrument and engage in a little snooping. She gets more than she bargained for when she finds photos of Sven in a compromising situation with another man. Shaken by this discovery, Louisa hurriedly puts them away, makes a hasty excuse and walks home alone.
Leslie's hand and forearm are now very red and swollen . Gerry worries that his scorpion stung Leslie because it was confined and wonders if he should set his creatures free. Theo suggests they do it at the wedding party tomorrow as a symbolic gesture and Gerry agrees.
A preoccupied Louisa arrives home early so the children hide Leslie's injury from her. Louisa meets Larry on the stairs and defeated, corroborates Larry's hunches.
In the meantime, Leslie is plowing ahead with the reception plans and berating Nancy to join in and help. Nancy complains again to Larry about their living situation. Weary of the conflict, he explains his complicated family ties. He loves and understands them and when they suffer, he suffers. Nancy issues an ultimatum -she wants the two of them to go back to England to start their own life together.
The Engagement Is Broken
With urging from Larry, Louisa goes back to talk things out with Sven that night. She admits to seeing the photos of him kissing his male friend and waits to hear his side. Sven concedes his romantic past with men and his inexperience with women but doesn't see this as a problem since he loves being with her. Louisa suggests she's looking for a fulfilling sex life. Sven finally reveals his real desire for this union- to escape the prison of pretending and lies that being a gay man involves. Louisa says no matter how much they love one another it's not right for either of them and that marriage would be more of a lie than his life is now.
Larry sits at his desk the next morning perusing a list that outlines his "stay or go" conundrum when a publisher's acceptance letter is shoved under his door.  He immediately goes to Leslie to share his news and ask his advice. That this is a first is not lost on an honored Leslie who tells Larry not to leave. Girlfriends come and go but families are forever.
Nancy enters soon afterward, insisting that she and Larry make plans to return to England together. Larry's irritated by her selfish demands considering the good career news he's just received.  Then Nancy drops the bomb that Louisa has tipped her off to Larry's infidelity. 
Incensed, Larry goes in search of his mother and finds her in the dining room announcing that the wedding is off. She and Sven realized they are very fond of each other but not in the right way. So no marriage, but the best party ever!
Larry confronts Louisa about insinuating to Nancy that he was a philanderer. Louisa admits to the lie and apologizes, but says it was her turn to be selfish and she didn't want him to leave.  When Larry goes back upstairs to find Nancy, she is gone. There's a note on his typewriter letting him know that she's leaving on the 5:00 ferry and hopes he will join her.
The Reception Party Goes on as Planned
Gift bearing guests begin arriving, fully expecting to see a bride and groom at the Durrell home. Louisa makes the emotional announcement that the wedding has been cancelled.
Dr. Petridis treats Leslie's arm, but when it's clear Louisa is clueless about his injury, the doctor downplays the severity of his condition. He's going to recover anyway. The Countess and Dennis make a surprise appearance as well as Larry's friends, Max and Donald. Sven shows up and quietly joins the band with his accordion.
At this point Louisa notices that Larry is nowhere to be seen and that is because he's at down at the docks with a suitcase in his hand. He boards the ferry and embraces Nancy.
Back at the party, Gerry has a last-minute change of heart about releasing his animals saying he needs to be with them a little longer. Theo is relieved.
Louisa sits apart from crowd of dancing, laughing guests when her prodigal son returns. Though he looks melancholy, she thanks Larry for coming back and says she's proud of him for getting his book published. She's proud of all her children and dreams of the day when they find happiness, fulfillment and love. Larry doubts this will happen, but Louisa says it's her job to make it happen.
If nothing else, the Durrells have a flair for entertaining and their home is welcome to all.  Celebrating in the face of hardship is an admirable quality indeed and I expect we'll see another party or two in the season to come. Please join me in the coming weeks as I recap the remaining six episodes of The Durrellls in Corfu. 
---
By
for on September 27th, 2019