By
for on September 17th, 2013
'Downton Abbey' Star' Jessica Brown Findlay Joins Daniel Radcliffe in 'Frankenstein'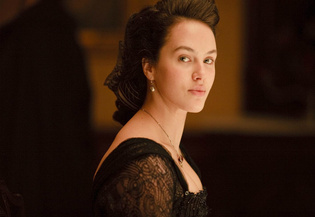 Life after Downton Abbey continues picking up speed for star Jessica Brown Findlay. The former Lady Sybil has recently signed on to star in 20th Century Fox's upcoming film adaptation of Mary Shelley's Frankenstein.
Fox's version of the Frankenstein story – and there are several in development around Hollywood at the moment, because apparently Frankenstein fever is a thing now – will tell the tale through the eyes of the doctor's assistant, Igor. (Who is, of course, not in Shelley's novel at all, but we'll let that slide because the premise is interesting, in a Rosencrantz and Guildenstern Are Dead kind of way.)
X-Men: First Class' James McAvoy is set to play Victor Frankenstein, while Harry Potter star Daniel Radcliffe – who continues to do everything he can to take roles that are not like Harry Potter – will play Igor. Reports have Findlay playing a character called Lorelai, a circus performer who becomes close with Igor.
Oh, and Sherlock's Paul McGuigan will be directing the film, so you know the movie will at the very least look incredible. 
Findlay, whose character departed Downton in dramatic fashion last season after she decided not to renew her contract, is making the most of life after the Crawley clan. Like her former co-star Dan Stevens, who is also testing the Hollywood waters, she's landed several fairly significant film roles since her time on the popular costume drama. First up is the drama Lullaby, which is due out in December and features a cast of such notables as Terrence Howard, Amy Adams and Richard Jenkins. She will also star alongside Russell Crowe, Colin Ferrell, Will Smith and Matt Bomer in the highly anticipated film adaptation of Mark Helprin's novel Winter's Tale, due out next February.
No word yet on when this particular take on the Frankenstein story will hit theaters, but it's likely to screen sometime next year.
What do you think of Findlay's post-Downton career choices thus far? Are you looking forward to seeing her play someone besides Lady Sybil? 
---
By
for on September 17th, 2013