By
for on July 5th, 2016
The 'Downton Abbey' Cast: What Are They Up To Now?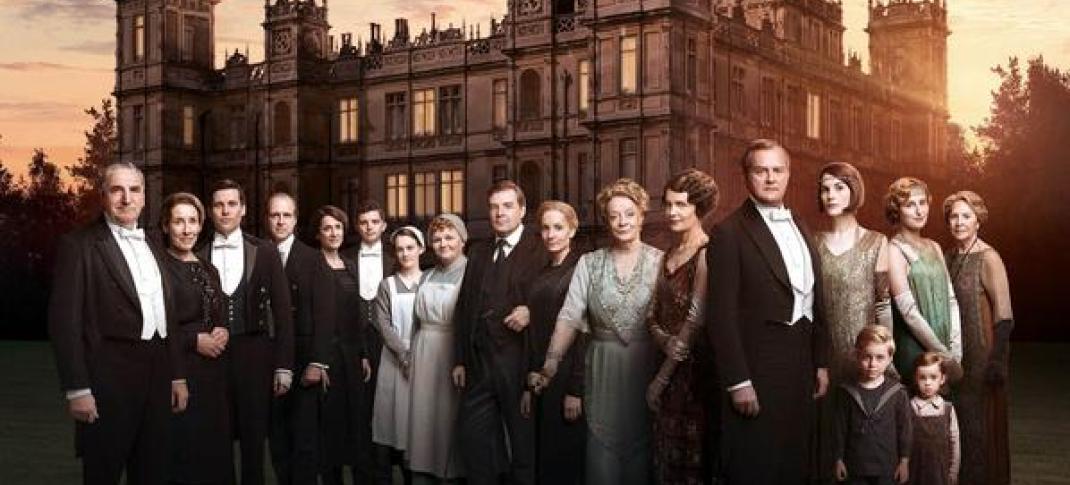 It's been a few months since we sadly had to say farewell to period drama Downton Abbey and the many popular stars that comprised its cast. Knowing that come this January, we won't see the familiar faces of Michelle Dockery, Hugh Bonneville or Maggie Smith on our screens every Sunday night still feels pretty surreal, and to be honest, is something we are all probably trying to avoid thinking about as much as possible.
But, even though Downton is gone (SNIFF), it doesn't mean that we've said goodbye to all the great actors who played the Crawley clan forever. Many of the show's stars have brand new projects in the works (many of which look markedly different from their respective roles when they were at Highclere). 
So let's see what they've been up to, shall we? 
Michelle Dockery. Dockery's next starring television role will be in the TNT drama series Good Behavior, in which she plays a con artist who's been recently released from prison and subsequently gets caught up in a hitman's plan to murder someone's wife. So, not exactly Lady Mary Crawley, yeah? Dockery seems to spend a lot of time wearing a variety of wigs, fun outfits and disguises in this show, and it's enough against type for her that it looks like it should be fun. 
Good Behavior is set to premiere this Fall. Dockery also recently wrapped production on a film entitled The Sense of an Ending, which also stars Charlotte Rampling, Jim Broadbent and Freya Mavor.
Hugh Bonneville. Possibly the actor who has stuck mostly closely to his Downton roots, Bonneville's next big project is the upcoming period drama The Viceroy's House. This film tells the story of Lord Mountbatten, who in 1947 assumed the post of the last Viceroy, charged with handing India back to its people. Bonneville plays Mountbatten, and stars alongside Gillian Anderson and Michael Gambon, among others. 
Bonneville also appeared as the Duke of Gloucester in sequel series The Hollow Crown: The Wars of the Roses, which aired as part of the BBC's celebrations surrounding the 400th anniversary of Shakespeare's death (it's due to come to America on Great Performances this Fall.)  He also did a brief guest role on the musical comedy series Galavant, which is 100% worth looking up if you haven't seen it. (The whole show, for sure, but specifically Bonneville's part.) 
Elizabeth McGovern.  McGovern will next star alongside Uzo Aduba, Maggie Grace, and Cicely Tyson in Showing Roots, an indie drama about two women who work in a local beauty shop in Louisiana who are inspired to help integrate their community after the 1977 broadcast of the miniseries Roots. McGovern plays the beauty shop owner, and has an amazingly vibrant blonde wig on in this trailer. Wow. (I don't think Cora Crawley would approve!) 
Laura Carmicheal. Post-Downton, Carmichael did a bit of theater, starring in Jamie Lloyd's psychological thriller The Maids alongside Orange is the New Black's Uzo Aduba. She also had a big role in gritty ITV detective drama Marcella, a fairly big departure from her time as Edith Crawley if the reports of the series' graphic violence and gore are to be believed. (Yikes!).
Her next film role is perhaps more familiar territory – the 1940s historical romance A United Kingdom, where Carmichael takes on another sibling role, as a character responsible for introducing her sister to her future husband in Africa.
Joanne Froggatt. Best known for playing the beloved, long-suffering housemaid Anna Bates in Downton, Froggatt will next be seen going completely against type in the role of infamous Victorian poisoner Mary Cotton, one of the first female serial killers. The two-part drama Dark Angel will air at some point later in 2016 in both the UK and  in the US on PBS's Masterpiece. 
Froggatt also has roles in several other films in various stages of production, including A Storm in the Stars, Starfish, and A Streetcat Named Bob.
Brendan Coyle. Though Coyle's schedule post-Downton seems to have been fairly light, the actor has popped up here and there including an episode of Syfy series 12 Monkeys. He also has a fairly major role the tearjerker romantic drama Me Before You, opposite Game of Thrones' Emilia Clarke and The Hunger Games' Sam Claflin. (Though blink and you'll miss him in this trailer.) 
Coyle is also starring in the film The Rising: 1916 with Merlin's Colin Morgan, which tells the story of the Easter Rebellion, an armed insurrection launched in 1916 with the aim of ending British rule in Ireland and establishing an independent republic. Unfortunately, this film seems to have run into quite a few delays so its exact release date appears to be up in the air at present.
Allan Leech. Leech has a supporting role in the upcoming thriller Hunter's Prayer, which tells the story of a hired assassin who bonds with his intended female target. If you're more of a gamer type, you can also catch Leech doing voiceovers as part of The Witcher 3: The Wild Hunt.
In short: Here's hoping someone gives this guy a development deal ASAP. 
Robert James-Collier. The guy who played everyone's favorite Downton villain – or anti-hero, I guess, depending on how your personal feelings about Thomas go, most recently starred in the heart-warming family film A Christmas Star. To the surprise of probably no one, Robert James-Collier played – yup, you guessed it – the bad guy. 
Kevin Doyle. Doyle, who played everyone's favorite often bumbling, always kind of adorable manservant Molesley, has only had one fairly significant role so far since Downton has ended, but it's a pretty big shift in tone for him, as far as characters go. He joined the cast of the second season of popular crime drama Happy Valley as Detective Sergeant John Wadsworth, who is brought into a case with Sargeamt Catherine Cawood (Last Tango in Halifax's Sarah Lancashire), the show's central character. This is a much darker role for Doyle, as Wadsworth is a character with some dark tendencies, and quite a few secrets, including but not limited to the mistress with whom he's been having a two year affair. 
Maggie Smith. The indomitable Dame Maggie Smith managed to take on several fairly major film roles throughout her time on Donwton, including in sequel The Second Best Exotic Marigold Hotel alongside Judi Dench, Bill Nighy and a host of other A-list Brits.
She also starred in the big screen adaptation of Alan Bennett's The Lady in the Van, reprising her role as Miss Mary Shephard, in the true story of an elderly woman who lived in a dilapidated van in the playwright's London driveway for 15 years. 
Sophie McShera. McShera, who played kitchen maid turned cook Daisy on Downton, scored a fairly sizeable role playing another servant (named Gwynne) on the ABC musical comedy series Galavant. McShera sang frequently on the show, and the songs are pretty hilarious, if you ask me. 
Sadly, Galavant was canceled after its second season concluded, though you can still find the whole run on iTunes. McShera also starred opposite Russell Tovey and Sarah Hadland in comedy series The Job Lot, and portrayed the infamous Wallis Simpson in an episode of Drunk History. 
Dan Stevens. Everyone's favorite dearly departed Downton dreamboat has kept himself fairly busy since leaving Highclere Castle behind – starring in a variety of films ranging from swoony period drama Summer in February to creepy thriller The Guest to children's flick Night at the Museum 3. He even did a quick turn on Broadway – with an American accent – in The Heiress.
Next up for Stevens is starring opposite Harry Potter alum Emma Watson as the titular Beast in Disney's upcoming live-action version of Beauty and the Beast and playing a blind man who suddenly regains his sight in the drama The Ticket. He'll also be returning to our television screens for the first time since Downton later this year, headlining Legion, the latest Marvel-based superhero drama for FX. 
Have you seen any of the former Downton folks in non-Downton roles you particularly liked? What would you like to see them do in future?
---
By
for on July 5th, 2016