By
for on December 1st, 2022
'Doc Martin' Will Officially End With a Holiday Installment This December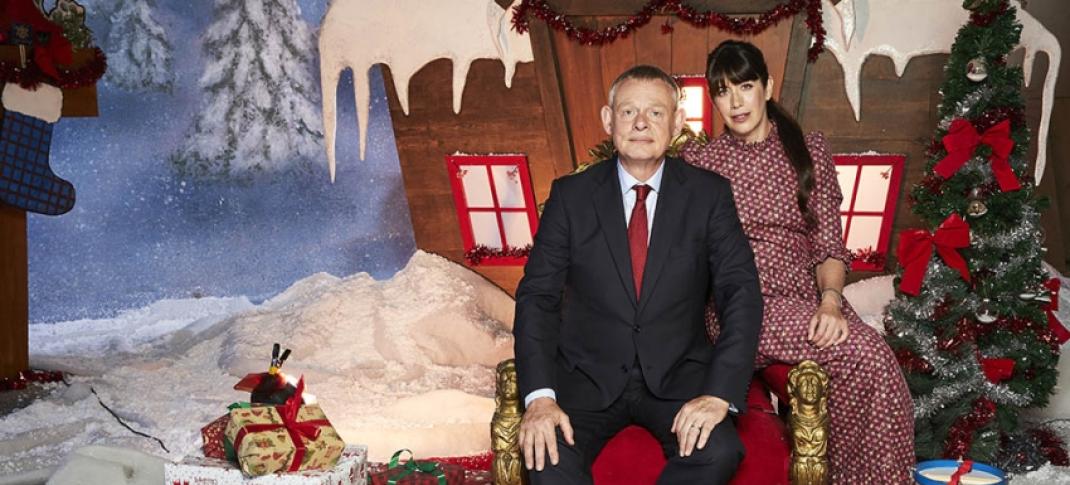 Although the tenth and final season of Doc Martin has concluded, we're still not quite finished with Portwenn just yet. (Much like the Ellinghams themselves!) The Season 10 finale ended with Martin and his wife Louisa deciding to abandon their plans to move to London after a series of dramatic emotional events caused them both to reconsider what they truly wanted from life. This is, technically I suppose, a spoiler, but did anyone really think that Doc Martin would wrap up forever by having its titular character abandon the quirky little weirdo village that's become his home? (Of course not!))
But that's not the end of the story. The series will officially wrap up with something brand new: A holiday installment. It's a little bit hard to believe, given the fact that this show has run ten seasons over two decades, but we've never seen a Doc Martin Christmas Special before.  What can we possibly expect?
"Snow, Christmas lights, the lovely Claire Bloom came back to play the character of the Doc's mother, and Ron Cook as Santa," star Martin Clunes told ITV. The episode will see Martin learn about the true magic of the holiday after forcing the local Santa's grotto to shut down after he suspects Jolly Old St. Nick of having something contagious and posing a threat to local children. (Which, to be fair, is exactly the plot I'd expect from a Doc Martin Christmas episode.)
"You can imagine the doctor isn't too keen on Christmas for his own tortured reasons," Clunes said. "It's never stopped making me laugh, I don't know why because if it was a real person who had had such an awful upbringing you'd feel nothing but pity for them, but because it is him it just makes me laugh."
The series' final installment will see all the major cast remembers return, from Caroline Catz as Martin's wife Louisa and Dame Eileen Atkins as Doc Martin's formidable Aunt Ruth to Ian McNeice as Bert Large, and Joe Absolom as Bert's son, Al. John Marquez returns as PC Joe Penhale, along with Jessica Ransom as the doctor's former receptionist Morwenna Newcross and Selina Cadell as the local pharmacist and neighborhood gossip Mrs. Tishell.
Season 10 ended on a high note for the series, with nearly six million viewers tuning in to watch. 
There's no confirmed date for the holiday finale yet in the U.K., though most are expecting it to broadcast on Christmas Day. (ITV has yet to announce their festive programming schedule.) American viewers will be able to watch soon after on streamer Acorn TV, where it will arrive on Saturday, December 31.
A special retrospective, entitled Farewell to Doc Martin, a one-hour documentary that explores the longevity of the series over the years, as well as offering behind-the-scenes footage of the final season with the cast and crew will also be available to stream. 
---
By
for on December 1st, 2022
More to Love from Telly Visions