By
for on March 17th, 2022
'Derry Girls' Releases A First Look At the Final Season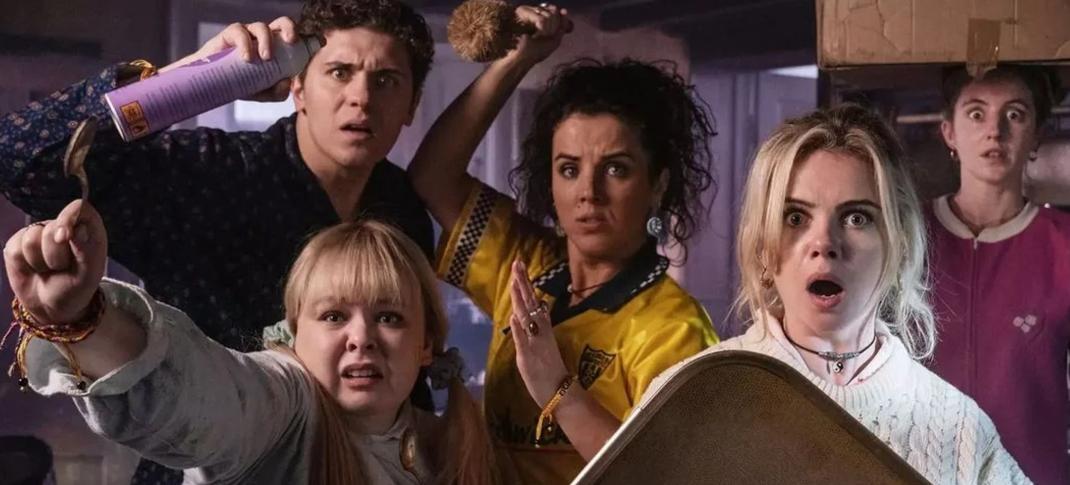 Derry Girls was one of those shows that snuck up on Americans. The series, which premiered in 2018 on Channel 4, was one of the many U.K. titles Netflix imported as part of their strategy to keep the content coffers flowing as previously reliable production studios (like Disney and Warner) pulled their titles to stream on their platforms. But despite the streaming service under marketing the series, nothing could suppress the girls. By the time they starred in their own celebrity episode of The Great British Baking Show: Holidays, the show was a bonafide hit on both sides of the pond.
But nothing good can stay, and the girls are growing up. Like many high-school set teen coming of age shows, the girls are heading towards the end of their teen years. (And some have become household names in other shows.) Derry Girls Season 3 will be the series' last bow, estimated to arrive over two years since Season 2 aired. That last part isn't the show's fault — like many series, plans for a third season after Season 2's 2019 success ran right into the maw of the pandemic shutdowns and U.K. lockdowns of 2020. Filming for the final season started in mid-2021, wrapping just before Christmas.
Though Channel 4 has not announced a fixed release date yet, the network has released the first look image for the girls in their final season and the show's first trailer as a St. Patrick's Day present for us all. From the looks of things, the peace process is underway between the U.K. and Northern Irish governments, but not so much among the girls themselves. (Also, the soundtrack, you guys! I know I am showing my age, but I swear when the deep cut Fatboy Slim track kicked in, I started rocking out at my desk.)
Here's the Channel 4 synopsis for Derry Girls' final season.
While there's hope in the air that The Troubles may finally be over, their troubles are only just getting started as they get ever closer to 'adulthood.'
The final season of Derry Girls once again brings back Saoirse-Monica Jackson as Erin, Louisa Harland as her cousin Orla, plus Nicola Coughlan as Clare,  Jamie-Lee O'Donnell as Michelle, her two BFFs, and Dylan Llewellyn as Michelle's tag-along English cousin, James, aka The Wee English Fella. Co-stars for the final season include Tommy Tiernan (Gerry), Tara Lynne O'Neill (Mary), Ian McElhinney (Granda Joe), and Kathy Kiera Clarke (Aunt Sarah). Siobhan McSweeney also reprises her role as Sister Michael, the Headmistress of Lady Immaculate College, where the girls are preparing to graduate.
As for whether or not more Derry Girls will ever be in the offering, creator Lisa McGee did say they might return in some form someday. But Nicola Coughlan is now a household name from Bridgerton; and Saoirse-Monica Jackson is set to star in the DC Films superhero movie The Flash. Jaime-Lee O'Donnell is headlining the upcoming Channel 4 series Screw, and Dylan Llewellyn is cast in the BBC/FX co-production Pistol. It seems like the Derry Girls cast members are growing up and going their separate ways in real life too.
Derry Girls does not have a release date on Channel 4 as yet, but when it does, it will be 120 days from the finale airing (not 90!) before it lands in the U.S. on Netflix. Seasons 1-2 are streaming on Netflix now.
---
By
for on March 17th, 2022
More to Love from Telly Visions