By
for on September 18th, 2023
'Derry Girls' Lisa McGee's Next Series Tells Us 'How to Get to Heaven From Belfast'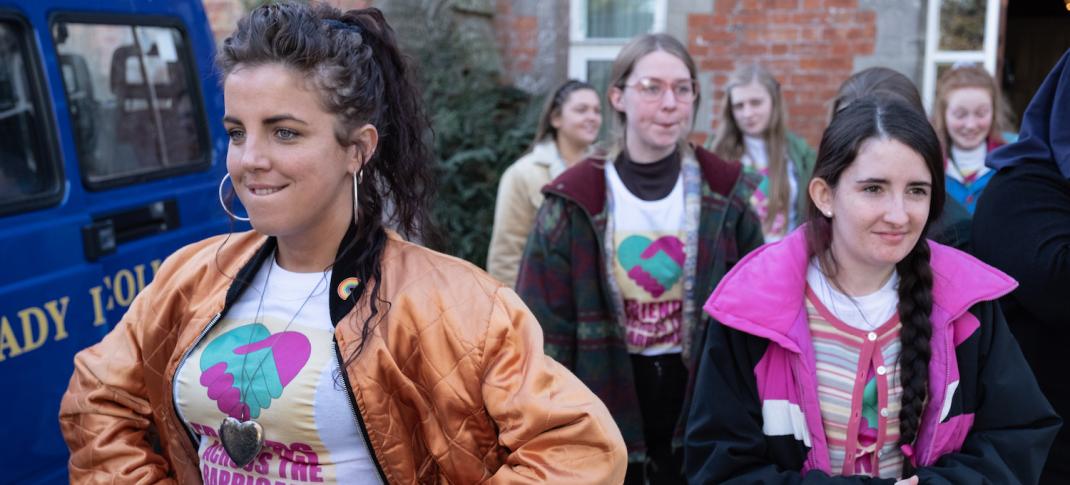 Derry Girls is, hands down, one of the absolute best comedies released in recent years. A story of friendship, feminism, and growing up set against the background of The Troubles in Northern Ireland, it's both hilarious and heartfelt and the worst thing about it is that it only ran for three seasons, generally perfect though they may have been. (Translation: if you haven't seen it yet, please fix your life immediately.)
The series' third and final season aired last year, but creator Lisa McGee is already working on her next project, a comedy-thriller for Channel 4 called How to Get to Heaven from Belfast. 
Per the Channel 4 press release announcing the series, the comedy will follow the stories of Saoirse, Robyn, and Dara, three women who have been friends since childhood. But now that they're all in their thirties they lead very different and largely separate lives. Saoirse is a successful writer with a penchant for self-destruction; Robin is a stressed-out mom of three young boys, and Dara is forced to care for an elderly parent full-time. 
But when the women each receive an email informing them of the death of an old classmate they were all once very close to, it's clear they all have some unfinished business between them. The friends decide to attend Greta's wake together and soon find themselves embroiled in a mystery, where nothing is quite what it seems. 
In order to discover the truth, the three friends are about to embark on an adventure that will take them from their native Belfast, a city full of ghosts and decorated with murals that hold painful reminders of the past, to the mythic wildness of rural Donegal and right across Ireland, as they attempt to put the pieces of the puzzle together. Even if their own complicated, chaotic, and messy lives often get in the way. 
"I feel so incredibly lucky to be making another show for the phenomenal Channel 4 and to be doing it with Hat Trick Productions again and the creative team behind Derry Girls, the mighty Liz Lewin and Caroline Leddy, is just a dream," McGee said in a statement. "I've wanted to make a comedy thriller set in Northern Ireland for SUCH a long time.  I cannot wait to share these flawed funny women with everyone."
The eight-part series was commissioned by Charlie Perkins, Head of Comedy at Channel 4, and will be a collaboration between the network's Comedy and Drama departments. Series creator McGee will also write the show, which will be executive produced by Caroline Leddy (The Inbetweeners), Liz Lewin (London Irish), and Jimmy Mulville. (Leddy and Levin were also part of the Derry Girls creative team.)
"This is huge. We couldn't be prouder that Channel 4 feels like this extraordinary show's spiritual home," Perkins said in a statement. "Getting to know the multi-hyphenated talents of Lisa, Liz, Caroline, and their collaborators at Hat Trick Productions has been one of the greatest pleasures in my first year as Head of Comedy. We can't wait to bring Lisa's next world to life for all those who already love her work and many more to come."
Further information about How To Get To Heaven from Belfast, including casting, will be announced in due course. Seasons 1-3 of Derry Girls are currently streaming on Netflix. 
---
By
for on September 18th, 2023
More to Love from Telly Visions