By
for on February 28th, 2017
Dame Diana Rigg Joins 'Victoria' for Season 2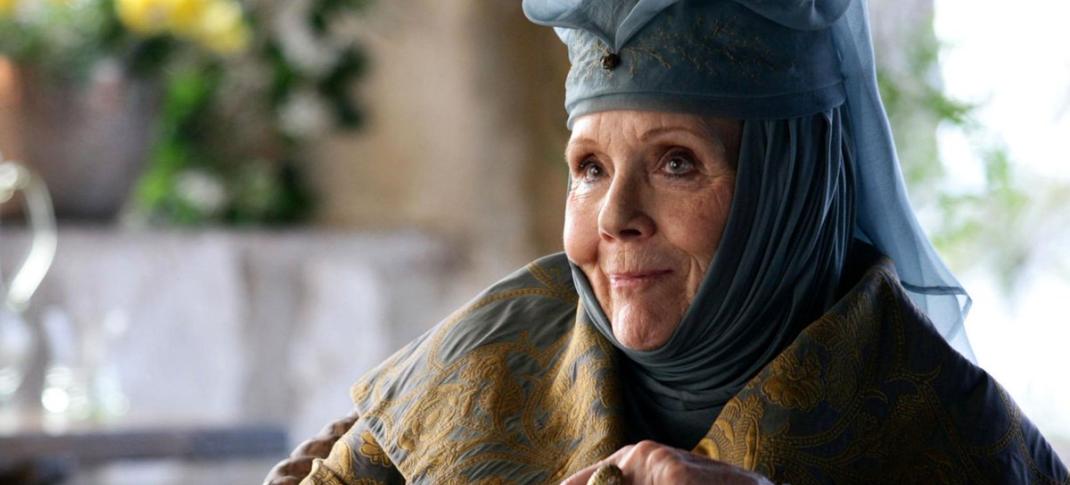 Big news for Victoria fans! Acting legend Dame Diana Rigg is officially joining the cast for the period drama's second season, making an already buzzy series even more exciting.
Rigg is probably best known these days for playing the sharp-tongued Lady Olenna Tyrell on HBO megahit Game of Thrones. (Think a more medieval, weaponized sort of Dowager Countess from Downton Abbey, if you're not familiar with the show.) But her acting resume is massive – and extremely impressive – including everything from Bleak House to The Mrs. Bradley Mysteries to her starring role as the original Emma Peel in The Avengers. In short: Dame Diana is incredible. 
Rigg will be a series regular on Victoria, playing Charlotte Montagu Douglas Scott, the Duchess of Buccleuch. The Duchess served as Victoria's Mistress of the Robes from 1841 to 1846. Though the Duchess was rather famous for speaking her mind, she and Victoria remained lifelong friends. The Queen even served as godmother to Lady Charlotte's daughter (who was also named Victoria).
The real Duchess of Buccleuch was only 30 years old when she first came to work for the queen, so this isn't entirely the world's most accurate casting. But, hey, when you get the chance to work with Dame Diana Rigg? You take the chance to work with Dame Diana Rigg. We all get that, right?
Season 2 picks up six weeks after the first season ended, as Victoria is learning how to be a working mother, struggling to balance her responsibilities as a parent and a queen.  Meanwhile, Albert's still trying to figure out his purpose in life, so the power struggle between husband and wife will certainly continue next season.
"In series one Victoria married the handsome prince, but in this series she and Albert get down to the serious business of living happily, sometimes stormily, ever after," creator Daisy Goodwin said. "Victoria is the only Queen Regnant to marry and give birth while on the throne and the challenges of being head of state as well as a wife and mother are legion.:
According to the official press release, viewers can expect to see further drama in Buckingham Palace in Season 2. But the series will also include trips to France and Germany, touch on tragedy in Ireland and war in Afghanistan, and see Victoria and Albert discovering sanctuary in the Isle of Wight.
Production on Season 2 started in mid-February, with stars Jenna Coleman and Tom Hughes. We've seen a handful of behind-the-scenes shots from the cast and crew so far, including this adorable one from Coleman of Victoria's reunion with one her most faithful servants. (No sign of Lord Melbourne as yet, though. Sigh.)
Victoria Season 2 doesn't have an airdate yet -  the Season 1 finale is only just airing in the U.S. this weekend! But the smart money is on a Fall 2017 premiere in the UK since that's when Season 1 aired last year. (Which also probably means a January 2018 US premiere, but that's just a guess.) 
Thoughts on this news? Let's discuss. 
---
By
for on February 28th, 2017
More to Love from Telly Visions