By
for on August 24th, 2020
A Century of Charles Dickens' Beloved David Copperfield Onscreen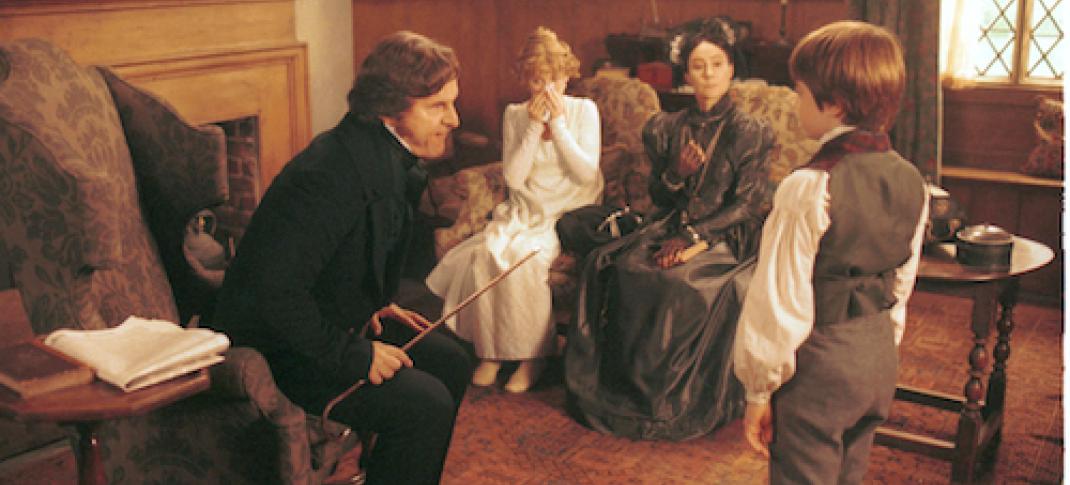 Whether I shall turn out to be the hero of my own life, or whether that station will be held by anybody else, these pages must show. To begin my life with the beginning of my life, I record that I was born (as I have been informed and believe) on a Friday, at twelve o'clock at night. It was remarked that the clock began to strike, and I began to cry, simultaneously.
Charles Dickens, David Copperfield
A new, much-anticipated David Copperfield adaptation is about to arrive in America. Entitled The Personal History of David Copperfield and directed by The Thick of It's Armando Iannucci, the film stars Dev Patel (Slumdog Millionaire, The Best Exotic Marigold Hotel) and an international, diverse cast that includes everyone from Peter Capaldi and Tilda Swinton to Benedict Wong and Nikki Amuka-Bird. 
There's a century-long history of Dickens adaptations for both the large and the small screen, and before we take a look at (some) of them, here's the trailer for the latest version. 
Dickens's much-loved novel was published serially from 1849 to 1850, before being collected in book form under the grandiose title The Personal History, Adventures, Experience and Observation of David Copperfield the Younger of Blunderstone Rookery (Which He Never Meant to Publish on Any Account).
It's possibly the author's most autobiographical novel, although Dickens, evasive as ever about his personal life, would not commit himself to any such claim. In his preface, he wrote:
It would concern the reader little, perhaps, to know how sorrowfully the pen is laid down at the close of a two-years' imaginative task; or how an Author feels as if he were dismissing some portion of himself into the shadowy world, when a crowd of the creatures of his brain are going from him for ever. Yet, I had nothing else to tell; unless, indeed, I were to confess (which might be of less moment still), that no one can ever believe this Narrative, in the reading, more than I believed it in the writing.

If you're not familiar with the plot and the characters of David Copperfield, you might want to take a look at this overview. It's one of Dickens' longest books and full of rich characters and voluminous details, and, naturally all the various film and TV adaptations have often played fast and loose with the plot.
David Copperfield was a great success on stage throughout the 19th century, so it's no surprise that the emerging movie business became interested in telling the story. The Thanhauser Company produced a silent three-reel movie in 1911, which has recently been restored and is available online. Here's the trailer:

In 1913, a British production full-length feature was released. The two-hour long film was praised for its high-quality acting and faithfulness to the book, and for the use of original locations.
Here's a clip, showing first the villainous, creepy Uriah Heep, and then David as a young man meeting and falling instantly in love with his employer's daughter Dora Spenlow.
In 1935, David Copperfield received the full Hollywood treatment, with a lavish MGM production directed by Max Cukor and with a star-studded cast that included, bizarrely, W. C. Fields as Mr. Micawber.
Fields, despite refusing to use an English accent and being forbidden to ad-lib, was brilliant in the role and started a trend of unlikely casting for this part. Many still consider this to be the best film adaptation and it has been frequently shown on British TV.
After this, the history of David Copperfield films and, later, TV adaptations becomes a little murky, as well as displaying the good, the bad, and the ugly.
Material has been lost or destroyed, sadly much of it by the BBC. The BBC presented a serialized version in 1956, starring Robert Hardy (All Creatures Great and Small), to which I discovered one reference; Brazil produced a version in 1958, and in 1965 a miniseries aired in Italy, starring Giancarlo Giannini (Swept Away), and another in France. In 1966 the BBC presented a 13-part serial version starring Ian McKellen  which no longer exists.
1970 saw a color made for TV movie, a US-UK collaboration with a cast that reads like a who's who of 20th-century British theatre: Laurence Olivier (Mr. Creakle), Ralph Richardson (Mr. Micawber), Edith Evans (Betsey Trotwood), and Michael Redgrave (Daniel Peggotty). Robin Phillips who played the title role enjoyed a modest career after. The production was made for TV in the U.S. but it was never shown, although it was released in U.K. theaters.
Next came a 1974 BBC six-part serialization which looks really dated, featuring strange haircuts and fruity English accents. Here's a clip of David (Jonathan Kahn) at school falling under the spell of the charismatic, unprincipled Steerforth (Anthony Andrews).
You can stream the BBC 1986-87 David Copperfield on Amazon Prime. Colin Hurley is in the title role, and the cast also includes Simon Callow (Four Weddings and a Funeral) as Mr. Micawber. Francesca Hall, in a Freudian piece of cast economy, plays both David's mother and his wife Dora. Sadly this version is badly in need of restoration, but its 10 episodes allow for a leisurely pace to the storytelling.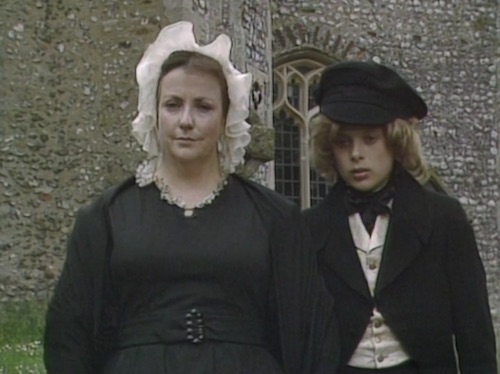 An animated version, with characters as animals and with music by Julian Lennon, came out in 1993, and research is at your own risk.
The next notable, but mostly for the wrong reasons, attempt is the 2000 US-Hallmark-Irish collaboration with an interminable score, lots of pastel visuals, and a very competent cast despite the writers' major messing around with Dickens.
In the tradition of strange casting of Mr. Micawber, Michael Richards (Kramer in Seinfeld) bravely does Dickens. Anthony Andrews, Steerforth in the 1974 version, appears as Mr. Murdstone. The cast also includes Lesley Manville (Mum, World on Fire) as Mrs. Micawber, Hugh Dancy (Hannibal) as David, and Sally Field as Betsey Trotwood. 
Here's when David meets Dora (Julie Cox) and Miss Murdstone (Eileen Atkins) reappears in the story.
In the same year we hit the jackpot with a BBC serialization that is well done, well acted, and available to stream or buy on Amazon Prime Video or Britbox.
The official date is 1999, the year it premiered in the U.K.. Frustratingly, there does not seem to a trailer available but here's a selection of stills, in which you'll notice some very familiar faces.
It introduces Daniel Radcliffe as the young David in his first movie, and Ian McKellen returns as Creakle, the terrifying teacher. Trevor Eve (Waking the Dead) appears as Murdstone and Zoe Wanamaker (Britannia) as his sister. Harry Lloyd (Young Percy in Wolf Hall, and a direct descendant of Charles Dickens) is Steerforth. Maggie Smith (Downton Abbey) is Betsey Trotwood.
Do you have a favorite David Copperfield or other Dickens serialization? What are your favorite scenes, in the book or in TV/film adaptations? Dickens is read and loved worldwide, and David Copperfield is one of his most popular novels. Who knows how many other adaptations have been made worldwide? Do you know of any other version that I didn't discover?
---
By
for on August 24th, 2020
More to Love from Telly Visions