By
for on December 10th, 2020
A New Film Version of 'David Copperfield' That's Perfect For This Dark Winter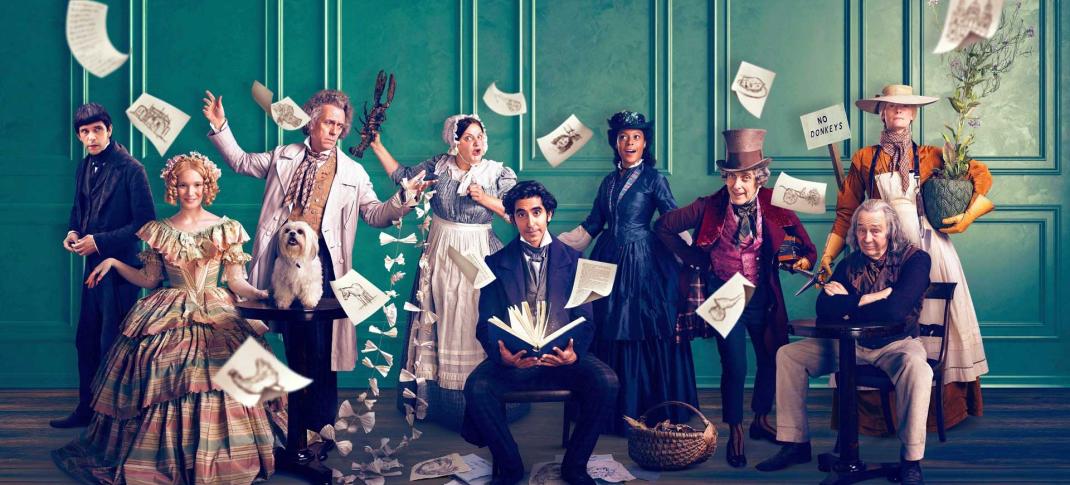 We deserve something good this year, don't we? Well, it's here - The Personal History of David Copperfield is finally available to stream or rent on most video on-demand platforms.
Taking on Charles Dickens's longest and most autobiographical novel with its cast of grotesques and eccentrics and its many plot lines has to be a daunting prospect for a film-maker, but director Armando Iannucci (The Death of Stalin, The Thick of It ) knocks it out of the park. Not only do his cuts, necessary to transform this dense novel into a two-hour film, mostly work, but this is an extraordinarily entertaining and creative piece of film-making, giving a new spin and a new look to a historical drama.
Dev Patel (Slumdog Millionaire) gives a brilliant performance as David Copperfield, combining comedy with likability, and heads up a tremendously talented, racially diverse ensemble cast.
The film opens with the adult David Copperfield reading the famous opening lines of the novel to a theater audience (Dickens became famous for his public readings). He strides off the stage through the backdrop, across a field to a house, where he hovers anxiously over his mother as she prepares to give birth—to him.
David's memories and speculations and fantasies appear visually—walls fall away, images are projected like a movie within a movie. It's a visual treat, with brightness and color galore, exuberant patterns and clashing hues. London is portrayed as a vibrantly diverse city full of energy, and even the bottling factory where the young David (Jairaj Varsani) is sent to work has a sort of hectic, crazy choreography.
As in all his novels, Dickens is the writer as showman who distracts with sleight-of-hand, astonishing characters, melodrama, a love story, comic interludes, villains outwitted, and a hero who drags himself up from nothing to respectability—all the elements his audience would expect in a novel. But Dickens shows us that good friends, a generous heart, and luck are just as important as innate talent in outwitting the forces of an uncaring world. Disaster, he reminds us frequently, is never far away.
David's early childhood is a happy one; he's adored by his widowed mother and his nurse Peggotty. Peggotty takes David on holiday to meet her brother Daniel Peggotty (Paul Whitehouse), a fisherman who lives in a charming upturned boat. His extended family includes Emily, a child of David's age, who has dreams of becoming a lady (and that means trouble as we'll see later), an orphaned child Ham (Anthony Welsh) and Mrs. Gummidge (Rosaleen Linehan), a sorrowful widow given to absurd lamentations ("These potatoes could be my last").
But when David returns home he discovers his mother has married the cruel Mr. Murdstone, whose philosophy regarding his stepson is to bully him into submission. David is sent to work in Murdstone's bottling factory in London, where he lodges with the Micawber family.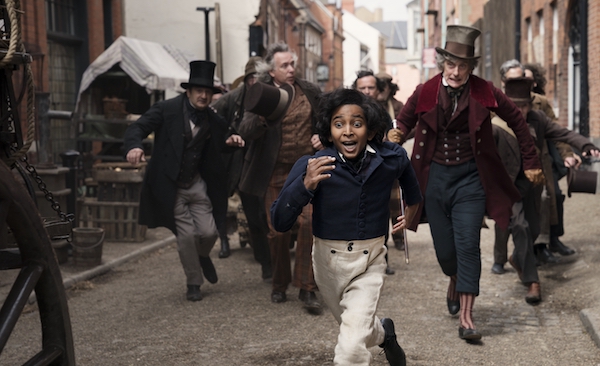 The ever-optimistic Mr. Micawber, (Peter Capaldi) is burdened with too many children, not quite enough income, and a fondness for hyperbole.
The inevitable happens—Micawber's creditors finally catch up with him, and David learns that his mother has died. He runs away to his only known relative, his eccentric, opinionated Aunty Betsey Trotwood (Tilda Swinton).
Patel's wide-eyed sense of wonder, his particular portrayal of innocence, and his general likability make this all feasible, bridging the gap between childhood and adulthood. You may remember that David is still quite young in the book when he makes his escape.
He is welcomed into the household which already shelters Mr. Dick, sensitively played by Hugh Laurie, a mentally ill man obsessed with the execution of Charles I. His thoughts are written down on many, many scraps of paper, and David, himself a collector of phrases and scraps of dialogue, suggests Mr. Dick make a kite which they fly outside with enormous pleasure.
David is sent to complete his education at a sort of finishing school for young gentlemen. There he meets Steerforth (Aneurin Barnard) who is far less creepy than Dickens's original, yet still charismatic and dangerous.
Steerforth nicknames David "Daisy." Both the education and the company of other young men propel David into gentility, and living it up in town when school is finished.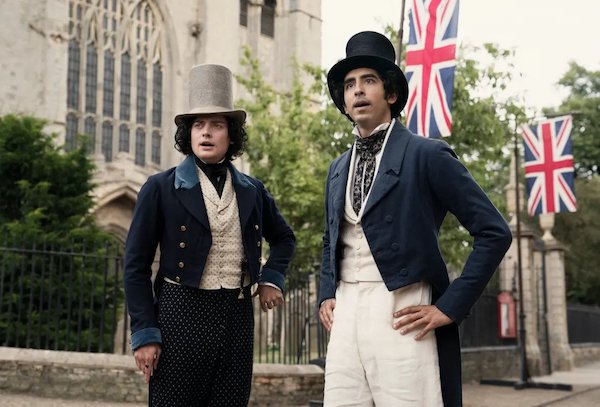 David can now enter a profession, and Betsey Trotwood has decided not only that David's name should be Trotwood but that he should become a proctor (working in ecclesiastical law).
He goes along with it and falls in love with his employer's sweet, ditsy daughter, Dora Spenlow (Morfydd Clark, who also plays David's mother. This double casting is something of a tradition in dramatic adaptations of the novel). She calls him "Dodo."
And then there's Uriah Heep (Ben Wishaw), one of Dickens's more grotesque characters: Resentful, obsequious, reptilian. In a way he's the antithesis of David—he too comes from a poor background and yearns to become a gentleman, but is motivated by anger and jealousy, and not above a spot of blackmail.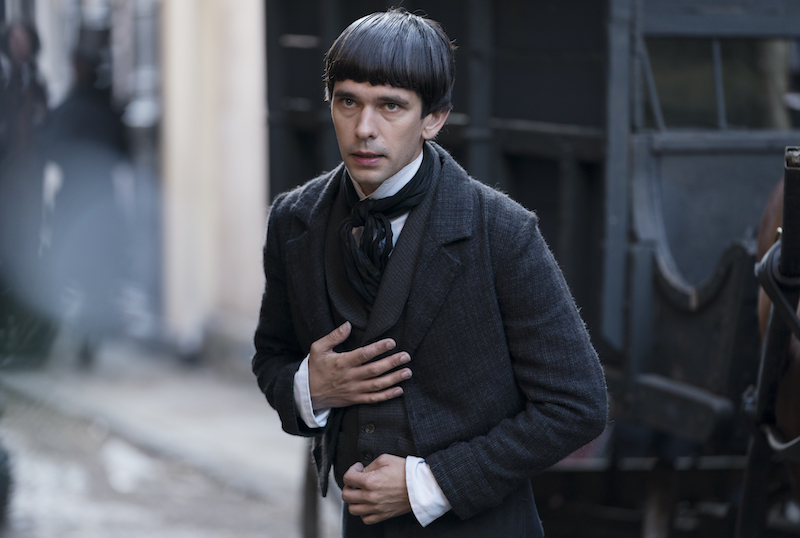 David is shocked and made uneasy by Heep's ambition to marry his employer's daughter Agnes Wickfield (Rosalind Eleazar). Mr. Wickfield (Benedict Wong), is Betsey Trotwood's solicitor, and when he loses control of his company to Heep, her fortune disappears. She, Mr. Dick, David, and the entire Micawber family move into poor lodgings, where David attempts to jumpstart his writing career.
More trouble follows when David takes Steerforth to the coast to meet his good friends, the Peggotty family. David's childhood sweetheart Emily, who is engaged to Ham, disappears shortly after. David discovers that Steerforth has seduced her, and taken her to London. Iannucci makes another change here which may be more palatable to a modern audience, but means the plotline fizzles away without any sort of resolution. In the book, both Emily and Steerforth drown at sea, because Dickens's audience certainly would not expect rehabilitation or forgiveness for a fallen woman. There's a wonderful cameo by Nikki Asuka-Bird as Steerforth's icy-hearted, majestic mother.
After a dramatic confrontation with Heep, the Trotwood fortune is restored. But all of this feels rushed in a very fast-paced, and frantic sort of film, most of which is enjoyable, and works well.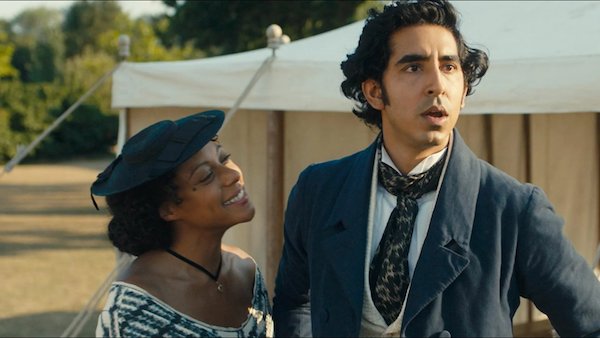 For me, the true climax of the film is when David reclaims his identity—no, his name is not Trotwood or Daisy or Dodo or even Davey—his name is David Copperfield, and he is a writer.
There's a reason for the long title of the film—at heart, it's a personal history of David realizing his potential and finding his place in the world. It's also very satisfying to see how Iannucci confronts head-on, and quite brilliantly, the problem of what to do about Dora. (In Dickens's original, she dies. It's what his audience then would have expected.)
We've seen David fall in love with Dora and marry her, charmed by her silliness and sweetness, while we have come to realize, long before he does, that he should really be with Agnes. Dora tells David that everyone has overtaken her and left her behind, and instructs him to write her out. It's a perfect detail, quite moving in its way, and deeply satisfying to know that David will now find complete happiness.
Have you seen the movie? What did you think?
---
By
for on December 10th, 2020
More to Love from Telly Visions