By
for on July 22nd, 2023
British Actors You Should Know: Roger Allam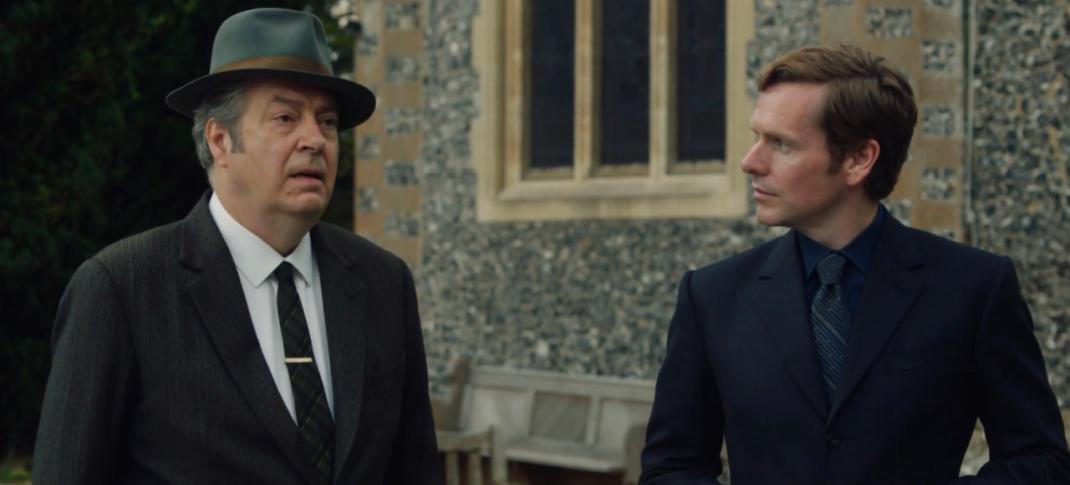 Renowned British actor Roger Allam (b.1953), is an actor and musician of great talent. He initially rose to prominence in the US after originating the role of Javert in the original London Les Misérables, after rising through the ranks at the Royal Shakespeare Theater and the National Theater. We know and love him as Fred Thursday in Endeavour, but let's see what else he's appeared in.
Allam was born in Bow, London, the son of a rector. He was educated at Christ's Hospital and Manchester University. An openly leftist actor from the working classes, he's been married to fellow actor Rebecca Saire for decades, with two children, one of which, William Alla, m, is also an actor, and cameoed (along with Saire) in Endeavour's seventh season.
Roger Allam on the end of Endeavor.
It was the right time. Everything has to have a beginning, a middle and an end and Endeavour has that. You can't really ask for more than that in terms of drama and storytelling. We went out on a high. We had already done more films than Morse and Lewis, so we knew this would be the end and Russell has come up with such a credible ending that explains everything really well – which means the final series is very satisfying with huge emotional heft. But I will miss Oxford. It was always a great pleasure filming there, and yes I've kept Thursday's hat, it was very sentimental. 
Let's look at some of his other work on stage, screen, and TV.
For his portrayal of Falstaff in Shakespeare's Henry IV, Part I and II in 2010 at the Globe, playing opposite Jamie Parker as Prince Hal, Allam received an Olivier Award the following year. He has described it as a high point of his career. The Independent wrote:
There's never any doubt about the justice of his dismissal ... especially as Roger Allam makes him such a dangerously manipulative operator ... But he's buoyed on a bubble of wit and clever bartering throughout, and insists on keeping the audience in on the joke. It's the kind of performance that prospers in the Globe, hogging 20 per cent of all lines across the two plays, and Allam has probably never generated as much affection in all the years of his career at the RSC and elsewhere.
With his imposing physical presence and deep, mellifluous voice, Allam is an enormously successful villain in this futuristic vision of a totalitarian Britain in V for Vendetta. He's Lawrence Prothero, the "Voice of London", a propagandist for Norsefire, and formerly the Commander of Larkhill concentration camp. 
Based on the limited comic series by David Lloyd and Alan Moore in the early 1980s, the film is directed by James McTeigue and uses much of the atmospherics of the Matrix series. Natalie Portman stars as Evie, a young woman drawn into the dangerous world of V, a masked freedom fighter/terrorist trying to bring down a fascist government in futuristic Britain, with Hugo Weaving, Stephen Fry, John Hurt, and Stephen Rea.
It's easy to forget how popular radio drama still is in the U.K. The highly popular radio comedy series Cabin Pressure chronicles the adventures of a tiny, one-plane charter airline and the team who work for it: Allam is First Officer Douglas Richardson, fired from prestigious Air England for smuggling.
The airline owner and hostess Carolyn (Stephanie Cole); enthusiastic but clueless Captain Martin Crief (Benedict Cumberbatch), and steward Arthur Shappey, Carolyn's son (John Finnemore, who also wrote the series). It turned out that Neil Gaiman is a big fan of Cabin Pressure, and consequently hired Allam to voice Azazel in The Sandman.
The Woman In Black is a moody, Gothic film that stars Daniel Radcliffe as Arthur Kipps, a newly widowed father whose legal work takes him to an isolated country town in the early 20th century. The community is threatened by a malevolent spirit, which targets Arthur's son. Classic British old-school Hammer Horror was involved with the production which relies on mood and atmosphere rather than special effects. Allam plays senior partner Mr. Bentley, Ciaran Hinds and Janet McTeer also star.
HBO's Parade's End is sometimes considered the smarter and more depressing flip side of Downton Abbey, being concerned with the same time period and the impact of World War I on aristocratic life. 
Things are fairly gloomy in the series, with the main thrust of the story being that Christopher Tietjens (Benedict Cumberbatch) has married the wrong woman, Sylvia (Rebecca Hall), but considers it his duty to stay with her. Allam, hamming it up as General Campion, is a delight.
Netflix's A Royal Night Out is directed by Julian Jarrold, written by Trevor de Silva and Kevin Hood, and is a fun piece of royal fluff based on Princess Margaret and Princess Elizabeth's VE Day 1945 adventure. They were released from Buckingham Palace to mingle with the rejoicing Londoners and did so heavily chaperoned, unlike this fantasy version where Princess Elizabeth (Sarah Gadon) finds a boyfriend and Margaret (Bel Powley) wanders into a brothel owned by Stan (Allam), a soppy royalist at heart. Rupert Everett and Emily Watson star as King George and Queen Elizabeth.
Based on Stephen Fry's novel of the same name, raucous comedy Hippopotamus tells the story of disgraced poet Ted Wallace (Allam), who is summoned to his friends Lord and Lady Logan's (Matthew Modine and Fiona Shaw) country pile to discover the truth behind their teenage son's healing powers. They want to share his gifts with the world, but Ted quickly finds out that young David's miracles have been acquired with very unorthodox practices, which will destroy the family's reputation if word gets out. The film also features Emily Berrington (The White Queen), Tim McInnerny (Notting Hill), Geraldine Sommerville (My Week with Marilyn), and Tommy Knight (Victoria).
BritBox's Murder in Provence offers Allam the chance to exercise his comedy muscles in this feel-good series about a French couple, Antoine Verlaque (Allam), Investigating Judge in Aix-en-Provence, and his romantic partner Marine Bonnet (Nancy Carroll). As an investigating judge, it's Verlaque's job to act as a detective, and this all takes place against sunny scenery, with lots of serious eating and wine drinking. There may well be a dark criminal underbelly to the series, but it's perfectly ok to admire the view and enjoy Allam's smooth, thoughtful performance. 
Stream Now
Endeavour
Shaun Evans charms audiences with his portrayal of the cerebral Detective Constable Morse.
Image
It's quite a step from there to Allam's most recent release, Tetris (2023), in which he plays Robert Maxwell, in the late 1980s, then at the peak of his power as owner of the Mirror Group. When the news breaks that businessman Henk Rogers (Taron Edgerton) and Russian Tetris inventor Alexey Pajitnov (Nikita Efremov) have joined forces to bring the game to the rest of the world, Maxwell wants to get a finger in the pie.
At the time of writing, Allam is appearing onstage in the U.K. with Ian McKellen in Frank and Percy (the run ends in Bristol early next month. I can't wait to see what Roger Allam chooses to do next!
---
By
for on July 22nd, 2023
More to Love from Telly Visions