By
for on July 3rd, 2023
British Actors You Should Know: Martin Clunes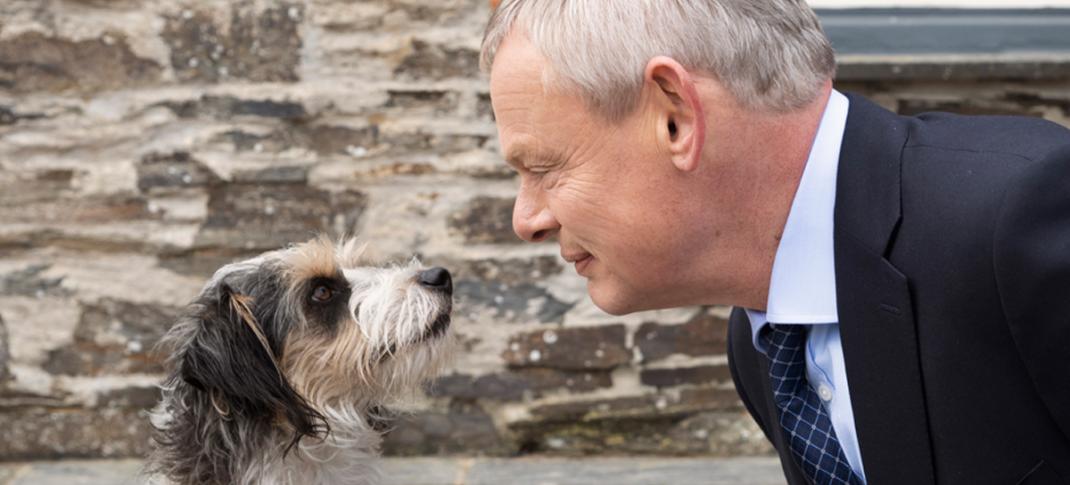 Martin Clunes was born into a theatrical family, the son of Shakespearean stage actor Alec Clunes and related to Jeremy Brett (Sherlock Holmes). He attended the Royal Russell School in Surrey and the Arts Educational School in Chiswick, London. His acting career began in repertory, followed by many British sitcoms and comedy series, some of which are so rude we can't include clips here. Possessed of unusual looks — allegedly, Jeremy Brett offered to pay for corrective ear surgery, which he declined — he has an extraordinarily expressive face and great physical presence. As Rachel Shields cooed in The Independent in 2010:
Plasticine-faced, jug-eared and ... so sexy.
His career has branched into directing and documentaries; he's married to producer Philippa Braithwaite with whom he's collaborated on many projects, including Doc Martin. He has high praise for his co-star Caroline Catz:
I really think that Caroline Catz has carved such a niche for herself in that role ... And those are the scenes I love doing. This love affair – when we were starting out we would think, rather cynically, 'Well, she's just a really bright, really pretty girl, and there'll be a girl in it.' And then very soon that little journey was the most interesting thing. To judge by the things people said to me in the street here, obviously that's what they were tuning in to see. - The Independent
Let's take a look at some of Clunes' other projects.
The oldest surviving clip of Clunes' career, which may or may not be his TV debut (the BBC was rather lax about preserving footage then), was in the Classic version of Doctor Who. Peter Davison was The Doctor at the time. Here's the blurb, which you may or may not find intelligible, depending on your level of geek:
Tegan has once again fallen under the influence of the Mara and directed the Tardis to the planet Manussa. There the Federator's son Lon (Martin Clunes) and his mother Tanha (Janet Fielding) are preparing for a ceremony to celebrate the banishment of the Mara five hundred years earlier.
In other words, he's the one on the couch with the really nice earring. Director Fiona Cumming later said she cast him because she was struck by his unusual looks and "Mick Jagger" lips.
Men Behaving Badly, a much-loved series created by Simon Nye (The Durrells), a raucous celebration of 1990's Lad culture, chronicles the alcohol-fueled antics of Gary (Clunes) and Tony (Neil Morrissey). It also starred Leslie Ash as Tony's upstairs neighbor Deborah and Caroline Quentin as Gary's girlfriend, Dorothy.
Clunes won the 1996 Best Comedy Performance BAFTA, and the 1995 Top TV Comedy Actor, British Comedy Awards for this role.
Clunes, barely recognizable behind luxuriant facial hair, is Richard Burbage, owner of the Curtain Theater, in Tom Stoppard's Shakespearean-inspired Oscar-winning comedy, Shakespeare in Love. William Shakespeare (Joseph Fiennes) is a struggling poet, playwright, and actor who sold his next play to both Burbage and Philip Henslowe (Geoffrey Rush), owner of the Rose Theater.
Disaster strikes when the Rose is closed for having a woman on the stage, Viola de Lesseps (Gwyneth Paltrow), shortly before the opening. In this scene, Burbage, in fine theatrical style, generously offers the Curtain Theater to his rivals because the play's the thing.
The character of Reggie Perrin was almost a prototype for Doc Martin — grumpy, rude, and negative but without the deeply-hidden reserve of tenderness that made the later show such a hit.
Reggie works as head of innovation for a men's body care company and hates just about everything and everyone in his life, particularly his co-workers. In this clip, he visits a very upbeat doctor for advice on how to be happy and performs some amazing sleight of hand with a wind chime — his comic timing is flawless.
Based on the novel of the same name by Julian Barnes, adapted by Edward Whitmore and directed by Stuart Orme, the TV series Arthur & George is a fictionalized version of real events in the life of Sir Arthur Conan Doyle.
In the early 1900s, Doyle (Clunes) is mourning the loss of his wife and suffering from writer's block, but is energized by a request from a young Anglo-Indian solicitor George Edalji (Arsher Ali). George has been falsely accused of a series of livestock mutilations in Staffordshire (The Great Wyrley Rippings). George believes the creator of the great Sherlock Holmes is the only person who can prove his innocence, and Doyle gets to work and saves them both.
Clunes plays a relatively small but significant role in Amazon Prime's Vanity Fair, based on the comic novel by William Makepeace Thackeray and adapted by Gwyneth Hughes (Tom Jones). Penniless but adventurous Becky Sharp (Olivia Cooke) takes a position as governess at the dilapidated country house of Sir Pitt Crawley (Clunes) where she meets his rakish son Rawdon (Tom Bateman).
Sir Pitt takes a liking to her but warns her off his son, who has to marry for money; however, Becky ingratiates herself with Sir Pitt's sister Lady Matilda Crawley (Frances de la Tour), and accompanies her to London. Sir Pitt, recently widowed, shows up and proposes to Becky, but it's too late — she and Rawdon are secretly married, and Becky has to change her plans for advancement — or survival — once more. The series also stars Jonnie Flynn (Emma, 2022) and Claudia Jessie, Eloise in Netflix's Bridgerton.
The ITV/Acorn TV series Manhunt, is based on real events. Written by Ed Whitmore (Silent Witness) and directed by Marc Evans (Hinterland), Clunes stars as DCI Sutton in his search for a serial killer nicknamed the Night Stalker. Hard-working and empathetic, Sutton takes on a seemingly impossible case with no witnesses and little evidence. The Hollywood Reporter wrote:
Though Clunes is better-known for his comedy and for lighter roles where he's, well, affable, he does a wonderful job here — beyond being very British about it — depicting a career detective of high rank but no "career-defining" cases. Which means he's gone along and done the best he can with his career until this point, but is also up for the task and he'll be damned if the higher-ups — some are worried he's going to blow a case that moves quickly from single murder to serial-killer territory — take it away from him.
It takes very little time on Google to establish that Clunes is an animal lover; that's why I've included My Horse & Me, a short made by the British Museum for their 2012 exhibit The Horse: from Arabia to Royal Ascot. Three horse lovers, Sculptor Nick Fiddian-Green, and his horse Sebastian; Horse Therapist Sister Mary-Joy Langdon, founder of Wormwood Scrubs Pony Center and Sioux; and Clunes with his buddy Chester, all introduce their horses and talk about why they love them. In just a few seconds, Clunes shares his expertise on why horses behave the way they do while his gigantic horse nuzzles and cuddles up to him. Clunes is President of the British Horse Society. He knows his stuff.
Recently he's turned his hand to creating documentaries, and naturally, there's one about horses, Horsepower (excerpts are available on YouTube). He's also made a series about islands around the world, showing us some truly spectacular scenery and introducing the people and wildlife. Three of them, Islands of America, Islands of Australia, and Islands of the Pacific, are available on Acorn TV. 
With his tremendous range and creativity, Clunes could take his career in just about any direction (as he's said, it's useful to be married to a producer). He was smart enough after the popularity of Men Behaving Badly to reinvent himself, and his more recent projects, such as Manhunt, seem to suggest he's doing the same for the post–Doc Martin era. And as sad as it is for us to see the end of Doc Martin, it's going to be exciting to see what the future holds.
Stream Now
Doc Martin
Surgeon Martin Ellingham (Martin Clunes) makes a life changing choice to retrain as a GP.
Image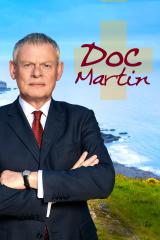 ---
By
for on July 3rd, 2023
More to Love from Telly Visions