By
for on March 22nd, 2021
'Bloodlands' Episode 2 Recap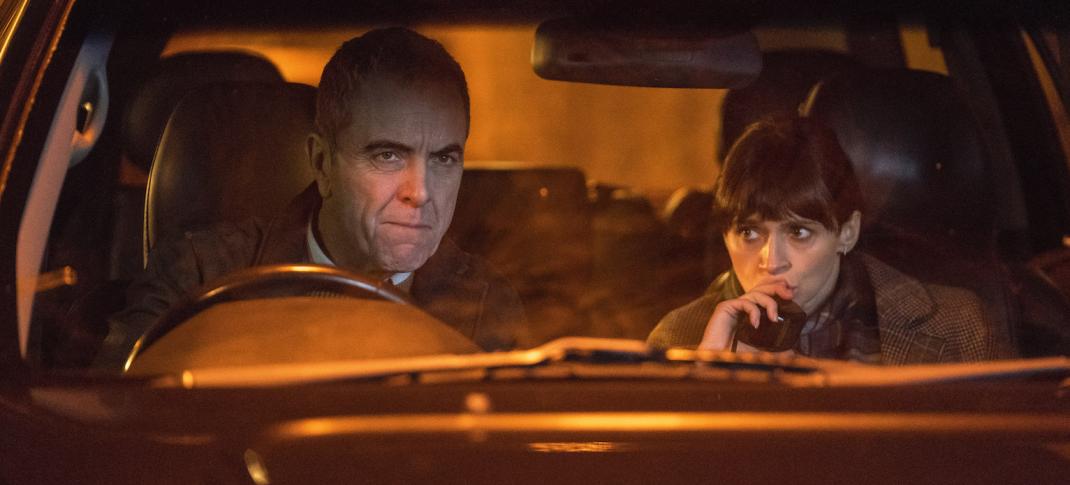 Acorn TV's Bloodlands continues and, as promised, the series' second episode turns up the tension with twists, turns, and head-scratching cliffhangers. But before we get into all of that messiness, let's review what occurred last week.
DCI Tom Brannick (played by James Nesbitt) has been called in on a kidnapping case that resembles several 20-year-old disappearances related to the Troubles. Seen as a threat to the peace process, the Goliath cases weren't vigorously pursued by law enforcement, despite a police insider being suspected and one of the victims being Tom's own wife. Renewed interest in the cases could bring justice to the families, but is it worth disrupting the hard-won peace? For all the details, check out the full recap here. 
The second installment picks up right where we left off. Forensic officers continue to scour the island where three dead bodies were uncovered. Back at the station, Brannick is having difficulty holding it together with his wife's whereabouts still in limbo. So far the CSIs haven't been able to determine whether any of the three victims are women, but all were executed in a cold-blooded manner at close range.
Despite this grisly discovery, DCS Twomey is still adamant that they concentrate on the Pat Keenan case. Brannick and McGovern, on the other hand, are confident that the Keenan kidnapping was orchestrated by someone who wants the Goliath case reopened thus linking the old cases with the new.
Turns out, the bodies the police uncovered on the island won't lead them to Goliath anyway. Police pathologist, "Dinger" Bell (Michael Smiley), explains to Niamh that all remains pre-dating the peace agreement are under the jurisdiction of the Independent Commission for the Location of Victims' Remains (ICLVR). All evidence found by them is inadmissible in court and the circumstances of the deaths stay between the families and the commission.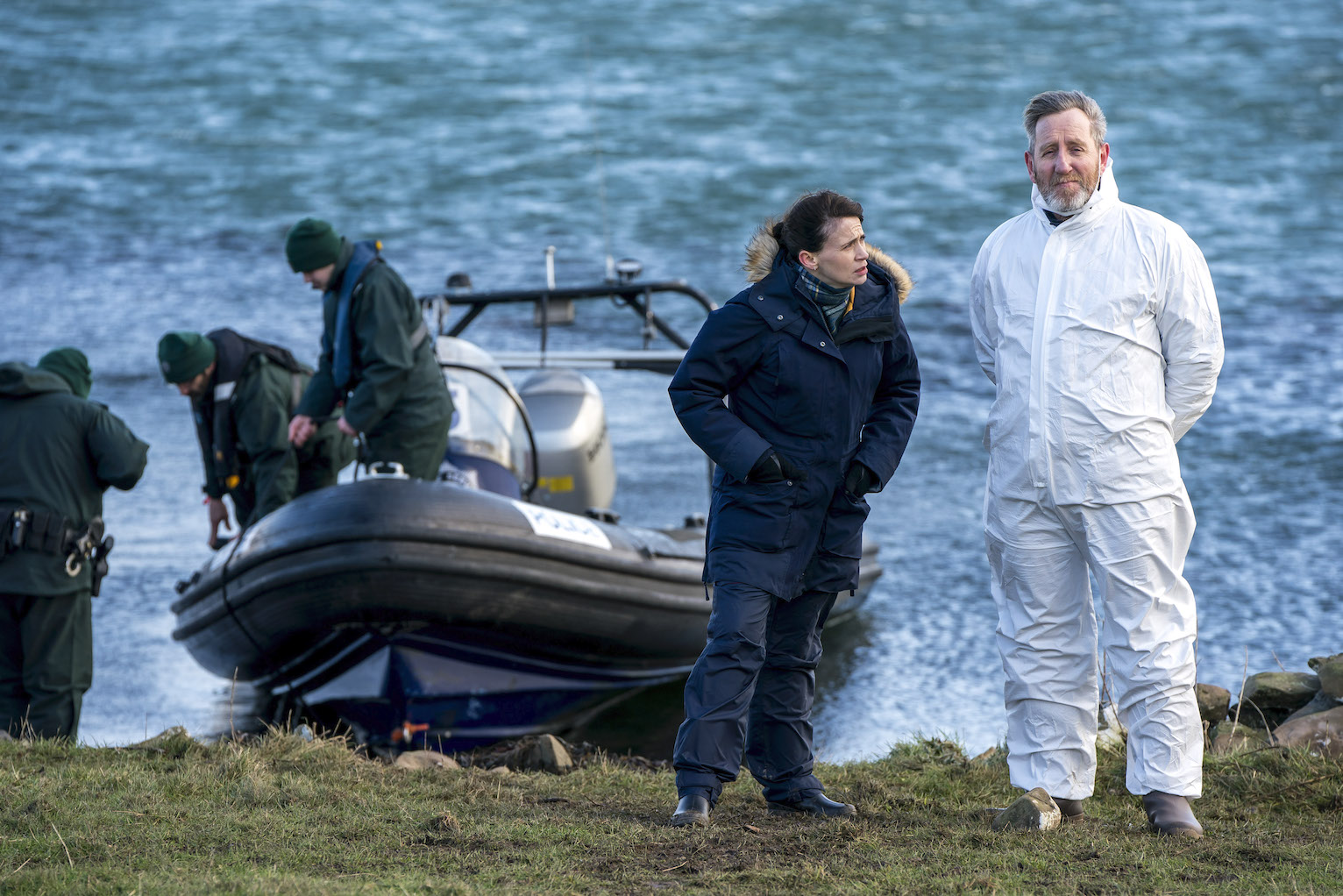 As for the Pat Keenan case, the victim is being tight-lipped about who kidnapped him and what their motive might be. But young, tech-savvy Birdy (Chris Walley) has been able to piece together a picture of Keenan's day from CCTV (and info hacked from Pat's phone). Unfortunately, none of the footage reveals the mystery woman he may have picked up outside the conference center the afternoon of his abduction.
Rather than cooperate with the police, Keenan sends one of his associates out to strongarm incriminating security footage from a local café.  Siobhan Harkin (Cara Kelly), whom the Keenans suspect was involved in Pat's kidnapping, also gets a threatening visit from the motorbike hoodlum. Fortunately, Tom and Niamh had been tracking him were able to foil the attempted assassination.
Brannick and McGovern question Mrs. Harkin later at the station. She says that Pat always lied about the debts. Keenan owed her husband, Joe, money rather than the other way round. Siobhan suggests Keenan started this haulage business with that money and he's the big man now. Meanwhile, she's been told by the ICVLR that Joe was found long-buried, murdered on the island in Strangford Lough.
Mrs. Harkin can't be directly connected to the Keenan kidnapping as she was in Dublin at the time. Twomey orders security on her house, but not surveillance on her movements. The DCS then proceeds to drive to his caravan, uses a burner phone to contact his old friend and meets Siobhan at a graveyard with a warning that they must be careful. Everything this copper does suggest corruption and cover-up, right?
Tom and Niamh learn from Adam Corry that he's had a visit from the Time Team folks, too. Though he's been told the police can't investigate the murder, the old man is disparaging of their boss Twomey and hellbent on discovering the truth behind his brother's death. Tom notices two teacups at the sink and assumes Adam's been receiving other visitors. After the officers leave, Adam opens the box of David's belongings the ICVLR gave him, which includes an owl pendant...
Tori (Lisa Dwan), the helpful doctor Tom and Niamh ran into at the hospital last episode, has popped up again. Dr. Matthews has taken a special interest in Tom's daughter. Izzy tells her instructor about her mother being kidnapped and killed when she was small. Later they chat over lunch about what a great dad Tom is. Tori admits she lost a parent too. Just then a TV bulletin reports on the bodies unearthed on the island. Izzy shares that her father thinks the third body is a priest. Dr. Matthews looks rather shaken by this news.
Dinger has apparently invited Niamh to meet up at a pub to fill her (and us) in on the Time Team's findings. All three bodies were male, the third being Father Simon Quinlan. He confirms that the police suppressed the Goliath case 20 years ago and no one, not even Twomey, helped Tom look for his wife. He also suggests with her espionage/intelligence background, Emma Brannick could very well have engineered her own disappearance.
Tom confronts Keenan with some recently found CCTV photos of a dark-haired woman in his car with him on the day of his abduction, but Pat still maintains Siobhan Harkin is responsible. When Tom threatens to blackmail Keenan with the photos if he doesn't identify his kidnapper, Pat has something else in mind.
That evening Tom, Izzy and her new bestie, Tori, attend a rugby game. Not only is Izzy playing matchmaker, but she's apparently dumped her boyfriend, Larry. They chat as the crowd departs the game. Tori is recently back in Belfast to care for her ill mother. Suddenly Izzy, who was right behind them, disappears. Tom begins to panic as a van speeds through the crowd. His daughter is dumped out of the back of the vehicle- not hurt but very frightened. She was told by her assailant, "Threaten my family and I'll threaten yours."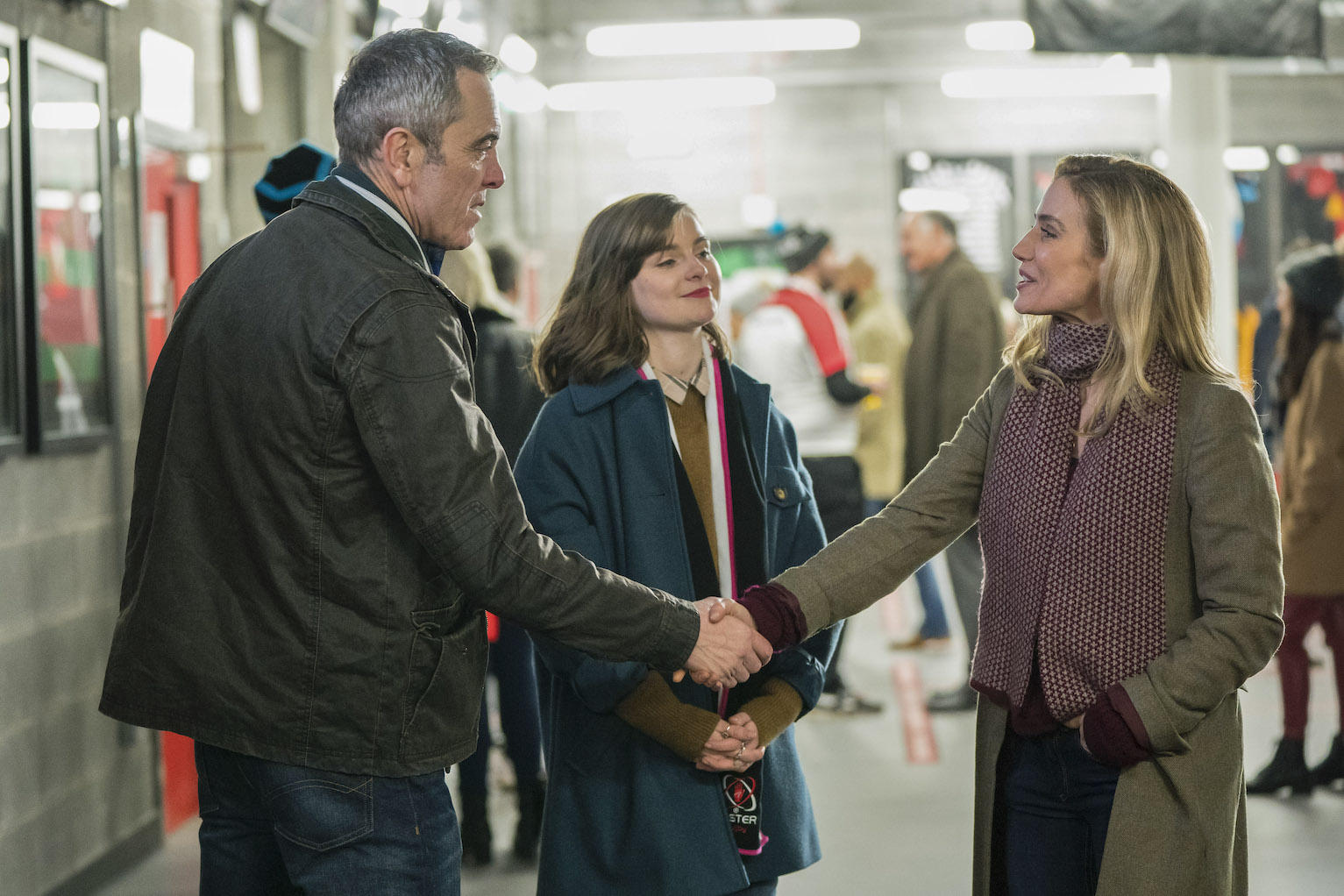 Tori goes to see her mother in the care home. She breaks the news that her dad, Father Quinlan, has been found murdered. The old woman is grief-stricken. 
Niamh is still puzzled about what transpired on the island all those years ago. She gets in touch with the harbor master about the tides and currents, etc. He tells her someone named Frank MacFeale called up asking about Goliath four months ago. She passes this info on to Tom.
Tom recognizes the name and sends Niamh out to follow up a pointless lead so he can visit Adam Corry on his own. Frankie MacFeale was a local WWI hero and Adam Corry's uncle. Tom asserts Adam called the harbor master and perhaps even planned (with the help of his tea-drinking visitor) Pat Keenan's Goliath-style kidnapping to get the case re-opened.
Without permission, Tom grabs Adam's diary and finds this entry:
"Jackie Twomey either knows who Goliath is, he's concealing the identity - maybe an old IRA contact- or he is Goliath."
Adam is agitated and starts asking insinuating questions about Tom's motives. Brannick tries to calm the old man saying they've both lost someone, they aren't so different. He offers to take Adam to his brother's final resting place if he reveals who he's been talking to about Goliath. Adam agrees, but unbeknownst to the DCI, he's placed a tape recorder in his pocket.
On the island, Tom takes Mr. Corry to the now-empty grave. Adam tells his brother he never stopped looking for him. Impatient, Tom wants the information he was promised- who is the woman who kidnapped Keenan? Adam refuses to cooperate. He suspects Tom's protecting Twomey.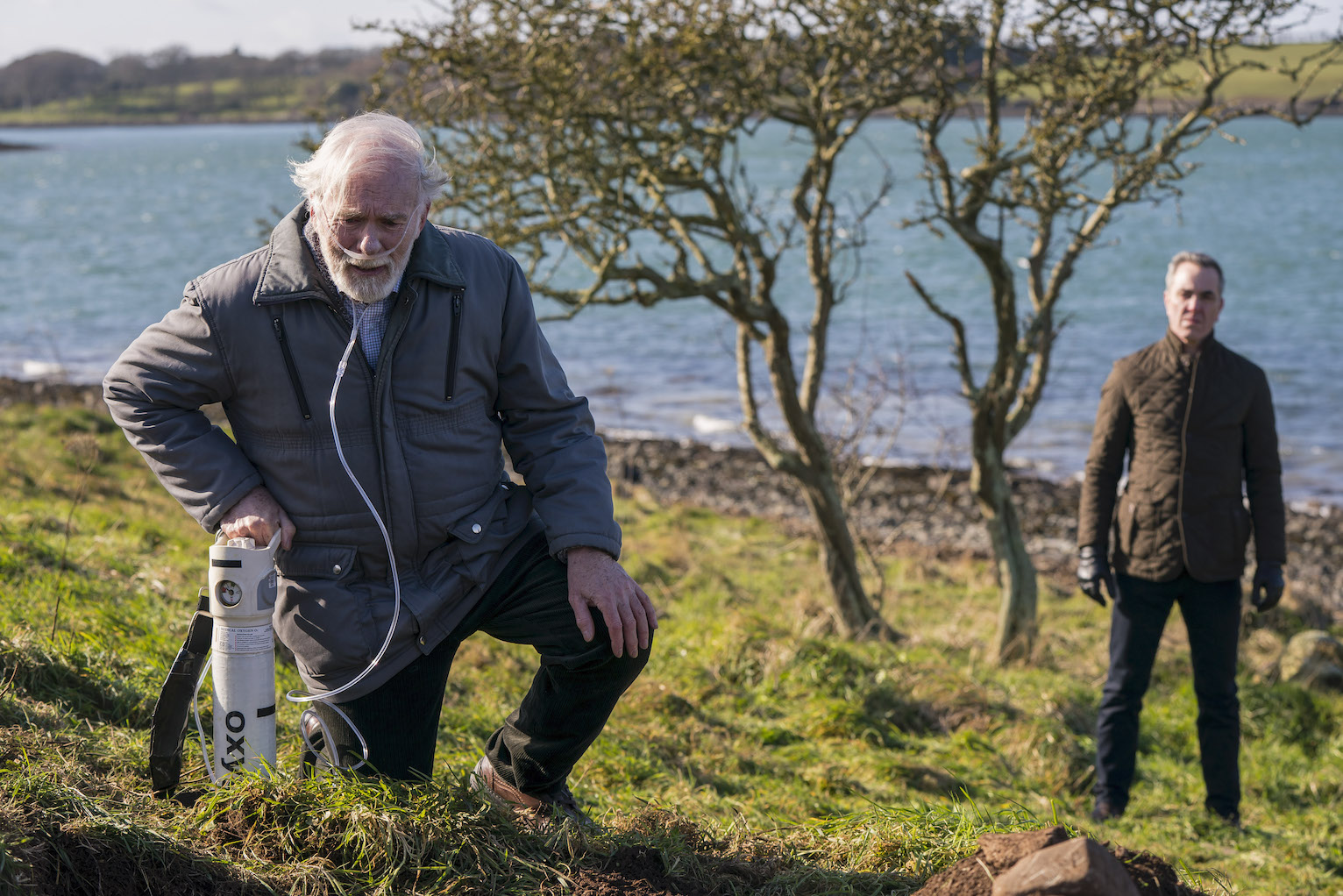 Then a light bulb goes on.  He remembers that David told him he was having an affair with a married woman and they loved each other. The owl pendant with an "E" engraved was in David's belongings. Adam asks Tom if he wanted Jackie to kill David then he says, "Tom Brannick, are you Goliath?" He takes out the recorder in his pocket. Tom tells Adam that no one will ever hear it. Adams simply says he came to see his brother. Tom Brannick replies, "You will," and fatally shoots the elderly man.
I don't know about you, but this leaves me a bit confused. Did Tom intend on murdering Adam Corry or did the old man's needling about his unfaithful wife lead him to snap? Where is Emma Brannick, if not in the mass grave? Tori's dad was a priest? And what about Twomey with his burner phones, IRA sympathies and repeated quashing of the Goliath investigations, then and now? Could Tom be Goliath? Let's hash out your theories in the comments!
---
By
for on March 22nd, 2021
More to Love from Telly Visions