By
for on February 7th, 2023
Apple TV+'s 'Liaison' Trailer Hints at a Cross Channel Thriller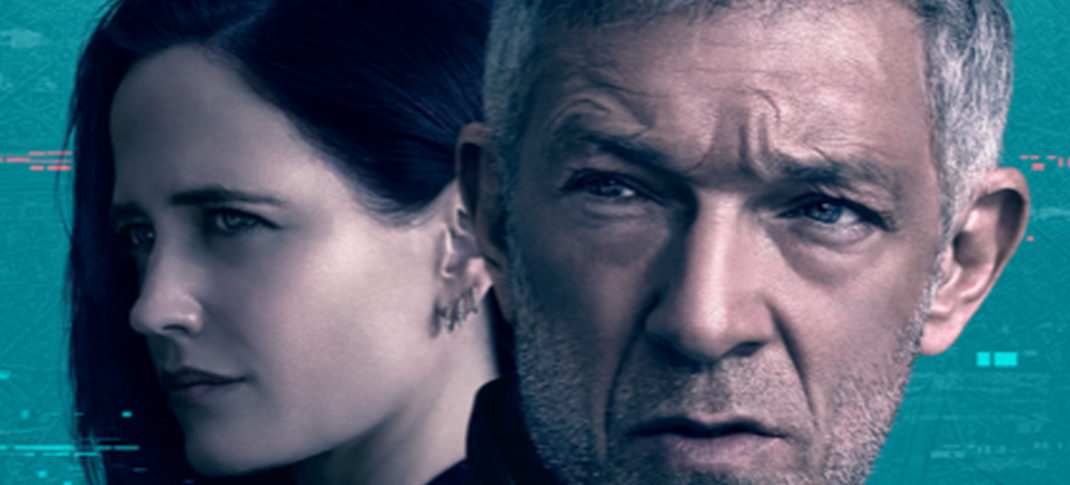 Apple TV+ originally came out of the gate in 2019 with all of four original series, a paltry amount of content considering its direct competitors like Disney+ and HBO Max had entire libraries on offer. However, unlike Netflix, which handled the competition by sheer dint of numbers, releasing 60+ original titles a month, every month, regardless of quality, Apple TV+ has attempted to win by quality. And while every series isn't a Ted Lasso or Slow Horses, even the failures are often interesting. (See, for example, is godawful and also ought to be studied in classrooms as an example of how not to make prestige TV.)
The latest venture is Liaison, the streaming service's first French-British co-production. A six-part thriller with a nonsensical-sounding synopsis, it stars César Award winner Vincent Cassel (Westworld) and BAFTA Award winner Eva Green (Miss Peregrine's Home For Peculiar Children) as a pair of former lovers who now find themselves on opposite sides as a French cyberterrorist plot hits London in the heart of the city, by collapsing the barrier around the Thames that keeps it from breaking its banks, sending the metropolis awash in fear as more services U.K. citizens take for granted come under threat.
Whether or not the show itself is any good may not matter, as the trailer suggests the sheer level of acting that the two leads bring to the table will probably cover a multitude of sins.
Here is the synopsis provided by Apple TV+, which tells us nothing other than the person in charge of marketing wants the show to sound grander than it probably is.
Liaison is a high-stakes, contemporary thriller exploring how the mistakes of our past have the potential to destroy our future, combining action with an unpredictable, multi-layered plot where espionage and political intrigue play out against a story of passionate and enduring love.
Cassel and Green are joined by a bevy of co-stars from both sides of the channel, including British actors Peter Mullan (The Lord of the Rings: The Rings of Power), Daniel Francis (Bridgerton), and Bukky Bakray (The Strays). On the French side, there's Gérard Lanvin (Call My Agent!), Stanislas Merhar (The Count of Monte Cristo), Iréne Jacob (The OA), Laëtitia Eido (Primal), Eriq Ebouaney (Rogue City), and Thierry Frémont (Luther).
The series was created and written by Virginie Brac (Engrenages), with all episodes helmed by director Stephen Hopkins (24). Cassel and Hopkins' co-executive produced the series along with Gub Neal, Jean-Benoît Gillig, Sarada McDermott, Justin Thomson, and Edward Barlow. 
Liaison debuts Friday, February 24, 2023, and will follow a one-episode-a-week schedule on Apple TV+.
---
By
for on February 7th, 2023
More to Love from Telly Visions