By
for on August 1st, 2021
Amazon Prime's "The Pursuit of Love" is a Hilarious Summer Treat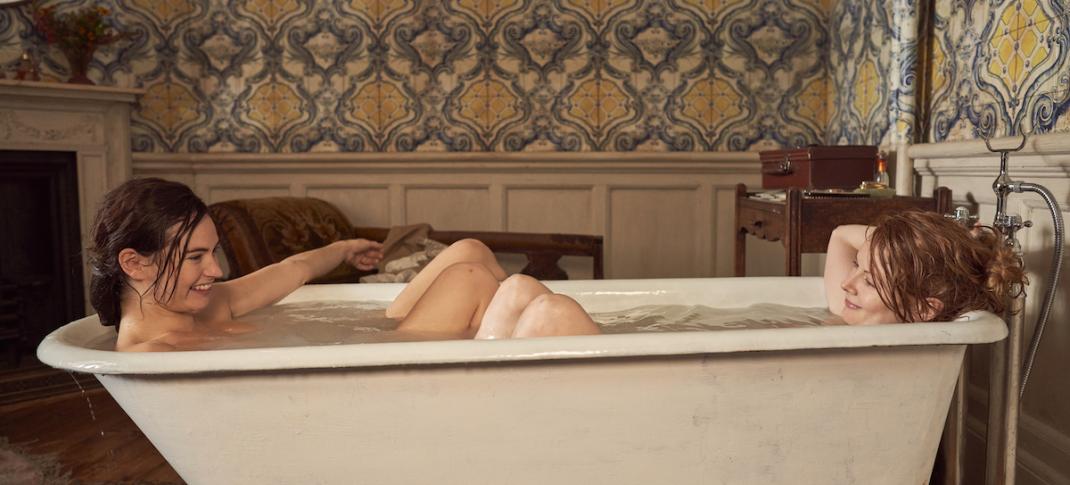 Amazon Prime's three-part series The Pursuit of Love may cover the same time period as Downton Abbey but the similarities between the two period dramas end right there. This is a fast-moving, funny, rude, sexy story about eccentric aristocrats behaving badly, which takes you by surprise with an emotional punch here and there.
It's a touching portrayal of female friendship against the backdrop of the Spanish Civil War, the political upheavals of 1930s Britain, and World War II. Nancy Mitford's autobiographical novel The Pursuit of Love is revered now for being an amusing snapshot of its time and class, but in 1945 it was read, correctly, as sharp satire.
Director-writer Emily Mortimer (who also appears in the series as The Bolter—more on her later) takes her interpretation a step further, surprising the viewer with tempting cultural references. The joyfully anachronistic soundtrack is in the tradition we now expect since Sofia Coppola's Marie Antoinette (2006). Linda Radlett (Lily James), a kept woman in Paris, dressed to the nines, struts her way down a street, laden with flowers and expensive-looking shopping bags—surely it can't be a Pretty Woman tribute? Subverting another tradition of historical drama TV, the interiors of houses are shabby or dull, and the clothes (other than Linda's stunning Paris couture) are mostly unflattering. The cast throws themselves into their roles with abandon and it's hugely enjoyable.
The opening scene is of Linda, pregnant, wearing only a fur coat and clutching a French bulldog, plummeting on her bed to safety when her London house is bombed during World War II. She calls, who else, her best friend and cousin Fanny Logan (Emily Beecham) for help. And that pretty much sums up the relationship between the two cousins, which begins with Fanny's visits to the Radletts' house of horrors every Christmas.
The Radlett family is dominated by Fanny's monstrous Uncle Matthew, (Dominic West) a xenophobic, violent tyrant. His idea of fun is to hunt his children on horseback with four bloodhounds, and rail against foreigners or education for women. Mortimer's deft touch keeps him funny, for the most part, while staying close to the Mitford family's experiences.
The Radlett children form a secret society, the Hons, who meet in a linen cupboard and plot their escapes. The girls know their only way out is to marry, but how on earth will they meet suitable men? Their father's idea of suitable male prospects for the eldest daughter's coming-out party is his elderly friends from the House of Lords, and a servant, Josh the groom.
Linda is a mirror image of her father, uninhibited and violently emotional, loving or hating, greedy, and thoughtless. She is also beautiful, radiant, and fascinating. Naturally, she's ripe to marry the first eligible man she encounters. In fact, she has no choice but to pursue love; it's what's expected of a young woman of her class and background, and what else should she do?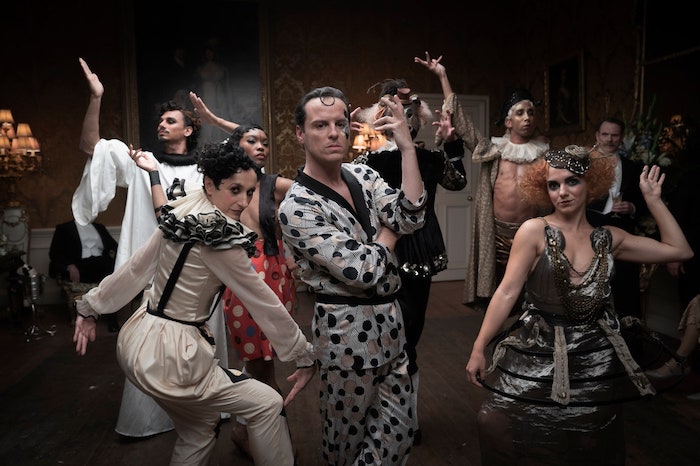 Neighbor Lord Merlin (Andrew Scott), who hilariously interrupts her sister's coming-out party with his entourage of Bright Young Things, attempts to teach Linda about art and literature, fails but continues to adore her. So does sweet Davey (John Heffernan), who marries Fanny's guardian, Aunt Emily (Annabel Mullion). The worst criticism of Linda they offer is to hoot with laughter at the extravagant cliches of her life (a glass bathtub with goldfish!) when she becomes a French duke's mistress.
And that's the puzzling thing about Linda, possibly one of the most annoying characters in literature, whose bad behavior does not diminish her friends' regard for her. Fanny, however, is hurt by Linda's thoughtlessness and tells her so. Their friendship becomes on and off as Fanny, married to a sweet, fussy Oxford don Alfred Wincham (Shazad Latif) finds herself buried in domesticity and motherhood. You know this series is directed by a woman when Merlin pays a call and there are toys lying around the house.
Linda meanwhile has married the rich, handsome, conventional Tony Kroesig (Freddie Fox, The Murders at White House Farm), son of a banker, future Tory MP and Fascist sympathizer. She has a daughter who, later, she confesses to Fanny, she could or would not bond with, knowing that she would be leaving soon, and neglecting her child is the only thing for which the family as a whole condemns her. She is becoming a Bolter, just like Fanny's mother (Emily Mortimer), a serial monogamist who pops in and out of the series in between husbands and lovers.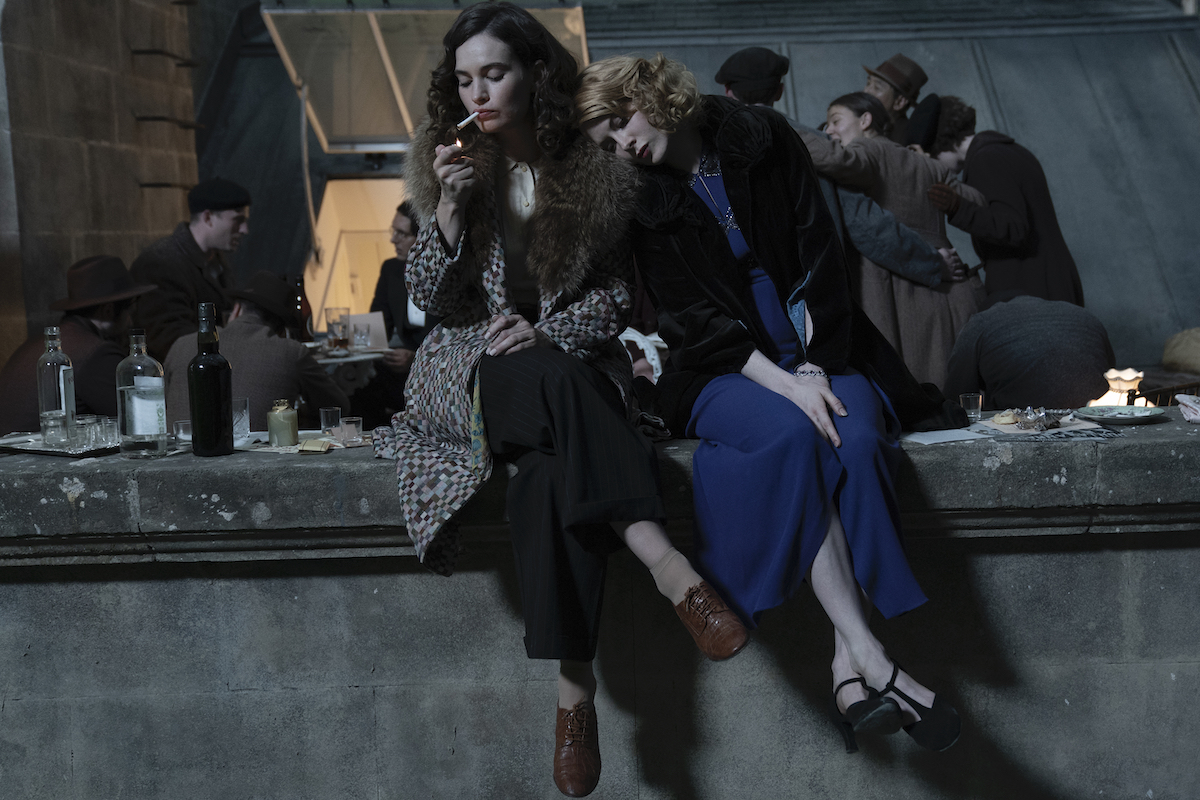 Surely, the women of the series conclude toward the end, there must be a choice between being a Bolter or a Sticker (Fanny being a Sticker). Yet love, according to Merlin and Linda's French Duke, Fabrice de Sauveterre (Assaad Bouab, Call My Agent), has no place in marriage. So what's a girl to do?
Following a period as a party girl with other Bright Young Things, and a clique of adoring young men nicknamed the Chatters, Linda falls in love—again—this time with a Communist, Christian Talbot (James Frecheville, Black 47). Fanny, the bookish one of the pair, is actually jealous when Linda tells her she has a job in a left-wing bookstore. The Chatters meet the Comrades, sales surge, and it's the only Communist bookstore in the country to make a profit.
Linda and Christian go off to fight in the Spanish Civil War, wherein one of the slightly false notes of the series, although it is a beautifully done scene, she talks about female friendships with a wise woman of color.
It's during this time that Linda realizes she has little purpose in life, a rare reality check. But she scores a triumph with the Comrades when she's asked to assign cabins to the exiled fighters who are sailing for Mexico. She explains that in honor of one of her dogs, a beloved Labrador, everyone on her list defined as labrador (worker) was assigned the first class cabin, meaning the intellectuals had to sleep in steerage. (This was actually based on Nancy Mitford's sister Jessica's experience.)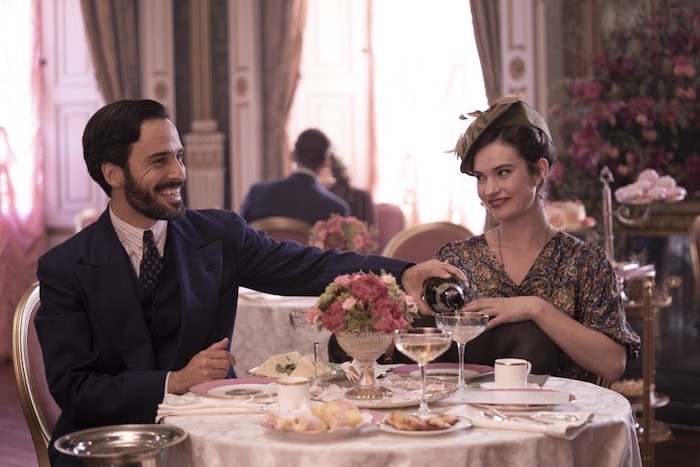 The Paris scenes, although great fun and very sexy, border on the verge of sentimentality. Fabrice is the stuff of heroes—his name translates, literally, as "save the world," referring to his work in the Resistance. So we pretty much know what's going to happen.
But he's not the love of Linda's life—that's Fanny, exasperated and hurt frequently by Linda's carelessness. Although she lacks Linda's charisma, Fanny is the real heroine of the series, juggling babies, domesticity, and her demanding friend, and not afraid to speak her mind.
What a great series for the summer! Have you watched The Pursuit of Love? What did you think?
---
By
for on August 1st, 2021
More to Love from Telly Visions