By
for on May 30th, 2013
Amazing Internet Things: Even P. Diddy Wants into Downton Abbey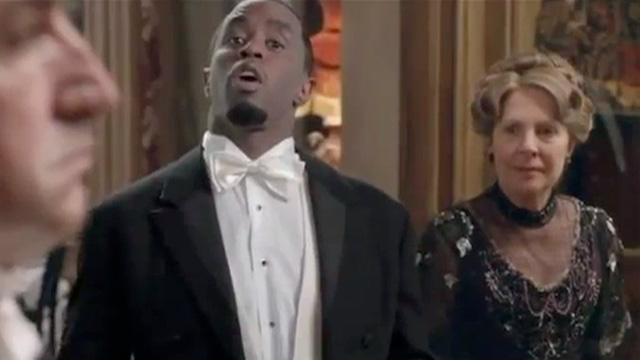 Apparently, there really is no upper limit when it comes to Downton Abbey parodies. We've had clips featuring musicals, Sesame Street, One Direction, a Nintendo game and the zombie apocalypse, so it would stand to reason that this latest addition to the Downton Parody Pantheon isn't even that that far outside of the realm of normal.
Except possibly when you consider the guy that made it. It turns out that P. Diddy (otherwise known as Puff Daddy and/or Sean Combs), the business mogul-rapper-actor-designer-whatever, is a fan of the show. Enough that he staged a (kind of really weird actually) Twitter hoax claiming he'd joined that cast, which turned out to be a promotion for his new clip the always hilarious site Funny or Die. In this particular spoof, Diddy proclaims himself the actual first black actor to be part of the show – rather than Death in Paradise star Gary Carr, who's joining the cast for Series 4.
Anyway, P. Diddy sets out to prove this assertion by way of a spoof called Downton Diddy, in which he repeatedly calls it "Downtown Abbey" and has cleverly inserted himself into existing footage from the show by way of some sort of CGI-fueled wizardry. It's pretty clever, even if some of the jokes are going to make you roll your eyes a bit. 
This clip is also majorly NSFW, as it is full of a tremendous amount of adult language, so you know, tread carefully if that's something that bothers you. But it's pretty funny on the whole, so enjoy.
Downton Diddy
from
Sean Combs
 So, it's possible that acting isn't necessarily P. Diddy's forte or anything, but seriously, is there a celebrity anywhere in America that isn't obsessed with this show? 
---
By
for on May 30th, 2013
More to Love from Telly Visions