By
for on February 1st, 2013
Amazing Internet Things: Sesame Street Does Downton Abbey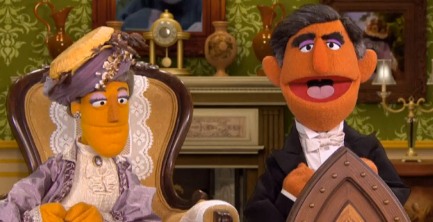 You knew this had to happen sooner or later. Everyone's favorite children's show Sesame Street has finally taken on everyone's favorite costume drama Downton Abbey, and the result is basically as adorable as you'd expect. This parody will officially air on Sesame Street on Monday when Season 43 debuts, but you can get an early look at it right now because, well, that's what the internet is for, right?
The Upside Downton Abbey skit features a clever take on the opening-piano-music theme song, as well as super cute Sesame Street muppet versions of the Dowager Countess and Mr. Carson. (Oh, how I wish that it also had Robert or Mary in it, because, well, I would just love to see a puppet version of either of them. Imagine Mary's dress!) The Dowager is having a bit of a struggle to enjoy her tea and crumpets, because at Upside Downton Abbey, their house is, as you may have guessed, upside down. And, as one might expect with this character in any iteration, the Dowager is a bit resistant to change, even when tea is involved.
Watch below – it's worth it!
I hope these Downton Abbey parodies of all stripes never, ever stop. They're too perfect!
---
By
for on February 1st, 2013