By
for on January 8th, 2023
'All Creatures Great & Small' Season 3 Starts "Second Time Lucky"
Welcome back to Darrowby and our favorite veterinarians, James Herriot (Nicholas Ralph), Siegfried Farnon (Samuel West), and Tristan Farnon (Callum Woodhouse), the knitwear, the gorgeous Yorkshire scenery, and the mostly cute animals. But change is in the air. It's spring 1939, and even in this remote rural area, there are signs that war is coming. But first, and to our relief, it looks like the wedding between James and farmer Helen Alderson (Rachel Shenton) will go ahead.
The opening sequence of All Creatures Great and Small Season 3 echoes the series premiere as James drives his car through the spectacular green scenery that impressed him when he first arrived. But this time, he pulls over to watch a plane flying low overhead, captivated by the pilot's skill and daring. Already he's feeling the pull of duty to his country and how he can reconcile that with responsibilities at home. Appropriately enough, he's literally at a crossroads, the one where he got off the bus on his first visit to Darrowby and where he encountered Helen for the first time.
Both Helen and James are getting nervous as their wedding day approaches. In the final episode of Season 1, Helen walked out on an unsuitable groom at the ceremony, something that was witnessed by the whole community, and her family at least are a bit jittery about this second attempt. Worried dad Richard Alderson lurks behind walls to listen to conversations between Helen and her younger sister Jenny. Helen, Jenny points out, has form. No wonder their dad is worried.
The principal ally of the upcoming wedding is housekeeper Mrs. Hall, who is highly suspicious of Siegfried's tactless volatility and Tristan's sense of mischief. Sure enough, Siegfried blasts off a lecture on marrying in haste and at such a busy time of year (it's spring) before Helen reminds him that the wedding has been planned for six months. Tristan, entrusted with the wedding ring (you know this is asking for trouble), searches his pockets, goes through a pantomime of pretending it's lost, and then finds it again. This from the man claiming that he's finally become an adult, but he has more growing up to do. James's parents Hannah (Gabriel Quigley) and James Sr. (Drew Cain), have arrived, and his mum mentions that his dad is getting so much work on the Glasgow docks now you'd think the country was at war.
In an endearing, comic moment, Mrs. Hall drinks a glass of whiskey intended for James, almost losing her voice in the process, and hands him a glass of milk to line his stomach as they gather for supper before the men head to the pub for James's stag night. As Tristan and James cross the town square to the Drover's Arms, they're waylaid by a military recruiting officer. Siegfried reminds them and the recruiting officer that veterinarians are exempt from military duty and herds them into the pub. Tristan gets to work, ordering a yard of ale (1.4 liters) for James and sticking Siegfried with the bill.
James starts a conversation with farmer William Henry (Paul Hawkyard), whose cows are under investigation for tuberculosis. James commiserates with him –– infected stock could mean he'd lose his herd, but William is more concerned about the distribution of infected milk. He lost his younger son to the disease.
The following day sees the men of Skeldale House in delicate conditions. Tristan fell asleep on the couch. Siegfried left his muddy trousers in the pantry for reasons unknown. He explains to Mrs. Hall with great dignity, "I was in need of cheese," which may or may not be related to the win of a tame rat in a drinking contest the previous night. Wait, Tristan has lost the ring! No, he hasn't; Siegfried relieved him of it, considering it was too much responsibility. He lays the ring case carefully on the breakfast table. But where is James?
Meanwhile, Helen, nervous about the wedding, compensates by throwing herself into farm chores and cooking the family breakfast, despite complaints from Jenny, who is taking charge of the family farm. The two sisters have shared a touching, restrained farewell the evening before, both perched on the barn ridge with the stupendous view, where significant Alderson family events have taken place.
And James? In an excess of duty, moved by William's concern for the health of his herd and those who might drink their milk, he has spent the night asleep on the straw in his barn. He wants to put William's mind at rest by testing the herd for tuberculosis just hours before the wedding. He learns, too, that William's surviving son Wilfred (Samuel Jordan) has enlisted. Yes, farmers are exempt from service, but William's pride and approval of his son's decision takes James by surprise. The exemption shouldn't apply to the younger generation, William says. Furious about James's disappearance, Tristan shows up to get him to the church on time and accuses him of having second thoughts. No, James says. It's his duty. And Tristan pitches in to help with the testing.
Back at Skeldale House, Mrs. Hall starts fixing the attic into a bedsit for Helen and James and comes across a box of photographs that Siegfried's late wife collected. She and Siegfried reminisce about their hurried wartime weddings, with Mrs. Hall sharing how her wedding ring was a piece of knotted twine.
Which reminds Siegfried ... he knows he left the ring on the table but it's gone, and it's ended up inside a dog, along with some leftover breakfast. Large, loud, greedy Clancy is under observation at the veterinarians, for his usual gastric issues (Season 1, Episode 4). Siegfried feeds Clancy various emetics, but this time Clancy's stomach is unusually resistant. Time is running out. Mrs. Hall and Siegfried pack James's suit into the car and set off with Clancy, the canine time bomb, in the back seat.
At William's farm, the herd has been tested, all except for one cow.  The farmer agrees to isolate it from the herd to be tested later, but they find the cow injured in a stream. Her leg is badly broken, and the kindest thing to do is to put her out of her misery. Tenderhearted James wants to try a splint, but Siegfried, who has arrived in time to join the discussion, suggests that it's kinder to put the animal out of her misery. But James shouldn't do it, not on his wedding day, and he hustles him away, leaving Tristan to shoot the cow. Tristan can't do it, and hands the gun over to young military recruit Wilfred, who does the deed. As he says, "Someone's got to do it."
As if one troublesome dog isn't enough at the wedding, Mrs. Pumphrey is unable to attend and has sent Tricki Woo as her emissary. Richard Alderson gazes at the fur ball on the silk pillow, and comments that it's a funny-looking thing, and Mrs. Pumphrey's outraged manservant François (Joseph May) demands, and receives, an apology. Meanwhile James is changing into his good suit as Siegfried drives as fast as he can to get to the church on time. Why is Clancy in the car, James asks. Siegfried makes a ridiculous comment about Clancy being an old family friend. But Siegfried has forgotten to bring James's shoes, and in an attempt to remove his own while driving, brings the car off the road and to a halt. The jolting finally inspires Clancy to do what he does best.
At the church the vicar and guests wait ... and wait. Finally Siegfried screeches to a halt, and James, in his best suit and wellies runs into the church where he exchanges shoes with Tristan, and the wedding can begin. In triumph, Siegfried presents Tristan with the ring box, but it's empty. When the vicar calls for the ring to be produced, Tristan begins to bluff his way out with an argument about the value of adhering to old traditions. But Mrs. Hall saves the day. She produces her very own twine wedding ring for Siegfried to pass to Tristan, and finally James and Helen are married. They leave for their honeymoon, with Helen wearing a favorite dress we last saw at that fateful cricket match in Season 2.
On their return from their honeymoon, James and Helen see Wilfred boarding a truck to start his military service, and a RAF recruiter is plying his trade in the town square. It gives James a moment's thought before Helen points out the shiny plate on the door with his name on it. As a wedding gift, Siegfried has made James partner. On a flimsy excuse, James and Helen go upstairs to their bedsit, where, amongst much giggling and kissing, the bed collapses. It's followed by an incoming phone call, and that pretty much seems the pattern their married life is to follow. All depending, of course, on what happens in the world at large, and that's what we'll find out after this splendid first episode.
Stream Now
All Creatures Great And Small
James Herriot's adventures as a veterinarian in 1930's Yorkshire get a new TV adaptation.
Image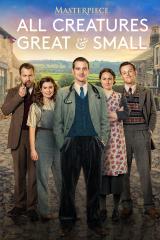 ---
By
for on January 8th, 2023
More to Love from Telly Visions