By
for on February 6th, 2022
'All Creatures Great and Small": Season 2, Episode 5 Recap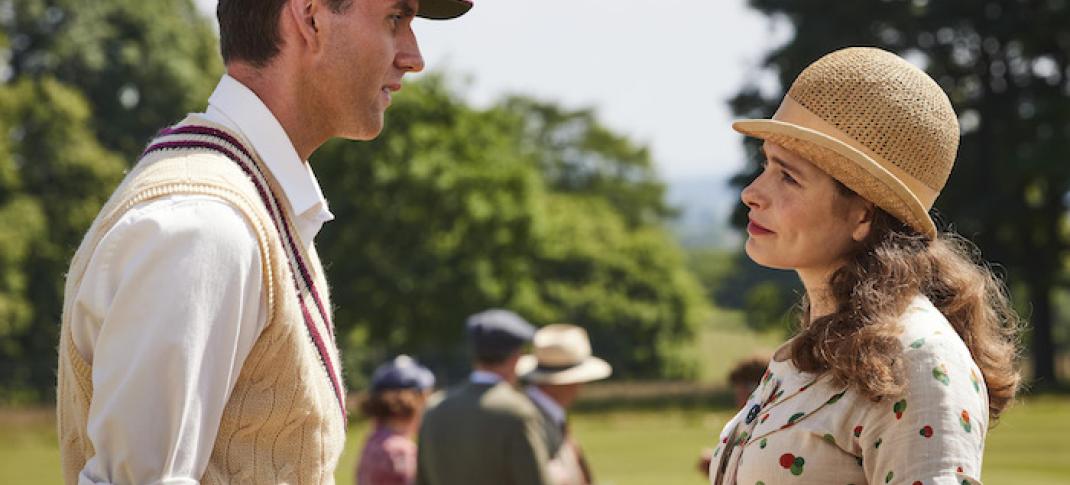 Siegfried begins Episode 5 of All Creatures Great and Small shocked and outraged — nothing new there, but this time it's because there is a hole in his cricket trousers, and Darrowby's most important event takes place in a few days. The match between the Darrowby Eleven (farmers and veterinarians) and the Holton Hall Chaps is sponsored and hosted by Mrs. Pumphrey, a cricket aficionado. In Yorkshire, cricket is serious business; there's a saying, "King, God, Cricket." The Darrowby Eleven hasn't done so well in recent years, and this year they are one man short because Tristan isn't playing. As he tells Siegfried, he is neither farmer nor veterinarian. The brothers tolerate each other, but it's more of a ceasefire than a reconciliation.
James heads to Holton House, summoned by Hugh (Matthew Lewis), who was jilted at the altar by Helen a few months before. It's all very civilized and courteous, as James is there to face several hundred pounds of masculine bad-temper, a young bull that needs to be ringed. (Aka, perform a nose piercing followed by a ring insertion to make the animal more manageable. Yes, James is giving Hugh's bull a ring. Make of that what you will.) Hugh casually asks James if he's been seeing much of Helen and receives a non-committal answer. However, when Hugh mentions he's planning to visit the Aldersons, James loses concentration and the bull charges. The estate workers get him under control, but James' pride is hurt, and his clothes muddied.
At the Aldersons' farm, there's a wonderful swooping shot up a bright green hillside, dotted with May trees, where Helen and her father are repairing a drystone wall. There is concern Hugh may not renew their lease, and if it happens, Mr. Alderson says, she was right not to marry him. But Hugh reveals the lease is renewed for another twenty years, and both daughters' names are on it. Moreover, he brought the family a gift, the young pedigree bull James ringed, explaining it's to make up for his blunder when the Aldersons sold their old bull in Season 1. The family protests it's too generous a gift, but Hugh persuades them to keep it for the moment while they make up their mind.
James drops by, and he, too, is surprised by Hugh's generosity. Mr. Alderson, captain of the Darrowby Eleven, grumps he's trying to recruit another cricket player. James offers to play upon learning Hugh is captain of the Holton Hall Chaps and a star bowler.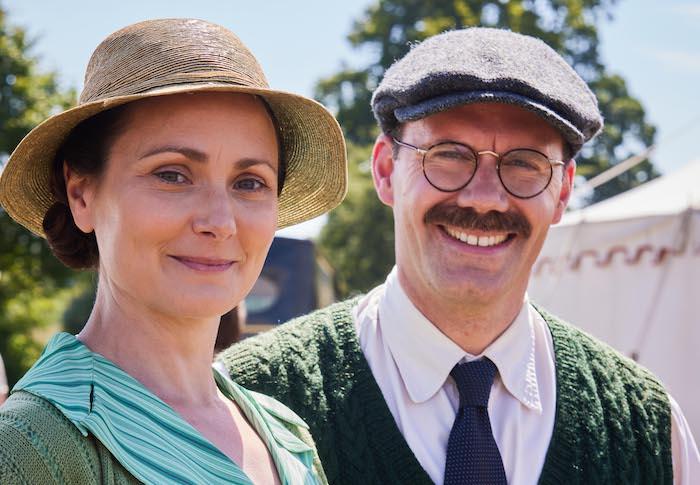 Back at Skeldale House, Gerald lovingly adjusts the clock while Mrs. Hall watches. (The romance, such as it is, is on again!) Mrs. Hall does suffer some doubt when Gerald admits he doesn't get cricket. (She will be scoring the match and has a deep love of the game.) As they chat, Mrs. Pumphrey phones on a matter of "utmost discretion," which turns out to be distress and embarrassment at Tricki Woo's recent behavior: "He's become increasingly amorous towards ... things. It's quite unsettling. In the end, I had to take his cushion away." Siegfried explains that this is a sign of health; it's a testament to Mrs. Pumphrey's care. "Less lethargic, more Lothario." He suggests having Tricki Woo neutered, to which Mrs. Pumphrey recoils in horror.
Both Siegfried and Tristan are horrified that James has volunteered to join the team with almost experience. They attempt to coach him in the hallway; Tristan was the star of his prep school team and has fond memories of his father watching his matches. Seeing the brothers bonding, Mrs. Hall reminds Seigfried he still needs to apologize.
Mrs. Pumphrey calls again, Tricki Woo has escaped, and she suspects he's gone to visit Mr. Handshaw's female terrier. Too embarrassed to have to explain the situation to her manservant François, she asks Siegfried to pick him up, but: "Mr. Farnon, when you see Tricki, could you pretend that you just happened to be passing? He's terribly private. I would hate for him to be embarrassed." Blessedly, Mr. Handshaw has no objection to a litter of puppies, and Seigfried returns the truant home, offering to neuter Tricki Woo on Monday, and in the meantime, recommends a leash.
The day of the match dawns, and Mr. Alderson receives more bad news — one of his players is absent, dealing with escaped sheep; Tristan steps up. Hugh wins the draw to choose whether his team should bat or bowl. He decides to bat, and with his fast bowls, he wipes the floor with the Darrowby Eleven. James is relatively useless, fumbling to catch the ball and being distracted by Helen. (Don't worry, things are explained, or not, as the game continues. Sometimes the batter runs, sometimes he doesn't, and sometimes there are two batters.) Mrs. Hall, looking worried, tallies the score. Gerald kindly brings her a cup of tea and expresses surprise the game is so exciting. She is concerned Tristan, who is bowling, is making it too easy for Hugh.
And then it's tea time because Hugh declares it so. (He believes he's made enough runs for his team to win the match.) Everyone meets up in the tea tent; Tristan is laughing with friends, and Mrs. Pumphrey again approaches Siegfried over her agonizing dilemma. She muses about whether Tricki would suffer a change in character as a result of the surgery and also, hilariously, whether the terrier's owner would be open to an *arrangement* as if Tricki were a Regency rake setting up an opera dancer. Siegfried responds:
Do you know what, Mrs. Pumphrey? If I were you, I'd forget the lead and just let Tricki do what comes naturally. Life's just too short, isn't it?
Liberated, Tricki gallops off to follow his heart.*
Helen apologizes to Hugh; she's honest and sincere. I find I'm never quite sure of Hugh's honesty and sincerity, but he says this (Helen doesn't know he told James that he enjoyed his stay in France): "I admit I was devastated. But in a way, once the worst has happened, it's actually rather freeing. I think part of me always knew it wasn't right, that we were good pals, and I know you were fond of me, but ... well, it was never a grand passion, really, was it? Maybe one day we can be pals again." She takes this at face value and agrees. Hugh admits he went overboard with the gift of the bull, but she assures him there's no need for him to make amends. They part on cordial terms, and she gives him a friendly peck on the cheek.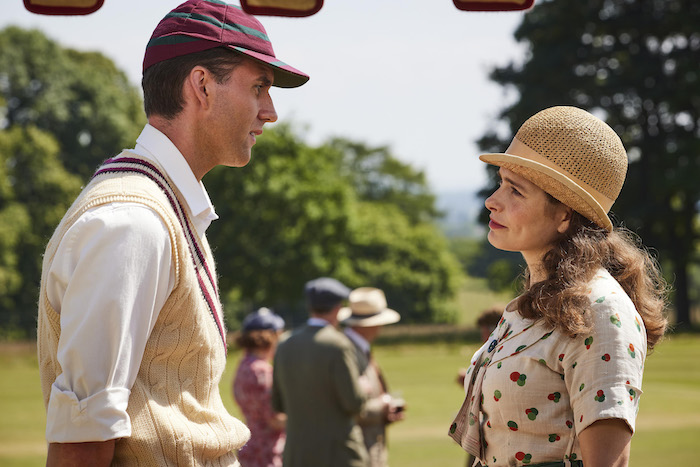 James is jealous but pacified when she tells him they're not keeping the bull; they don't need charity. (Even though it would massively improve the farm's finances to have a pedigree stud bull.) As they go back out onto the field, Tristan suggests to James the match is a way for Hugh to restore his dignity. Their team is up to bat and dealing with some fearsome bowling. Wickets fall, and Mr. Alderson is caught out. Then, disastrously, the batter is hit in the face by one of Hugh's rapid-fire bowls, and James is up. If he can survive three bowls, it will be a draw. He hits the first ball, somehow managing to commit a minor injury with the bat, recovers, and hits the second one. He is bowled out with the third, which means Hugh's team has won.
Tristan is perceptive enough to see James deliberately flubbed the ball, but Hugh deserved a win, James says. Siegfried praises him, impressed by his younger brother's prowess on the cricket field. He admits their father never visited him at school but did take him on his rounds. He delivered his first lamb when he was nine. Finally, Siegfried apologizes and admits he was wrong. He offers Tristan the choice of returning to school to retake his Parasitology examination. Tristan spots Margot across the tent, but Hugh sweeps her into his arms. Tristan shrugs. "Too tall," he comments, and Siegfried splutters that she isn't a pony.
Mrs. Hall, Gerald, and their two dogs set off for the long-delayed walk. And in a lovely romantic, slow-motion shot, Tricki Woo runs to meet his terrier love.
(*Ed note: We know this is right for Tricki-Woo, but please, spay and neuter your pets.)
What did you think of this episode? Did you admire James's decision to give Hugh a face-saving win? How long will it be before Siegfried and Tristan fall out again? Let's discuss!
---
By
for on February 6th, 2022
More to Love from Telly Visions