By
for on February 21st, 2021
'All Creatures Great and Small' Episode 7 Recap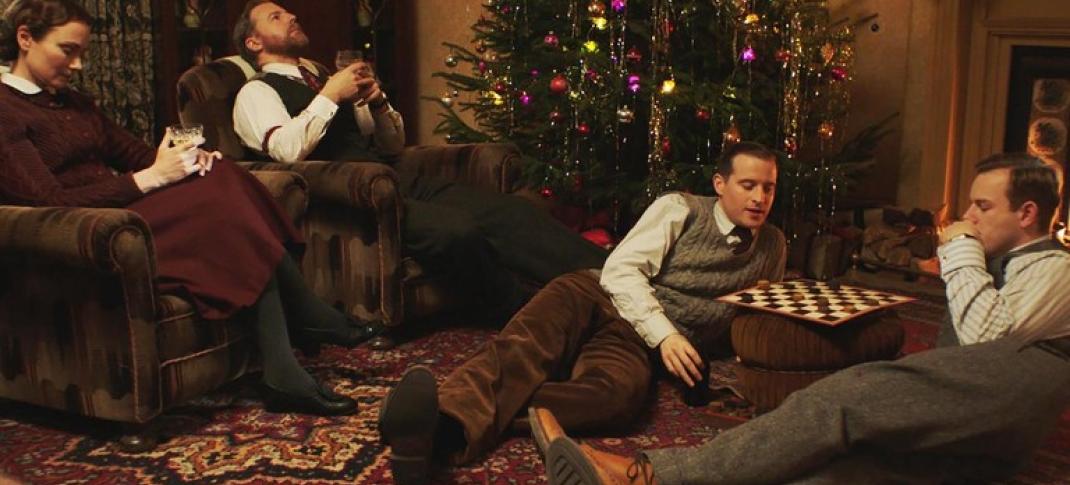 Stream the entire series now on WETA Passport.
Last week's episode of All Creatures Great and Small felt like the end of the season, even if it didn't end as happily as we hoped. But this final episode, originally aired in the U.K. as a Christmas special, brings hope and good cheer, and a reminder of new possibilities to come in Season 2.
Once again, we're driving with James through spectacular scenery to a remote house high in the Dales, the home of Bert and Ann Chapman (Dave Hill and Cleo Sylvestre), and their dog Suzie who is about to have puppies any day now. They apologize to James for calling him out just because they're worried, but he's his usual kind and understanding self. While they chat, we learn that Helen and Hugh's wedding will be on Christmas Day. James isn't going to the wedding; he's going back to Glasgow for Christmas with his family.
Skeldale House is preparing for the traditional Christmas Eve party, and Siegfried investigates the mail to find Tristan's examination results. Mrs. Hall asks him not to open the envelope because it will spoil the holiday cheer, and he agrees. We also see that there is a present for Mrs. Hall's errant son, Edward, under the tree.
Tristan has been out celebrating with the Darrowby Bellringers and arrives back early the next morning as Siegfried is helping Mrs. Hall shop. Tristan's job for the day is to buy mistletoe and greens, sold by Maggie the barmaid, who is still cool toward him. Preparations are also underway in the marketplace for carols and a manger scene with real animals and local children, including Maggie's younger brother David.
And it's not only the children who are dressing up. Siegfried has instituted a tradition at the Christmas party where he dresses like St. Nicholas, standard British version in a green robe, to give oranges (an expensive, seasonal treat then) out to the children. Tristan, hanging mistletoe wherever he can, is instructed to dress up as an elf, also a Skeldale House tradition which he hates. He is a source of great amusement to the children present, including the manger scene participants, many of whom are wearing tea-towel headdresses (another English tradition).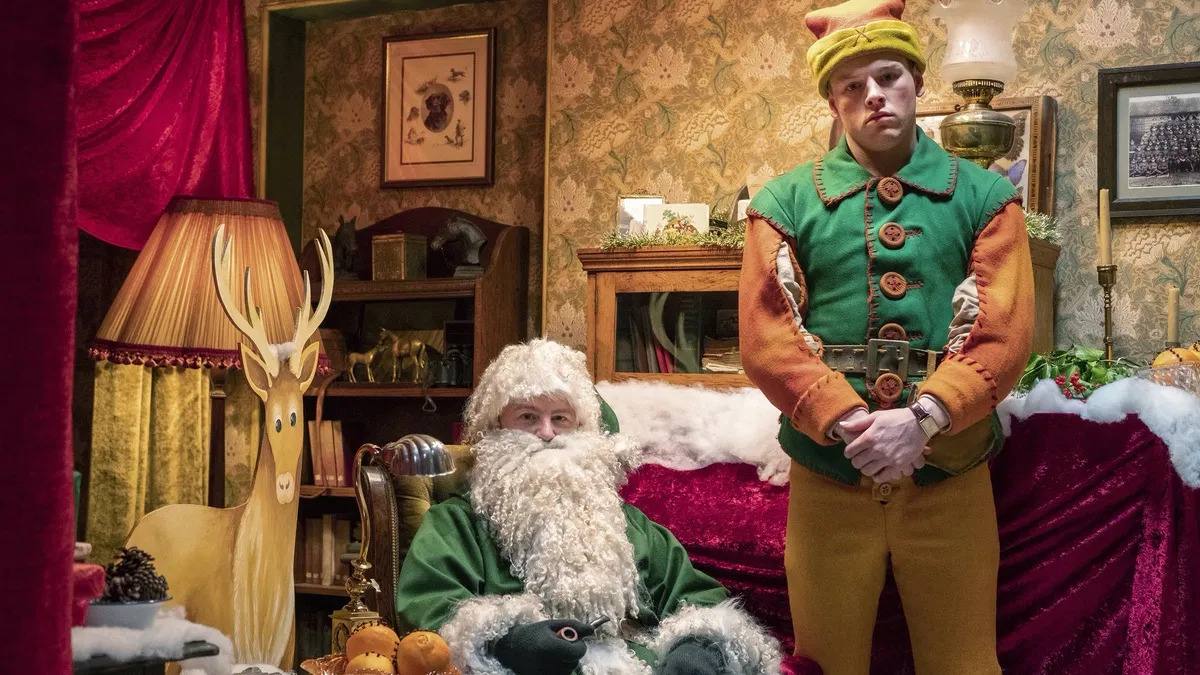 The house is crowded, and Mrs. Hall has invited Edward and jumps every time the doorbell rings. We see familiar faces, including the Aldersons and Mrs. Hall's friend Dorothy. Hugh drops by very briefly—he has a stag night to go to. Connie, the woman who James stood up in the last episode, has been invited, probably by Tristan (and she's about to have her date disappear—again). Helen gives James a chaste, affectionate kiss under the copious mistletoe.
The phone rings and Mrs. Hall answers it, but it's for James. Bert and Ann Chapman are concerned that Suzie is in labor and not having an easy time. James asks Connie if she'd like to go with him—she reacts with astonishment; why would she want to do that? As he goes into the surgery to collect equipment, James finds Helen watching snow fall. She's overwhelmed by everyone wanting to talk about the wedding—it is a huge deal, with Hugh's family being the local gentry, and the Aldersons a respected family, and the whole town is invited to a pig roast at the pub after the ceremony. She feels it's too much fuss, with too many opportunities to make a fool of herself. She suggests that she accompany James to the Chapmans' to take her mind off it.
Of course, James says yes. Tristan sees them leave together and is amused. Mrs. Hall, sees them leave too, but she's concerned. Is it normal wedding nerves or is Helen realizing too late that she's made a really bad decision?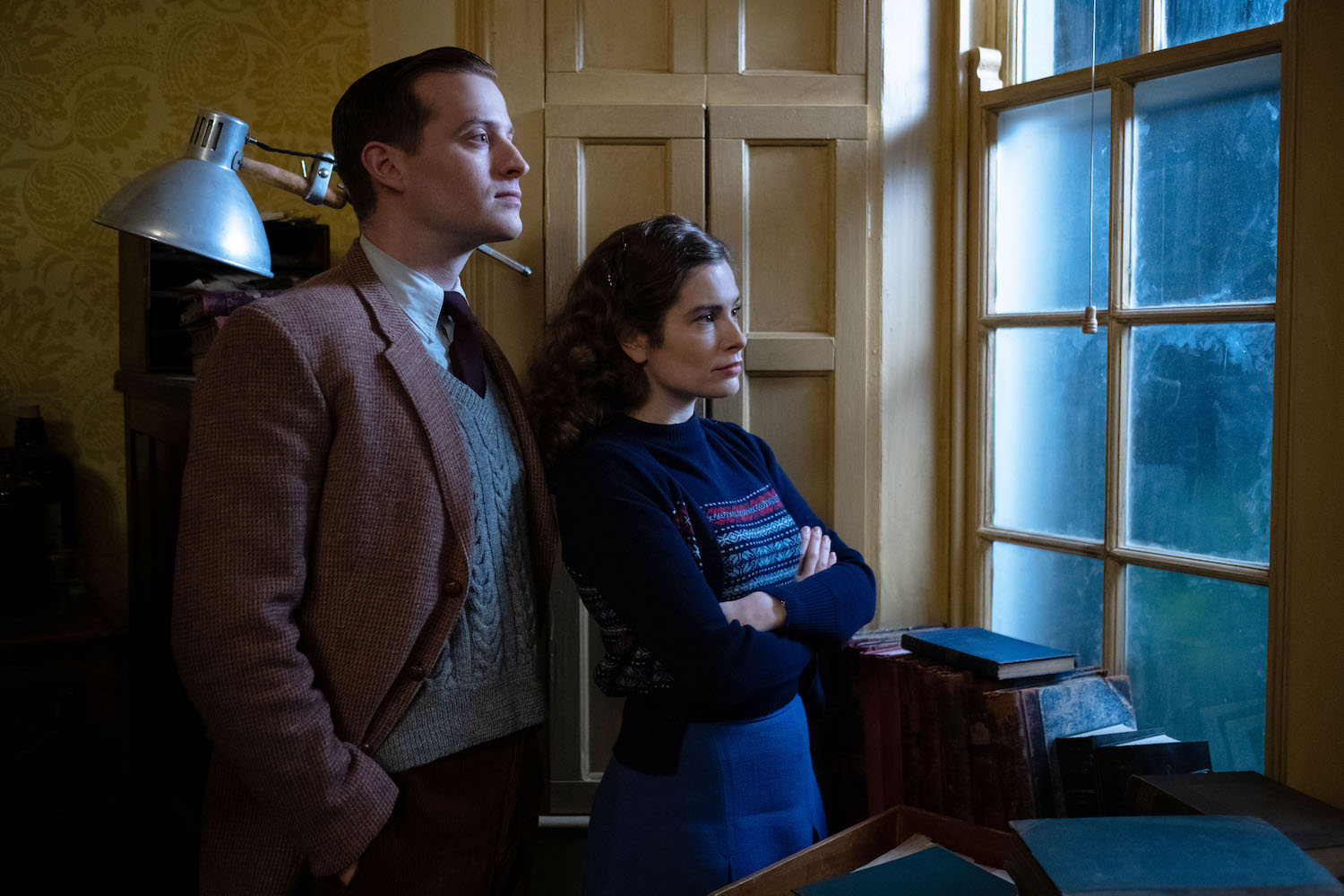 At the Chapmans' house, James finds that Suzie has one large puppy stuck inside her, and if he can help her deliver it, the others should follow easily. The Chapmans are torn between concern for their pet and curiosity about why Helen is with James. James uses forceps for the delivery, warning that this first puppy may not survive. The puppy has only a faint heartbeat, and James blows into its nostrils to revive it, in what has to be one of the sweetest scenes in the series. Helen watches with intense yearning. Now she knows she has made a terrible mistake.
Suzie successfully pushes out the rest of the litter as the humans watch spellbound. James and Helen are holding hands, as are the Chapmans.
Back at Skeldale, a donkey is in trouble and so is Siegfried. Bob the donkey, one of the live animals at the manger scene, ate something that disagreed with him, and David, Maggie's younger brother, is too shy and frightened to tell Tristan what it was. Tristan tells him his secret of dealing with people, using an imaginary magic mask that you can wear to do or say anything you want. Tristan's problem may be that he wears his selection of masks too well, but for a little boy, it's an effective way of dealing with shyness. David finally admits that Bob ate mistletoe, and Tristan is able to treat him.
Back inside, Siegfried confronts Dorothy, right under a bunch of mistletoe. He hands her a drink and nervously babbles:
It's a terrible parasite. You know, mistletoe. It clings onto a tree, suffocates it. Sucks the life out of it. It's interesting, given its association with romance…. Not that I think it's an apt metaphor for a relationship, per se.
Smooth. They depart in opposite directions looking for reasonable people to talk to.
Siegfried is desperate enough to seek advice from his brother, and Tristan is highly amused and not particularly helpful. As he says, what does his brother expect from someone who's dressed like an elf and whose date is a donkey?
James and Helen know it's time to leave the friendly warmth of the Chapmans' house, but a heavy fog has settled and makes driving impossible. This remote area has its own weather system and the fog won't lift until morning, meaning that James and Helen will be stuck there overnight. James takes a flashlight out to the phone box, some distance from the house, and calls Skeldale House. Mrs. Hall answers; she's angry, afraid that James will do something he regrets, and probably also afraid that both he and Helen will be hurt.
Back inside the house, Bert has fallen asleep and is snoring softly. Ann reminisces about their courtship and her difficulties as a Black woman to gain acceptance in the community:
Both of us tried to fight it. We knew it'd cost our jobs, our friends. It were worse for Bert, of course, I was already an outsider. By rights Bert should've never wanted nowt to do with me. But love doesn't see with the eyes. It comes from in here. In the end there's no fighting it.
Helen abruptly leaves to fetch water to brew tea. Does she know, Ann asks, and ignores James's non-committal response.
Ann: It don't come along very often even when it makes life hard.
James: She's marrying Hugh tomorrow.
Ann: Yet here she is the night before her wedding, up in the high Dales with your sorry-looking face.
The older couple retires upstairs to bed and James and Helen chat quietly for a while about regrets in their own lives. Helen wanted to leave home to take a secretarial college, but when her mother died she had to stay home to look after her sister and father. James admits he should have stood up to Siegfried earlier, and also regrets that he didn't have more clothes on the time Helen interrupted his swim. He doesn't say he regrets letting Helen accompany him on this call, but it's clear now all sorts of problems could emerge, as magical as the night has been.
The party at Skeldale House is over as everyone has left for the evening carol service. Tristan and Maggie find themselves alone, surrounded by bunches of mistletoe. They kiss; it's either peace or reconciliation, but we do know that Maggie was impressed by Tristan's kindness to her little brother and possibly thinks better of him now.
Siegfried catches Dorothy outside as she's about to get into her car to leave. This is his chance, and we get another glimpse of the sensitive, shy side he usually hides so well. He start off by saying he likes Dorothy, and stumbles to a stop. Ruefully he admits that he used to be good at this sort of thing if she can believe it. She can; she challenges him to show her the old Siegfried. He admits that in some ways he feels he is still married to his late wife, and maybe he can't let go. But he wants to try. They exchange a first kiss. But Dorothy tells Siegfried before she drives away, that Edward did not show up to the party, and Mrs. Hall is upset.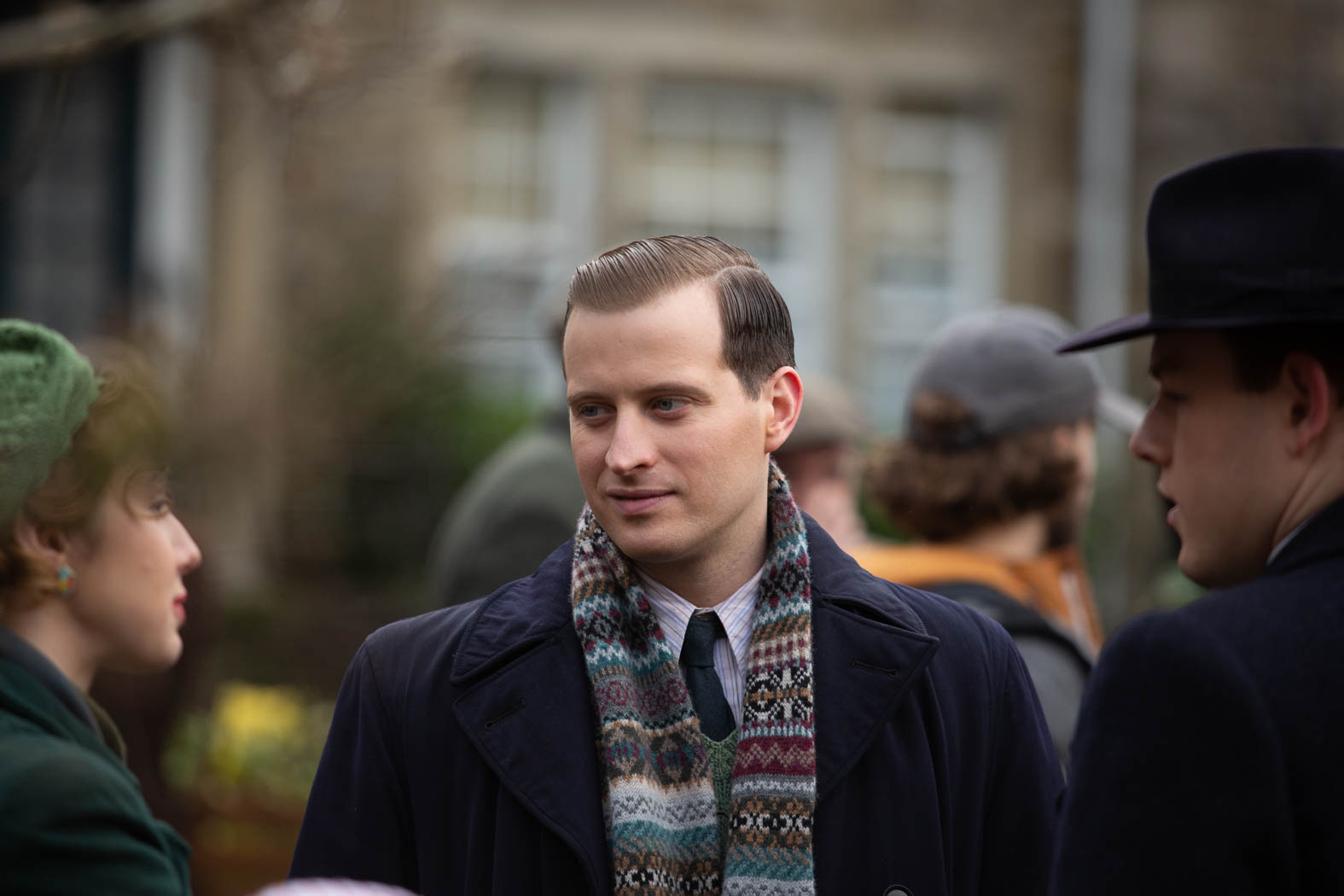 Mrs. Hall has gone to the church with everyone else, but she is far from feeling joy or happiness. As she sings, her voice catches, and she begins to sob. Siegfried arrives and holds her hand to comfort her. After the service, he asks why she and Edward are estranged. It's a sad story—Edward had robbed her former employer and wanted his mother to lie for him, but she refused. Ever since then he's refused any contact with her. He was sent to Borstal, and Mrs Hall had to leave her job. She came to Skeldale House without a reference, but tells Siegfried that he had to hire her as she was the only candidate who could put up with him.
But the next day she firmly tells Tristan and Siegfried, "We will not be sad on Christmas Eve." It's time to open Tristan's examination results, and Siegfried announces that he has passed, and tosses the paper onto the fire. Only we and Siegfried know that Tristan passed one examination and failed the other.
Helen's father and sister Jenny arrive at the house with the wedding dress and wait for James and Helen, whose drive back has had some problems. The car stalled, and James had to hand-crank it. Tristan smirks, dying to ask James what happened, but Mrs. Hall and Siegfried are concerned about James. Siegfried gives James the keys to his beloved Rover for the long drive to Glasgow, and he leaves as the church bells ring out for Helen's wedding.
Mr. Alderson, who has been so proud of his daughter's impending marriage, knows Helen is troubled, and says to her, as their car drives up to the church:
You don't ever have to do anything for me. We'll be all right. No matter what.
James gets to a crossroads, literally, and things come together for him. The story of Bert and Ann Chapman, who gave up everything—friends, jobs, status—to be with each other has resonated with him. Helen, who has only just been able to acknowledge her feelings for James, now has to face the world whichever choice she makes. He turns the car back to Darrowby.
It's raining as he pulls up at the church. People are leaving, heading for the pig roast paid for in advance by Hugh, and he sees Tristan among them. Yes, he missed the wedding, but Tristan, hugely entertained at James' arrival, responds, "Oh, did you ever."
The church is empty although the candles are still lit. Helen is sitting in a pew alone. She reminds James that she told him she'd make a fool of herself, and it's obvious what has happened. She's now shocked at her behavior, suffering from guilt and remorse, thinking she's let everyone down. James comforts her, and they walk down the aisle hand in hand.
James returns to Skeldale House where everyone is sitting down to dinner, wearing (traditional, English) silly paper hats. Tristan is almost exploding with curiosity about the events of the last twelve hours or so. James pulls a cracker to get his silly paper hat, and Tristan says he really, really wants to know—Siegfried brandishes the carving knife and Mrs. Hall gives Tristan a truly filthy look—about Suzie's puppies (said with the greatest of innocence). As for the day's excitement, all James will say is that Helen has gone home.
After some brotherly bickering, Siegfried proposes a toast to the Skeldale House inhabitants, which beautifully sums up this first season:
It's times like this which remind me how grateful I am for everything I have. Not the practice or the house or the beautiful countryside or any other … thing. It's the people. Infuriating as you all are, I'm rather fond of you. And, well, there's that. So … well … merry bloody Christmas!
The episode ends with everyone listening to the King's speech on the radio, James and Tristan sprawled on the floor playing checkers. Peace and joy. Outside it's snowing.
What did you think of this episode? Did you find it far-fetched that Helen jilted Hugh at the altar? How long will it take for the straight-laced community to forgive her, or, more important, for her to forgive herself? And why did she fight the attraction to James for so long?
I've loved everything about this series and I can't wait for Season 2! How about you?
---
By
for on February 21st, 2021
More to Love from Telly Visions