By
for on March 26th, 2022
"A Very British Scandal' to Premiere on Prime Video in April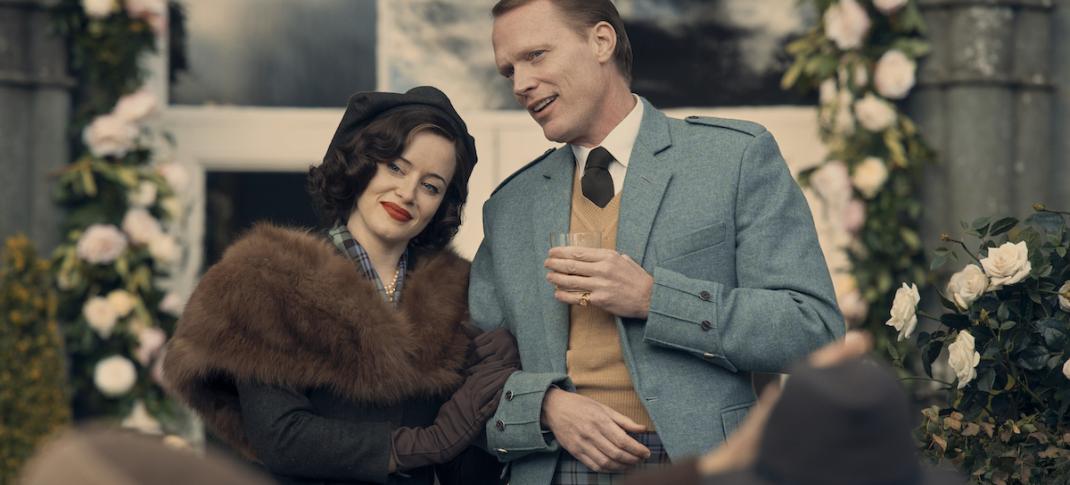 Prime Video has set an official premiere date for A Very British Scandal, the anthology sequel series that serves as a follow-up to the award-winning A Very English Scandal and tells the story of another infamous U.K. sex scandal. (This one just happens to take place in Scotland, hence the title change.)
The first series was written by Russell T. Davies (Doctor Who), starred Hugh Grant (The Undoing) and Ben Whishaw (No Time to Die), and its story centered on the scandal surrounding 1970s Liberal leader Jeremy Thorpe. The new season, written by Sarah Phelps (The Pale Horse), stars Claire Foy (The Crown) and Paul Bettany (WandaVision) and will follow the story of the 1963 Argyll v Argyll case, one of the most notorious, extraordinary, and brutal legal fights of the 20th century.
The scandalous divorce of Ian Campbell, 11th Duke of Argyll, and his wife, Margaret Campbell, Duchess of Argyll, sparked a massive media frenzy at the time. During the proceedings, there were accusations of everything from forgery and theft to bribery and violence. Intimate details of Margaret's private life and rumors of her many alleged affairs were splashed across the front pages of U.K. tabloids. She was even given the nickname of the "Dirty Duchess". But she refused to be cowed by the constant hounding of reporters or shamed into silence about her husband's equally terrible deeds.  (He eventually won the case by leaking nude photos of his wife to the press, in one of the earliest public examples of the phenomenon we now know as "revenge porn". 
The series trailer highlights the deeply toxic nature of the Argyll's relationship, their cruelty toward one another, Ian's drinking problem, and their growing financial woes. 
"The easiest shortcut in any society of how to bring a woman down is to expose her as being unwomanly," Foy told BBC Radio 1 during an interview prior to the series U.K. premiere last year. "Saying that someone is promiscuous or having an opinion or a sex life is the oldest trick in the book, and it's basically been used since they used to burn us as witches."
Divorce is a royal pain. Claire Foy and Paul Bettany star in the BBC series based on the true story #AVeryBritishScandal, coming April 22. pic.twitter.com/wOcfFX0G2y

— Amazon Studios (@AmazonStudios) March 22, 2022
Here's the official synopsis. 
Famed for her charisma, beauty and style, Margaret, Duchess of Argyll, dominated the front pages as a divorcee featuring accusations of forgery, theft, violence, drug-taking, secret recording, bribery, and an explicit polaroid picture all played out in the white-hot glare of the 1960s media.
 
Foy and Bettany aren't the only familiar faces in this massive ensemble, which also includes Julia Davis (Gavin & Stacey), Amanda Drew (Broadchurch), Richard McCabe (Poldark), Phoebe Nicholls (Downton Abbey), Camilla Rutherford (Fleming), Timothy Renouf (Agatha Raisin), Sophia Myles (A Discovery of Witches), Sophie Ward (Jane Eyre), Tim Steed (The Nevers), and Katherine Manners (Press). Richard Goulding (Belgravia), Jonathan Aris (Sherlock), Oliver Chris (King Charles III), Nicholas Rowe (Roadkill), and Miles Jupp (The Durrells) will also guest star.
The three-episode series arrives on Prime Video on Friday, April 22.  A Very English Scandal is currently streaming. 
---
By
for on March 26th, 2022
More to Love from Telly Visions