By
for on July 11th, 2013
Worlds Colliding: Sherlock Star Benedict Cumberbatch To Be On Top Gear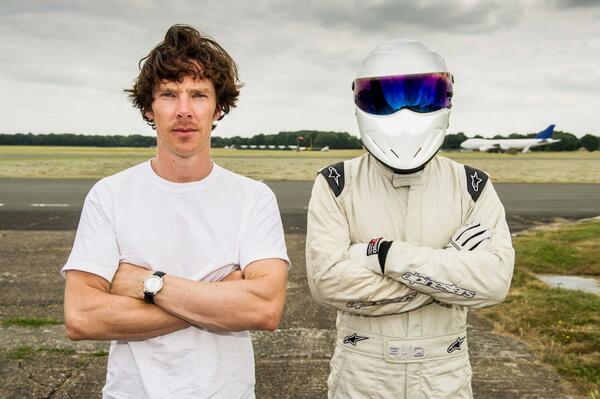 If he can drive a starship, then a car ought to be pretty easy, right? Yes, that sound you hear reverberating around the internet is British TV fans of all sorts shrieking with glee –
Sherlock
and
Star Trek
star
Benedict Cumberbatch
is going to be on
Top Gear
. Really.
The actor will be the infamous Star in a Reasonably-Priced Car and, as such, will have to do a lap of the Top Gear race track in this year's car: a 1.6 Tech Line Vauxhall Astra. (This segment is absolutely the best part of Top Gear, by the way, for the approximately six of you out there who've never seen the show.) There will also be a bit of a - probably pretty silly - interview to go along with the racing thing.  All in all, it promises to be an excellent show, don't you think? 
This episode airs this Sunday night (July 14) on BBC Two, and will broadcast just over a week later here in the States (July 22) on BBC America. Mark your calendars now! 
Cumberbatch actually talked with Martin Freeman and Mark Gatiss about being on Top Gear during the commentary track for The Great Game on the Sherlock Series 1 DVD. (This happens when they're discussing Sherlock and John's trip to Janus Cars, just in case you've never listened.)
Gatiss: "I like these sheets of polythene and the police lights."
Cumberbatch: "I like the car. It's the hairdresser in me coming out."
Gatiss: "Have you done Top Gear?"
Cumberbatch: "No."
Gatiss: "It's only a matter of time!"
Freeman: "It's minutes away!"
Gatiss: "It is now!"
Cumberbatch: "The track's waiting for me."
Gatiss: "Sherlock on his bike; Sherlock in his funny car ..."
Freeman: "Sherlock on his penny-farthing."
Cumberbatch: "Sherlock in his horse-drawn cart."
Gatiss: "Sherlock on Total Wipeout. It's only a matter of time!"
Cumberbatch: "No! Oh, God! Imagine!
Cumberbatch's tone is sort of incredulous during this exchange, but it would seem that now the next time someone asks him this, he'll be able to say yes. Need proof? The Top Gear website has released a handful of behind-the-scenes photos from the filming of this episode, which you can see over this way on the official site.  There are some pretty awesome shots. 
How do we think Cumberbatch will fare as a racer? He's got to top AC/DC lead singer Brian Johnson, who did a lap in just a bit over 1:45.  
---
By
for on July 11th, 2013
More to Love from Telly Visions