By
for on August 12th, 2019
'Doctor Who,' 'Luther' & Other Shows Moving To Stream On HBO Max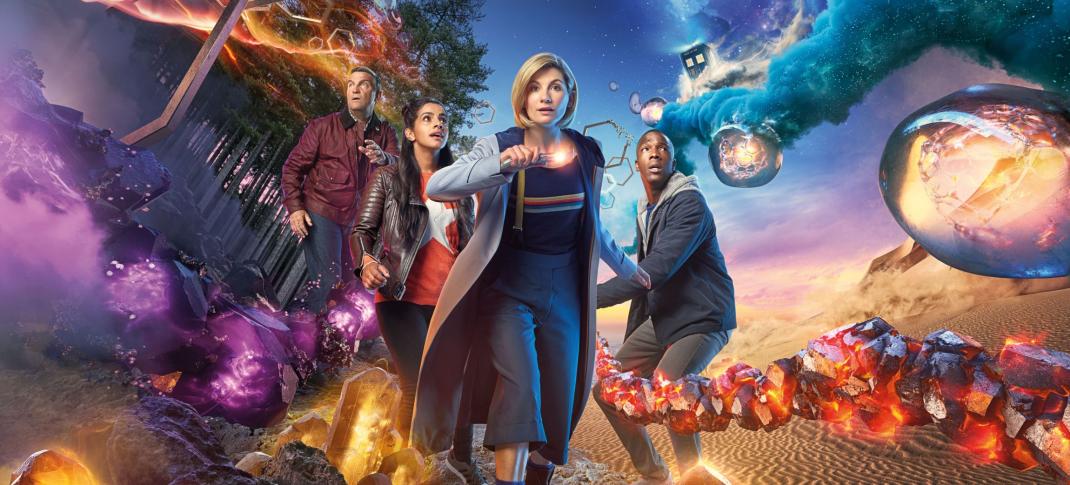 Doctor Who streaming is moving house once again, from Amazon Prime to Warner Brothers' forthcoming HBO Max service, as the streaming wars engulf us all.
Streaming has become the next big thing in media consumption, whether anyone likes it or not. The film industry may fight tooth and nail against the idea of treating streaming services as something on par with movie theater releases. But when Martin Scorsese is taking The Irishman to Netflix, starring names like Robert De Niro, Joe Pesci, and Al Pacino, the war is already lost. There are streaming options for public television enthusiasts thanks to online benefits like PBS Passport that both help support your local station and offer great content in return. And CEO and president Paula Kerger confirmed recently that a deal was now in place with YouTube TV to stream PBS programming. She also hinted more were in the works in order to "bring PBS into as many houses as possible."
As streaming becomes more central, the rights to air these shows is the next battleground, as content becomes a key factor in motivating people to sign up. Netflix has already gotten out ahead on this, strapping in series from BBC and ITV which were once only seen on PBS. By making "Netflix Original Series" deals for shows like Great British Baking Show and Bodyguard, it ensures that, whatever happens in the future, those series can't be pulled by the production house that created them to become fodder for someone else's future streaming service. They belong to Netflix.
The BBC and ITV do have an American streaming service for their combined content, BritBox. But it is still a smalltime player in the US market. That means for the commercial arm of the BBC, BBC Worldwide, it is more lucrative to bid out the parent company's prime shows to those looking to build a content library.
Doctor Who, one of the BBC's most enduringly popular exports, is prime fodder for a streaming service looking to bolster its content offerings.
The next year will see the number of standalone streaming services available nearly double, with several high-profile entrants into the market, including Disney+, Apple+, WarnerMedia's HBO Max, and NBCUniversal's as-yet-unnamed offering. And it turns out Doctor Who's number has come up once again, with an impending move to HBO Max, where it will stream alongside everything WarnerMedia can call its own, from Game of Thrones to Friends.
According to Variety, it's not just Doctor Who moving either. Other shows that air on BBC America like Luther, Top Gear, and the U.K. version of The Office are also part of the package.
The forthcoming WarnerMedia streaming platform has acquired the exclusive streaming rights to Doctor Who, with all 11 seasons of the historic BBC series coming to the service upon launch in spring 2020. The news comes as part of a deal with BBC studios which means the streamer will be the home of future Doctor Who seasons after they air on BBC America. Under the deal, HBO Max has also licensed several hundred episodes of multiple other hit BBC shows, namely The Office, Top Gear, Luther, and The Honorable Woman.
For fans worried about how this will affect their ability to watch the show, here's a rundown of where everything will go come 2020:
Classic Doctor Who episodes (Series 1-26) will stay on BritBox. They are not included in this deal. Nor is the 1996 Eighth Doctor film, which still doesn't have streaming home.
Doctor Who Season 1-11 (or Series 27-37, if you like) will move from Amazon Prime to HBO Max upon the latter's launch in 2020. (Exact date TBD)
Doctor Who Season 12 (Series 38) will air as normal on BBC America. It will then be available on BBC America's website for streaming for the usual three month period after the season ends.
Once the show expires on BBC America's website, it will move to HBO Max.
Hope that helps everyone. Doctor Who Season 12 is expected to debut in early 2020.
---
By
for on August 12th, 2019
More to Love from Telly Visions