By
for on May 10th, 2020
'World on Fire': Episode 6 Recap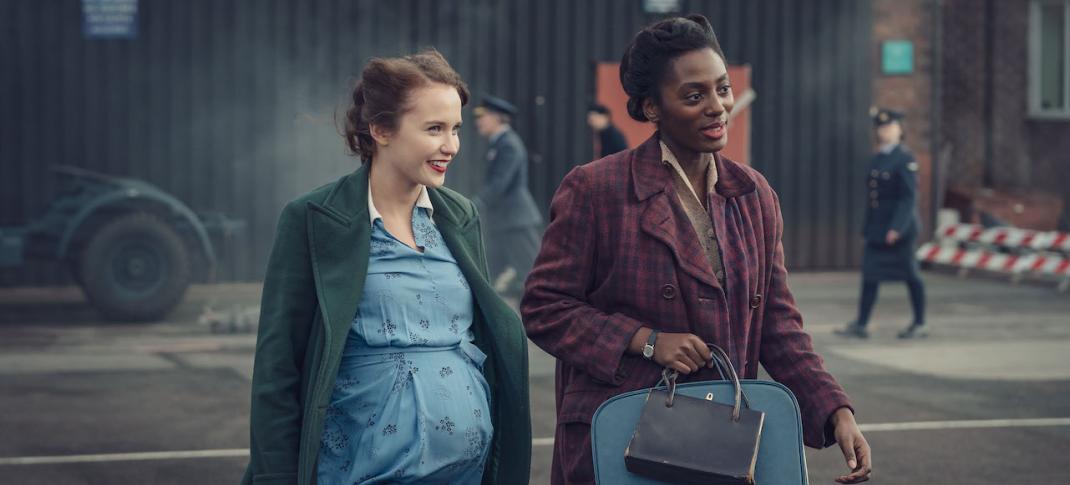 As the penultimate episode of World on Fire's first season begins, Robina once again welcomes home her son Harry, this time from Dunkirk. And once again, her face freezes when she sees he's not alone; this time, he's brought home one of the Sengalese soldiers he rescued. She chats politely with Demba (Buom Tihngang) in French and then lets rip at Harry when they're alone for his  "obligation … to shower me with human survivors from your travels."

Ouch. When Harry points out that he would never have survived Dunkirk without Demba, she's dismissive, and both contemptuous and relieved that their guest is traveling to Scotland the next day to join the Free French. She doesn't believe Demba when he tells her how brave Harry has been, bringing up the topic of his father once more, and as a change of conversation mentions how fortunate it has been that Paris has been taken without a shot fired. It just proves the Germans are a civilized rac
Harry hears Jan crying in the night and comforts him. It hasn't been happening so often now,  Robina says the next morning, since she censors the newspapers (she shows him a newspaper with an offending item cut out). She and Harry have their version of a tender mother/son conversation about Lois over breakfast:
Robina: Are you sure that baby's yours?
Harry: Yes.
Robina: Do you know that for a fact? She gave herself to you and perhaps she's free and easy with her virtue. She's a socialist, after all.
Harry: The baby is mine.
Robina: So how much does she want?
Harry: Nothing. Nothing at all. As you say, she's a socialist.
Robina: Well, good. That must be a relief for you. And your Polish wife.
Way to go, Robina! Harry gives her a quick admiring glance, impressed by her prowess. Yes, she's mean and he's sneaky, but this relationship works in its own dysfunctional way.
The Bennett family, meanwhile, receives the devastating news that Tom is missing. Both Lois and Douglas refuse to believe that he's dead, and in fact he's wounded and being cared for by Webster in the American Hospital in Paris, now a POW hospital. He's desperate to escape, and Webster reveals that he has contacts for an escape route across the Pyrenees to Spain. But Tom has to be declared dead to avoid suspicion and a possible recapture.
When German officers arrive to inspect the hospital, to Webster's alarm they demand to see the body. Nurse Henriette Guilbert escorts one of the officers to the mortuary, and uncovers a corpse so badly disfigured the officer throws up. When she tells Webster this, she is so elated she kisses him, and is confused by his lack of response. It's obvious she has a major crush on him and doesn't know about his sexual orientation.
Meanwhile Tom is wheeled out of the hospital, covered by a sheet, to meet his contact. He's miraculously recovered, once he's discovered his escort is a woman, and switches into full-flirt mode. The poor woman presumably has to suffer his sexual innuendos all the way to Spain.
When Albert and his band are playing at the club, at the end of a number some German officers come in. They stare at the band for one tense, silent moment, and then break into applause. After advising Albert he should leave Paris, one of the one of the officers who seems sympathetic, presents them with a leaflet on the Nazi policy on jazz. Webster and Albert read it later in disbelief and derision—no breaks, no "hot jazz," no plucking of strings. Webster doesn't believe anyone will take it seriously, but Albert is afraid. He asks Webster to find him a way out.
Webster is shocked when he returns to his apartment from the hospital shortly after and finds that his home has been requisitioned by Germans, who are holding a wild party. Albert has been arrested, and Webster is furious. He seeks out the officer who warned them at the club, and is given an address. It's a holding center for Jews and people of color. Albert is angry that Webster did not get him out of the country before the arrest, and tells him not to stir things up. If he leaves, he says, it will be to go a worse place.
Meanwhile, the Rossler family in Berlin are in more trouble as Frau Pessler's disappearance is investigated. Mrs. Rossler and Hilda arrive back at the apartment, and Mr. Rossler tells them they must leave and never come back. Hilda, upset, runs out of the apartment and meets Nancy, and says she wants to live with her now. At this moment the police arrive and Nancy shelters Hilda as her parents are arrested.
The police question Mr. Rossler about the disappearance of Frau Pessler and his reluctance to display flags in the workplace. Mrs. Rossler is questioned about ludicrous issues like complaining about the quality of milk under rationing, and slapped and humiliated. She denies her daughter is epileptic and is allowed to return home. She reassures Hilda that everything will be fine now and we see her and her Hilda sitting quietly together as though preparing for a journey.
When Mr. Rossler comes home he discovers that his wife has killed their daughter and then committed suicide. As he lifts the rug that covers Hilda's body, he cries out in grief, and Nancy hears him. The nosy neighbor next door appears to see what's going on, and he threatens to kill her. Nancy restrains him, telling him that he must think of his son.
Back in England, Lois is finally opening up about her plans for her baby, and tells Douglas that she'll keep it, but she refuses to ask Harry or his mother for financial support. Douglas tells her if she won't ask them, he will. Lois goes to see Harry, just as he is about to leave with Demba for the train station. She's brought a football jersey for Jan, a gift from Douglas, but there's nothing else friendly about the visit. She tells him she's come only to tell him to stay away. Harry is horrified and asks Lois what she'll tell the child about its father. Easy enough—she'll tell the child its father is dead, an uncharacteristically cruel comment from her.
Lois's romance—or stalking, however you like to look at it—with Vernon is still underway. He turns up at her performances, including one memorable one where Connie and Eddie are reunited, at the hospital where Geoff, the severely shell-shocked soldier Harry rescued, is being treated. Randy (Benjamin Wainwright), an American masquerading as a Canadian to join the air force, is in the audience too. He has flirted with Connie and is disappointed that her husband has reappeared. Vernon catches Randy backstage talking to Lois and immediately jumps to the conclusion, for no particular reason, that he is the father of her baby. The cad! Lois tells him off in no uncertain terms, and prepares to board the bus to leave. Vernon turns up again, apologizes, admits he was jealous, and makes a clumsy declaration of love. He leaves before Lois can respond.
Harry has been ordered to report to the War Office in London for his next assignment and is shown into an empty conference room. He meets the enigmatic Major Taylor (Prasanna Puwanarajah) in the men's bathroom where the majority of the interview takes place. Taylor knows all about Harry:
I could use a man of your talents—your gift for languages and your talent for deception. Marrying a local Pole, coming home with her brother on forged papers …
(Papers forged by who?—Kasia? When? How? This is a plot detail that's bothered me all through the series. We see her very briefly in this episode, crying over the photo of her family with Harry.)
The work, the Major continues, will be dangerous, and if Harry is caught, he'll be lucky if his death is a quick one. Harry agrees that a quick death will be just fine. Yes, he's being recruited by Intelligence, and he's going to be sent to Poland.
What did you think of this episode? Do you think Vernon and Lois are a good match? Why didn't Webster take Albert's request to get out of France seriously, and do you think he's convinced now that they're both in trouble? Do you think Harry and Kasia will meet again?
---
By
for on May 10th, 2020
More to Love from Telly Visions