By
for on May 21st, 2023
Should Netflix Renew 'Queen Charlotte' for Season 2? The Show's Creator Weighs In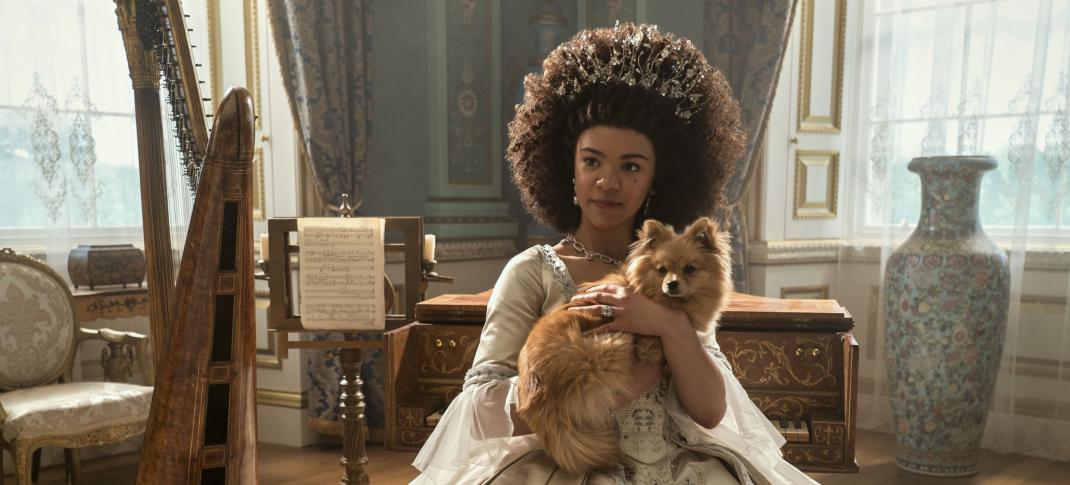 Once upon a time (because the best posts about romances always start that way), when an American show was a hit with audiences, that meant it would run for years. M*A*S*H, Cheers, Seinfeld, Friends; all ran for a decade or more. When Game of Thrones hit the big time in 2011, author George RR Martin and HBO boasted "it could run for ten seasons." However, since the domination of Netflix, that model is out the window. Now a show is lucky if it runs five seasons, even when it's the streaming service's flagship show. Instead, the main show gets spinoff limited one-and-done, such as Bridgerton and Queen Charlotte: A Bridgerton Story.
However, this model is still relatively new, and thus far, most of these spinoffs, especially on Netflix, have only done modestly well or, in the case of Witcher: Blood Origin, outright flopped. That brings us back to Queen Charlotte, where, for the first time, the limited series spinoff is as popular, if not better than, the parent show. That leaves Netflix with a dilemma: does the service renew a show that was designed not only not to be renewed but to avoid having to pay actors, writers, and directors what they're worth by ensuring none of their hit shows run long enough to reach that point?
It boils down to simple economics. Running a show for four seasons on broadcast television was profitable because, at 100 episodes (pre-peak TV, most shows ran 26 episodes a season), it could be syndicated. Most union contracts are therefore structured around the idea that at Season 4, everyone makes money, so therefore, everyone gets a raise. But streaming services don't have syndication. Moreover, these companies promised their shareholders a constant stream of new subscribers, who are much more likely to sign up for a new title than a new season of an old hit, while those who might leave because a show ends are assumed to return in the constant churn of subscribers. 
Queen Charlotte's success is, therefore, a dilemma for Netflix. In any other case, renewing for Season 2 would be a no-brainer. But the entire model is predicated on these being limited series that cannot possibly run anything close to four seasons to provide fans who love it more content while enticing new subscribers with new shows, and without having to run the main show to the point where salaries rise. (And considering the outcry over how much Season 4 of Stranger Things cost — partly due to having to pay the large ensemble what they were worth for the first time — Netflix has optics reasons to avoid it.) 
In an interview with Entertainment Weekly, series creator Shonda Rhimes admitted Queen Charlotte was not designed to run more than its current six installments. "There have been questions, but I'm not having conversations about it yet," Rhimes said. "I could live with Charlotte and George forever, but we told a very specific, closed-ended story that I think is a complete tale of this complicated, imperfect love. But I'm not ruling anything out because I never know."
However, Rhimes has been pushing to buck the Netflix model whenver she can. When TV reporters ask about Bridgerton's chances of getting renewed past the point of Season 4, she insists her plan for the show is to run eight seasons, one for each sibling romance, despite all the evidence to the contrary that Netflix would never renew it that far. No Netflix original scripted drama series has ever run eight seasons. The longest-running ever was Orange Is The New Black, which was canceled after seven. Only two other shows have run close to that long: House of Cards and The Crown top out at six; Stranger Things will end at five.
To renew Queen Charlotte for at least one more round seems harmless enough, and to not do so feels like leaving money on the table. But Netflix may refuse to do it on principle. Once it agrees to renew one limited series spinoff, suddenly, everyone will be demanding their hit spinoffs get renewed, and then Netflix is back at square one, facing down having to pay actors and writers when this whole system was invented to avoid having to do just that.
Moreover, Rhimes' hesitancy to push for a second season in the press shows she knows what she's up against. There are only so many fights one can have with their platform to make them treat hit TV series the way they ought to be, and if it's a fight to get Queen Charlotte six more episodes or the original Bridgerton an eight-season order, the entire industry is better off with her fighting for the latter. It's unfair fans should have to choose, but then again, very little about the current streaming landscape could be considered fair.
All six episodes of Queen Charlotte: A Bridgerton Story are streaming on Netflix. Bridgerton Seasons 1 and 2 are also streaming with ten episodes each, Season 3 is expected out later in 2023.
---
By
for on May 21st, 2023
More to Love from Telly Visions