By
for on May 6th, 2023
'Queen Charlotte: A Bridgerton Story' Takes the Romance Back to Form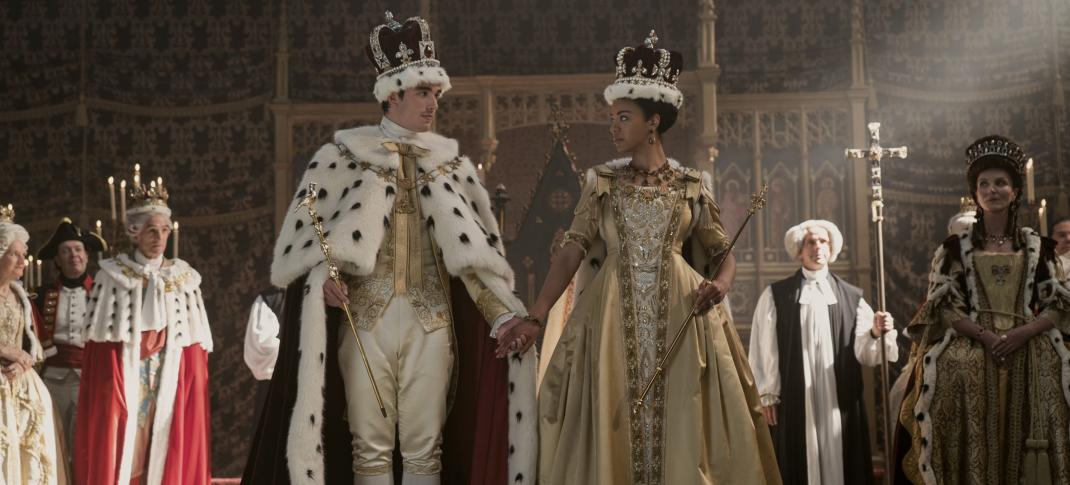 When Bridgerton originally premiered during the holiday season of 2020, it was a bit of a radical piece of television. TV mega-producer Shonda Rhimes took the classic Regency romance novel, and instead of bowdlerizing it the way "Women's Television" romances on Lifetime and Hallmark Channel might, she put the sex on the screen. This may not seem like a big deal; however, in a patriarchal society where women's desires are shamed and romance novels are deemed "trashy," celebrating what makes them great in a prestige-level, big-budget, ultra-marketed TV series was nothing less than revolutionary.
Lady Danbury: Lady Whistledown never writes of our hearts. We are untold stories.
That was not even considering the show's casting, where Rhimes threw out any assumptions of a white upper-class British aristocracy, casting her Regency fantasy as she saw fit, creating a vision of 19th-century racial harmony. Her excuse — stated in what was, unfortunately, one of the show's less convincing moments — was that King George III and Queen Charlotte of Mecklenburg-Strelitz were an interracial couple in love. Instead of everyone pretending Charlotte was white, their union changed the world for the better.
Like her imagined world of ethnic solidarity, this addition of Queen Charlotte as a character, and her love story as a bridge to cultural unity, were wholesale invented additions to author Julia Quinn's original Bridgerton novels, which were, as most mainstream romances of the era, utterly lacking in characters of color. While some — including myself — were uncertain the show needed the excuse, let alone stated in such a stilted manner, adding an aging Charlotte and ailing George to the main series had been a running highlight. So perhaps it is not a shock that their prequel romance, Queen Charlotte: A Bridgerton Story, is better than Bridgerton itself. 
Though technically billed as a stand-alone limited series prequel, in practice, Queen Charlotte: A Bridgerton Story opens as Bridgerton Season 2.5. The "present day" of 1814 framing device, from which the Georgian era flashbacks happen, takes place directly following Bridgerton's Season 2 finale, as the series' elders — Charlotte (Golda Rosheuvel), her longtime BBF Lady Danbury (Adjoa Andoh), and Danbury's partner in trouble-making via marriage, Lady Violet Bridgerton (Ruth Gemmell)  — reminisce over their own past.
But enough about the original series, because it's Rhimes' own invented love story starring 17-year-old Charlotte (India Amarteifio) and the freshly crowned King George III (Corey Mylchreest) that's the heart of this show. While their union creates what is referred to as "The Great Experiment" (the bestowal of titles, lands, and privileges on wealthy people of color, explaining how a diverse aristocracy was so quickly populated), it's George and Charlotte's intimate moments where they deal with race, consent, and treating sexual desire equally, along with mental health and long-term partnership that makes this series more subversively progressive than one could have imagined.
Queen Charlotte also gives the overall series something it has sorely lacked — an actual plot for its present-day titular character. Until now, Charlotte has been a comic relief figure, with her fabulous bon mots only one-upped by her even more fabulous gown-and-wig collection (and, every so often, her Pomeranians). That's partly due to her not existing in Quinn's world, so there's not much for her to do. Here, Rhimes gets to tackle what should have been Charlotte's obvious drive with George's failing health from the first — getting one of her baker's dozen of children to sire an heir already, preferably a legitimate one. 
Taking the fan-favorite character who works well as a side figure and turning them into the central point around which everything revolves has long been the downfall of many a spinoff. But by giving present-day Charlotte a dramatic focus for Rosheuvel to dig into, as well as her younger counterpart, Rhimes neatly sidesteps that pitfall, turning Charlotte's day in the sun into one that audiences not only will be invested in but making her a heroine viewers didn't know they needed. Amarteifio not only echoes her present-day version's drive to keep the family line going but reveals how a strong-willed teen girl grew into the woman who rules the Regency era with an iron fist of fun.
The series also embraces its shorter runtime, using the six-episode format to strip back the ensemble and focus on its chosen core characters. Not that there isn't room for newcomer Arsema Thomas to shine as young lady Danbury trapped in a loveless marriage to a man older than her father. (Her complaints about his endless need to bed her when she's busy — "I was embroidering a pillow!" she wails — are the show's greatest quotables. "What if he puts another of his GIGANTIC babies inside me?" What if INDEED, madam?) The series finally gives Bridgerton the LGBTQ+ storyline it's been struggling to find, with Sam Clemmett as Young Brimsley in a breakout performance.
All this and endless sex scenes too? Be still my heart. Queen Charlotte has everything a lover of Regency romances could ever want, except maybe a Season 2. Long live Bridgerton prequel spinoffs; one can only hope this is the first of quite a few.
All six episodes of Queen Charlotte: A Bridgerton Story are now streaming on Netflix. Bridgerton Season 3 is expected out before the end of 2023.
---
By
for on May 6th, 2023
More to Love from Telly Visions