By
for on December 24th, 2020
Netflix's 'Bridgerton' Is A Warm Glow For The Cold Holidays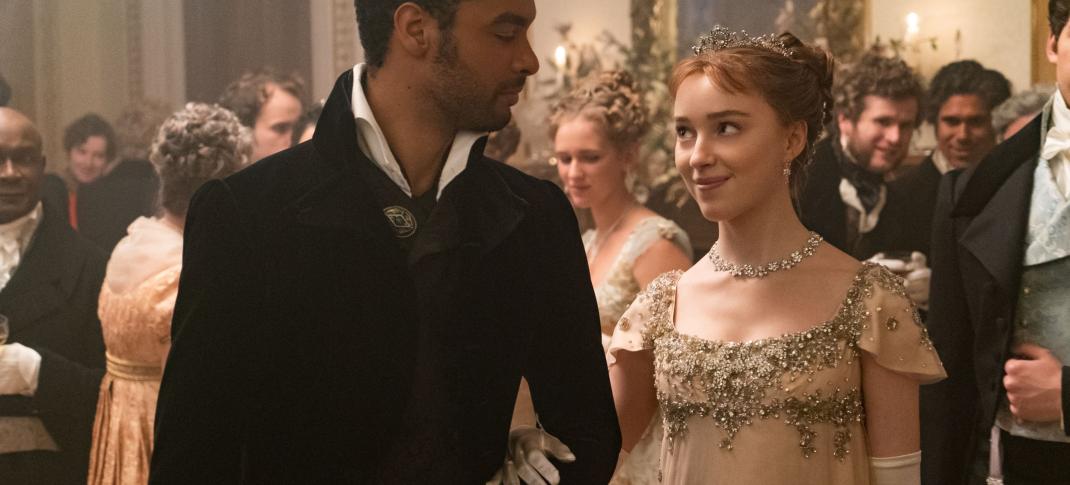 "It's not your mother's Jane Austen." Speaking during the Bridgerton panel ahead of Netflix's new series debut, costume designer Ellen Mirojnick point-blank warned the Austenites in the group to gird their empire waists. Based on the series of Regency-set romance novels by Julia Quinn known as The Bridgerton Series, Netflix's new show was not PBSing up the joint. There would be little in the way of historically accurate washed-out pastels and dim candle-lit whites here. Come for the romance, stay for the outfits, but please leave your assumptions at the door for what you will find here. 
It's a philosophy that carries over the show itself, one of the most delightful feminine fantasy romps in recent memory. The romance genre doesn't get a lot of respect on TV. There are the chaste versions that run on basic cable's Lifetime and Hallmark channels. STARZ goes a bit racier, but with the fig leaves of history or time travel to excuse the show as "not just a period piece romance." Netflix needs no such excuses, nor does the new Shondaland show apologize for not having them. It's not a guilty pleasure, and it's not trashy. It's sumptuous, divine, big-budget storytelling. It's a reminder that romances are just as ripe for the plucking for prestige TV, and it's only our culture's pervasive misogyny that denies them that space.
Everything about the titular Bridgerton family is magic — the family has eight children, named in alphabetical order, who live to adulthood. Lady Violet (Ruth Gemmell), their mother, survived giving birth every time. Their father was not so lucky, though his passing somehow failed to affect the family fortunes. The story starts with the entrance of the eldest daughter (fourth born child) into society. Daphne Bridgerton (Phoebe Dynevor) takes the family's charmed life with her, immediately declared a diamond of the first water, and given the blessing of Queen Charlotte (Golda Rosheuvel). Obviously, she will marry well.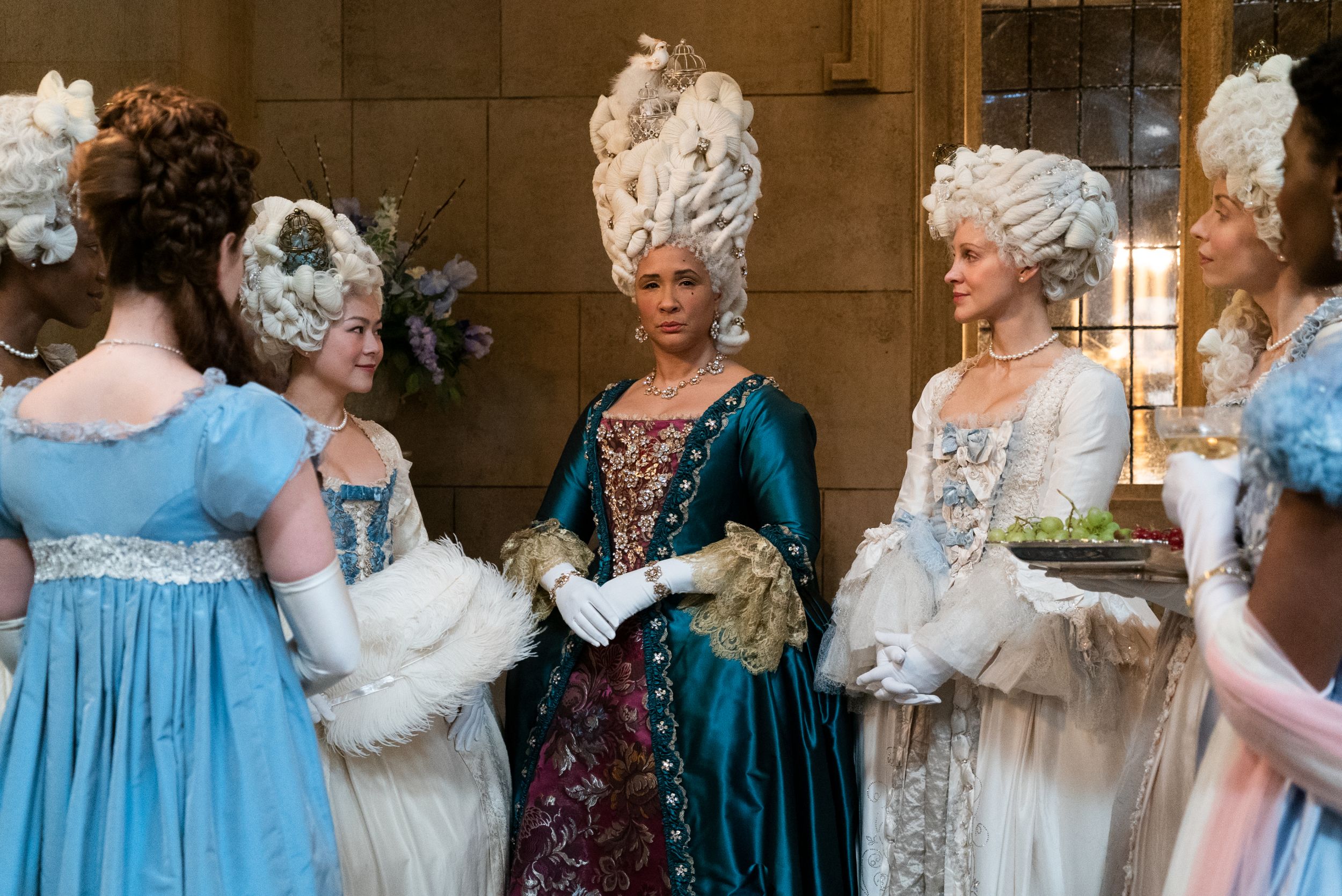 Or perhaps not, as well-meaning but oafish eldest brother Anthony (Jonathan Bailey), attempting to do his family duty, screws up every well-placed suitor. It's not long before society's oracle — the invisible Lady Wihstledown (Julie Andrews) — has declared in her Society Papers everyone was wrong, Daphne will marry badly after all. Enter the Duke of Hastings, Simon Basset (Regé-Jean Page), the 1813's Sexiest Man Unwed, and Anthony's friend. He, too, has a Whistledown problem, namely that she's challenged every mama of society to get their daughters wed to him. He and Daphne concoct a plan to pretend to fall in love. He'll be left alone, and she'll suddenly be a prize to be won from an all-powerful Duke. 
No spoilers, but no one has to pretend they don't know how such schemes turn out in Romancelandia. That fans already have a good idea of exactly how this story goes isn't the point; watching the journey is worth it. Moreover, this is no Sanditon when it comes to modernization. No one has to argue their humanity over dinner or presented with racist pineapples in this fully integrated society. Sex is rampant, but no one is incestuous abusing anyone. And that all-important happy ending arrives intact, with no one attempting to stretch things for a second season unnecessarily. After all, there are other Bridgerton siblings to marry off.
The cast is practically a who's who for the PBS fan. Highlights include showcase performances from Adjoa Andoh as Simon's adopted aunt and Violet's BFF in matchmaking, Lady Danbury. Both Claudie Jessie as Daphne's younger sister Eloise, and Nicola Coughlan as her BFF Penelope Featherington take on the patriarchal society they find themselves unable to fit into, in opposite but equally delightful ways. And perhaps most unexpectedly, the profound privileges these people float upon are highlighted in small but effective turns from those downstairs. They include Molly McGlynn as lady's maid Rose and Lorraine Ashbourne as housekeeper Mrs. Varley, and those in the middle-class like Kathryn Drysdale as dressmaker Mme. Delacroix.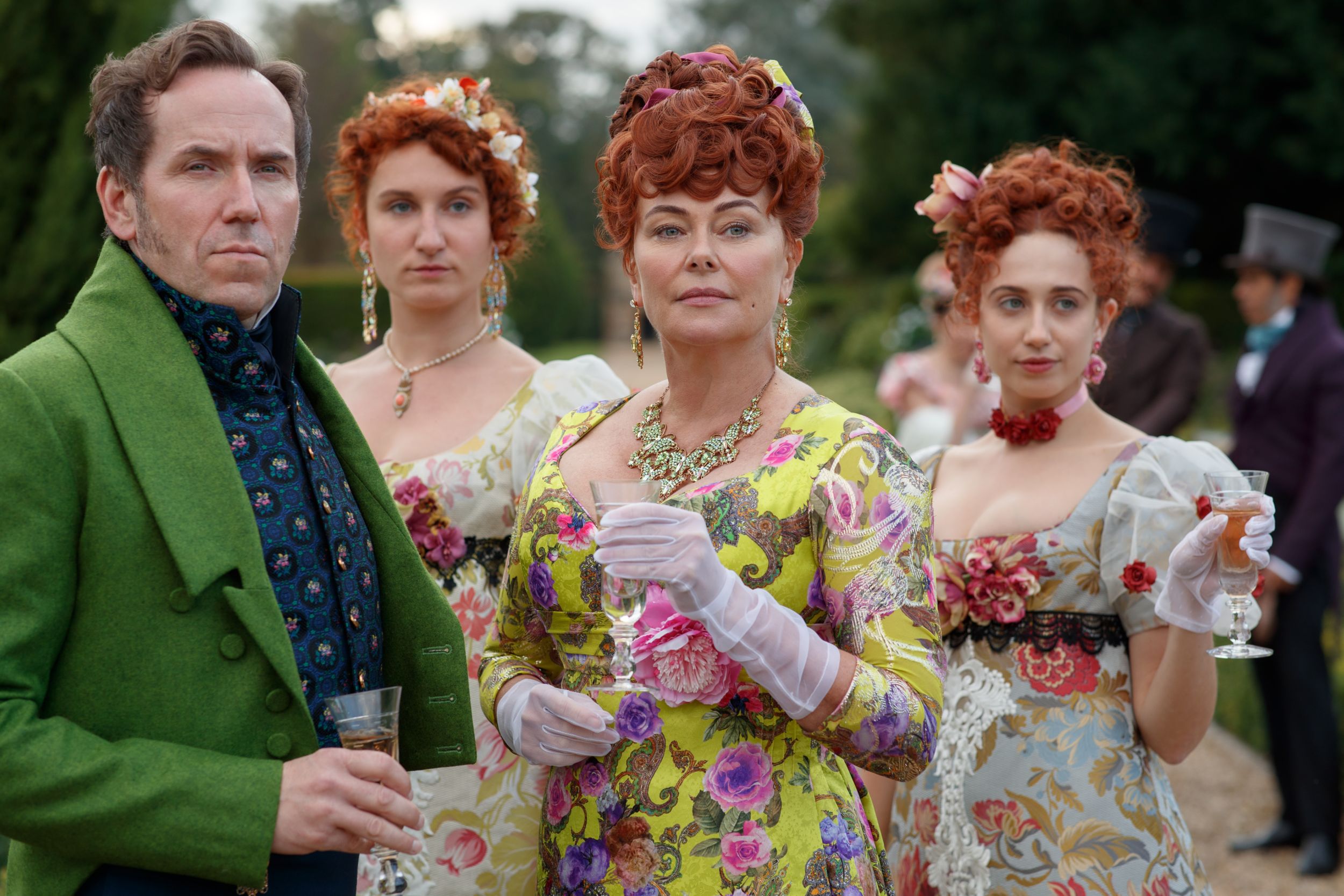 Across the street from the Bridgertons are the Featheringtons, led by Polly Walker as the matriarch, whose performance arrives with the sort of gusto it takes the steal an entire Netflix show out from under a strong ensemble. The writing helps enormously, as do the visuals. In contrast to the Bridgerton families' more historically accurate style (and their endless supply of jewelry), the Featherington women get some of the best howler outfits. (Please note Best-in-show for Wigs is reserved for Her Majesty.) As stated above, the costumes are worth the price of your Netflix subscription alone: 7,800 over eight episodes isn't just putting the costume in "costume drama," it's practically an overstuffed explosion of them. 
Most Netflix fantasy shows that are rewarded this kind of budget use it on making CGI monsters (The Witcher), staging battle scenes (Cursed), or other theatrical release level special effects. Bridgerton uses it on sets, costumes (those jewels!), and licensing pop songs. This isn't just a show where you can play "Where Have I Seen That Actor Before," but "Where Have I Seen That Filming Location Before?" As for the pop songs (all played on period instruments), shout out to the musical director, who recognized the natural themes and autobiographical nature of the Regency Era's romantic music make Taylor Swift the perfect choice.
Bridgerton's source material starts with the Quinn series, which runs nine books all told. (Eight romances, one per child, and a ninth book of eight short stories, each of which presented as a "second epilogue" to the previous novels.) If that weren't enough, Quinn has an entire Regency Franchise Universe she's created, with trilogies and quartets of stories set within this same world, in which some of the Bridgerton characters appear in secondary roles. Netflix hasn't just tapped a wellspring of regency romances, but a goldmine that could easily run six seasons and a movie. Settle up by the warm glow of the television this holiday season and spend it falling in love with Bridgerton.
---
By
for on December 24th, 2020
More to Love from Telly Visions