By
for on November 30th, 2020
Why You Should Watch HBO Max's 'The Murders at White House Farm'
Don't expect sensationalism in this ITV dramatization of one of Britain's most notorious homicide cases, the brutal murder of three generations of a family in 1985 in a remote, locked farmhouse. The case that HBO Max series The Murders at White House Farm is based on remains controversial in the U.K. - so much so that director Paul Whittington (The Crown Season 4, Cilla, The Widower) and his team received protests from the murderer and his supporters who thought the series might unfairly influence future appeals. (I should point out that there are spoilers here since we're fairly sure of this person's guilt from the beginning.) But what will hold your attention in this drama is the choice of subtlety over gore, the slow exploration of how the case was solved, and the personalities involved.
The series is a snapshot of the 1980s with impeccable attention paid to the details of everyday life, the odd color schemes and fixtures inside houses, and music, clothes, and hairstyles. It wasn't the most attractive period, but the frequent shots of the Essex landscape, flat, with golden fields and lines of mature trees, add a sense of beauty and timelessness.
It's possible that's the influence of Colin Clafell who lost his ex-wife Sheila and his twin boys that night in Essex, and who consulted on the series. He became a grief and loss counselor and has written a book about the case, In Search of the Rainbow's End: Inside the White House Farm Murders.
The first episode covers that night in August 1985, in the spectacularly-named Tolleshunt D'Arcy, about an hour north of London, when local police receive a concerned call from Jeremy (Freddie Fox), the son of well-respected landowners Nevill and June Bamber (Nicholas Farrell and Amanda Burton). He is worried that something terrible is happening in his parents' house where his mentally ill sister Sheila Caffell (Cressida Bonas) and her young twin boys are staying. Special forces subsequently break in and find all five inhabitants dead; Sheila is found with the shotgun and a Bible on her body. Clearly, the police decide, it's a murder-suicide.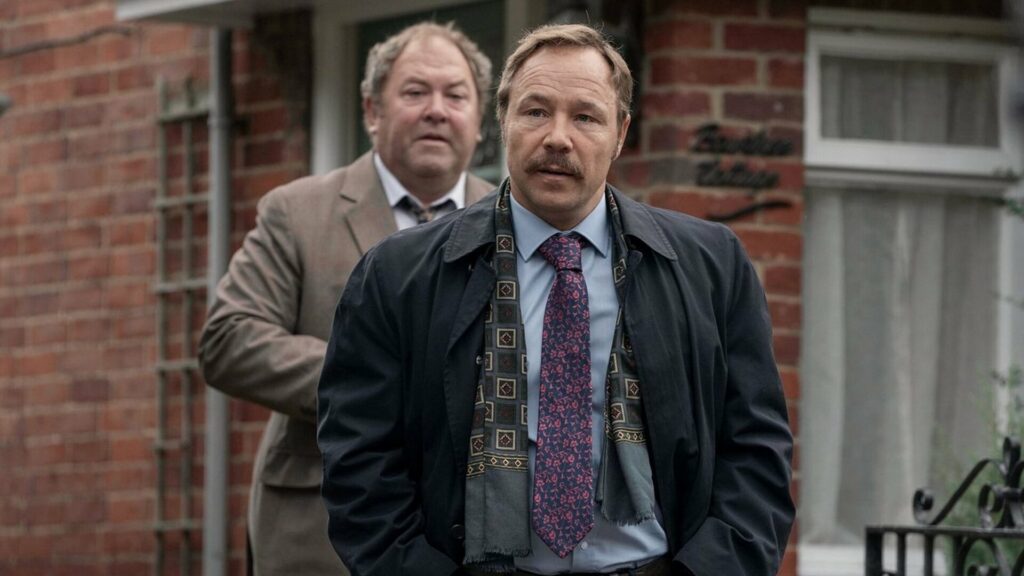 DS Stan Jones (Mark Addy) isn't entirely convinced, and the story diverges somewhat from the Bamber family to his struggle with his superior officer, DCI Thomas "Taff" Jones (Stephen Graham, who makes the best of a role that consists mainly of shouting in a much-criticized Welsh accent).
Taff expects Mark to fulfill the role of family liaison, a position not yet official in a murder inquiry, as the bewildered survivors demand information and explanations, and try to work out what went wrong. Mark's request, that more investigation of the murder scene should be carried out is turned down by Taff, who's under pressure from his superior officers to get the case cleared up.
Mark is the only one to see inconsistencies in Jeremy's initial story. Why did Jeremy call the local police station and not 999? Was his concern really prompted by a call from his father in the farmhouse? It's quite a shock, incidentally, to all of us armchair experts, schooled by hours of TV police procedural viewing, how primitive police work was in this time and place, and how easily Taff overrides Mark's quite reasonable questions.
For instance, why was a test for firearm residue never conducted on Sheila's hands, despite the fact that she received two gunshot wounds (yes, it's possible, he's told), and how could her fingernail polish have remained intact? His suspicions become so strong that he eventually asks a subordinate (a woman of about Sheila's height) to try to position herself with the shotgun, and finds that it's just not possible.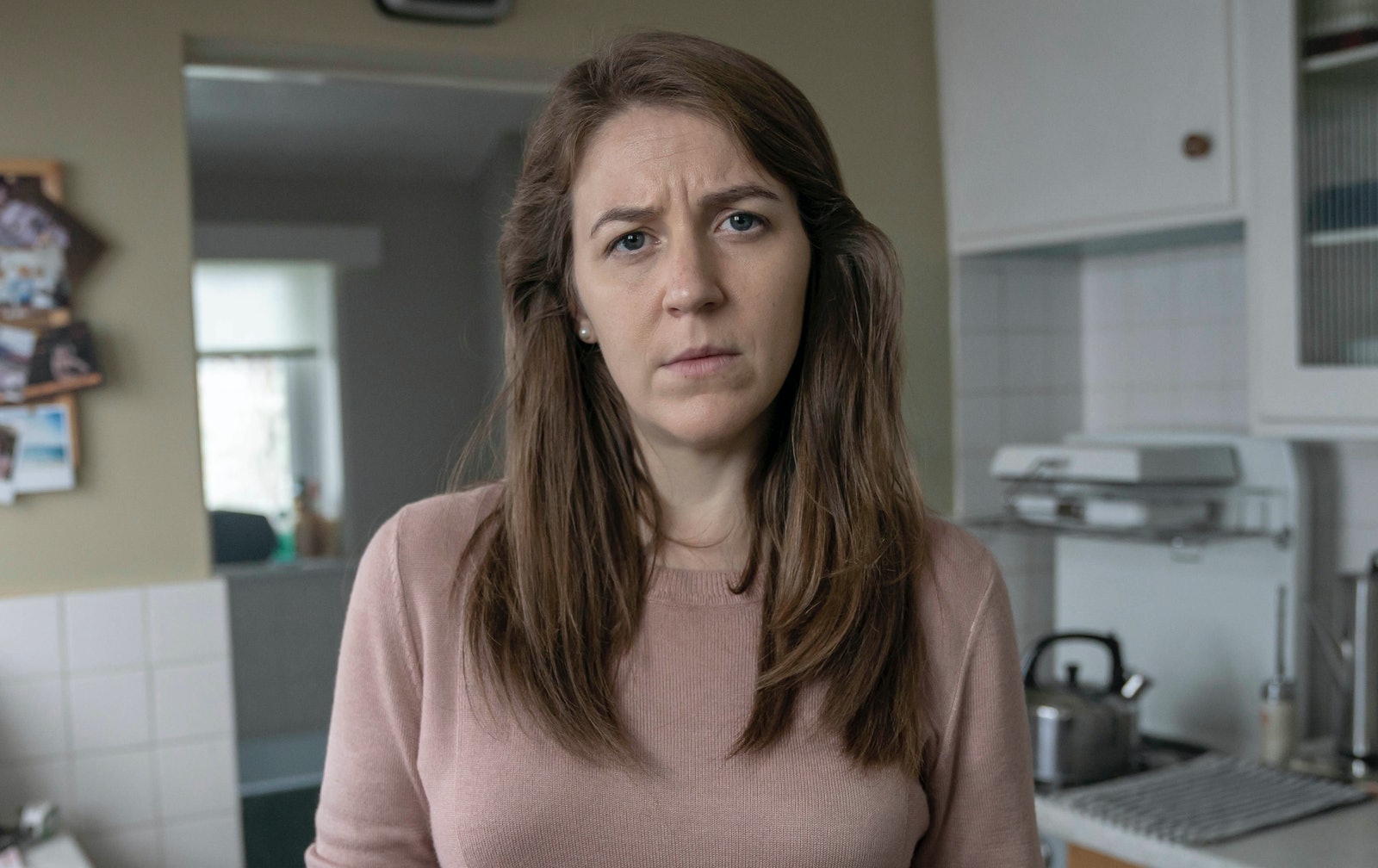 At Taff's order, bloodstained carpeting and fabrics are destroyed, burned in the driveway in front of the house. The silencer for the shotgun is found by Mark and then lost. But the real inconsistencies emerge as we, and Mark, get to know the Cafell's extended family, in particular, Jeremy's cousin Ann Eaton (Gemma Whelan) who becomes an avenging angel. She shows him first that it's quite easy to get into the house via a broken kitchen window, something all the Bamber family would have known, if not others.
We backtrack to a family gathering where we're able to see the family dynamics—Sheila, under treatment for her mental illness, is afraid of Jeremy and admits she has trouble with the medication she's taking. She adores her two small sons, who now live with their father Colin Caffell (Mark Stanley) and she's thrilled that they are coming to stay with her at her grandparents' house. Nevill and June are, to be honest, slightly odd, and one of the few sour notes in the production is that for about five minutes you think there could be something more sinister at play. But no, they are deeply religious people, who believe children should kneel at prayer, but don't object when Colin gently asks them not to make his sons do so.
But it seems all questions lead back to Jeremy. What is it about him? He's handsome in a sleazy 1980s way, arrogant, charismatic, and media-savvy—the case received a huge amount of press attention, which sadly reinforced the murder-suicide theory. The press loved the idea that a woman who'd been a model in London, was divorced, no longer had custody of her children, and now suffered from schizophrenia, had to be guilty. And Jeremy, who muses at one point that he should have been an actor, gives them emotion on demand.
But his family, particularly his cousin Ann, notice that his behavior is often cruel and inappropriate. He orders his parents' dog killed shortly after the murders; he tells his family that there's no money or land left in his parents' will and then crows that he's kidding, he has inherited nearly everything. He makes tasteless jokes moments after sobbing at the funerals. He refuses to let any relatives have keepsakes from the house, and Ann, in particular, who was very close to his mother, is outraged. Clearly, something is very wrong with Jeremy.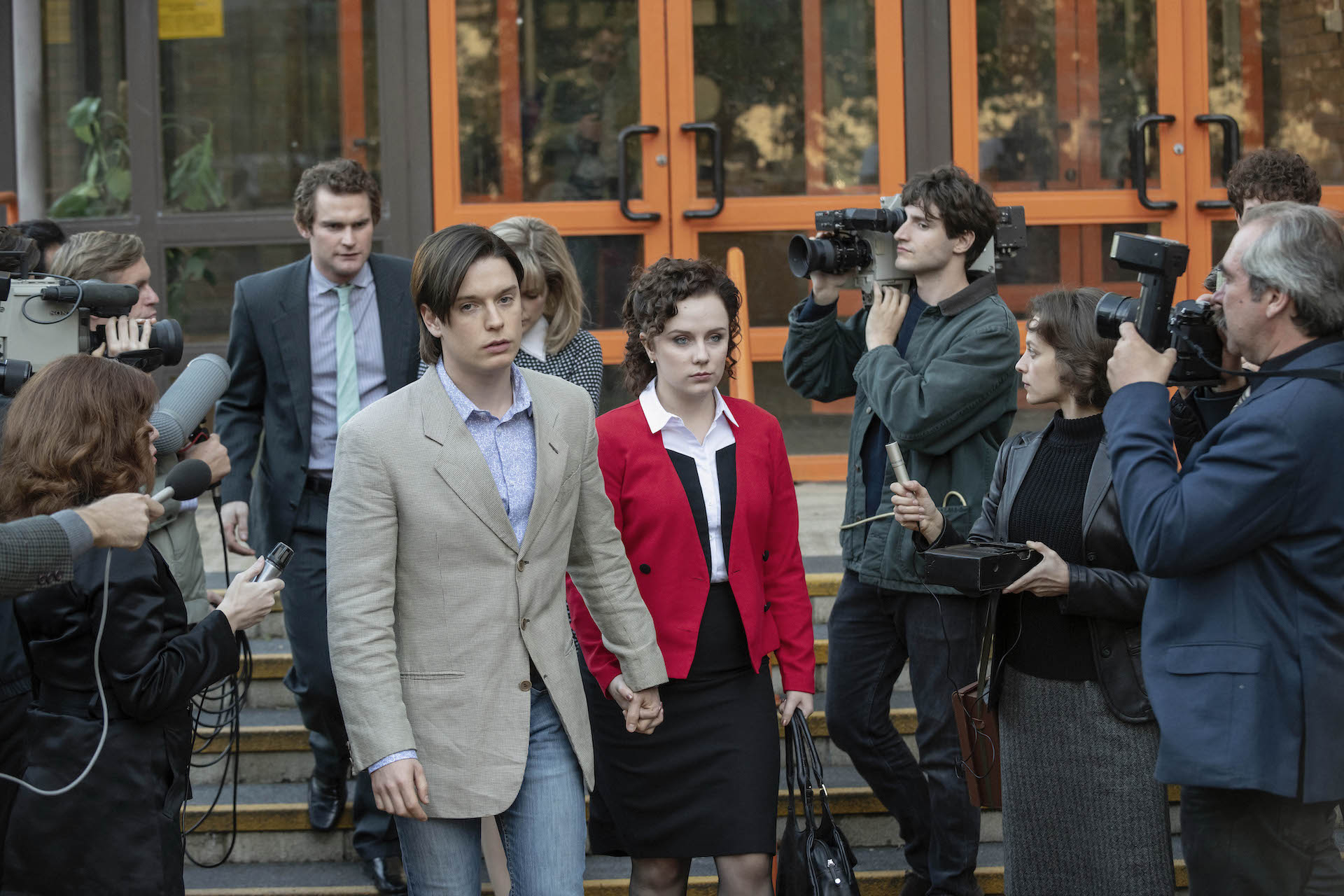 The case breaks when Jeremy's girlfriend Julie Mugford (Alexa Davies) volunteers damning evidence to the police. It's not Jeremy's first crime; we discover he and Julie were responsible for a theft from the caravan park that Nevill Bamber owned. The case is built, Jeremy is arrested, but the story really doesn't end there. Jeremy Bamber's claims to innocence and his requests for a hearing continue to the present day, as do the memories and speculation associated with the murders.
Have you seen this series? What did you think? Let's discuss! 
---
By
for on November 30th, 2020