By
for on January 31st, 2012
Whitechapel Returns for a Third Series in the UK - Watch the Trailer for Yourselves!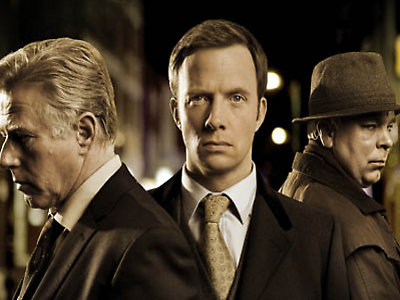 Crime drama Whitechapel returned to ITV for a third series in the UK last night, though this time it's put together a bit differently than previous outings.  Unlike the first two seasons, which were both based on a single event/case played out over three episodes, the new season is being split into three two-part stories, for a total of six episodes. Stars Rupert Perry-Jones, Phil Davis and Steve Pemberton are all back as DI Joseph Chandler, DS Ray Miles, and historian (of a sort) Edward Buchan.
Click through for a look at the ITV trailer for Series 3 for yourselves. No word on when we might see this series of Whitechapel in the States just yet. But, since BBC America aired the first two seasons so recently, there's every reason to hope we won't have to wait too long to see the third. Keep your fingers crossed!
Americans got the chance to discover Whitechapel during BBC America's Wednesday night drama block last Fall – I had somehow missed out on the existence of this series completely up until that point, but I loved it. While the Jack the Ripper-themed Series 1 was my personal favorite of the two, both series featured smart writing, strong performances, and genuinely scary mysteries.  I'm intrigued to see what they'll be able to do with more episodes.
[This video is no longer available.]
---
By
for on January 31st, 2012