By
for on May 30th, 2017
5 Things To Watch While Awaiting Poldark Season 3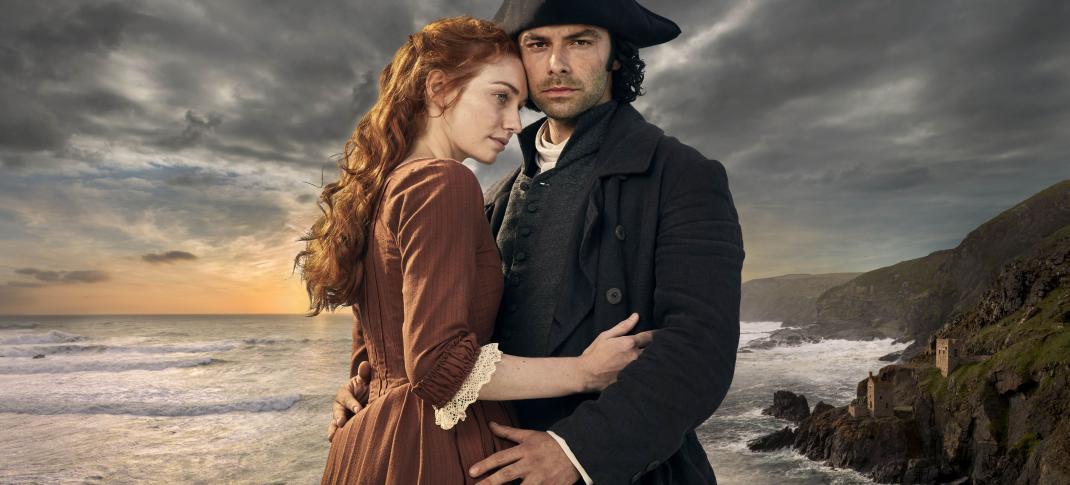 Poldark Season 3 arrives on BBC One in only a few days. Unfortunately for us here in the United States, it won't air on PBS until October. How to cope?
One of the hardest things about being an anglophile here in the United States is how long it takes for the good BBC and ITV programming to travel across the pond. Downton Abbey, for instance, used to end at the beginning of November over there, but then not start until January over here. Victoria runs on much the same schedule. And let's not get started on the 11 month hold that occurs between the airing of The Great British Bake Off (as it's called over there) and The Great British Baking Show. Sherlock used to take a few months, but recently, PBS has tightened up the timeframe, getting it on over here only a few days, or sometimes hours, later. 
Then there's Poldark. Last year, we were given a right treat when the BBC's choice to air it in the fall meant that PBS' airings would come nearly right on top of it. The delay was only two weeks from BBC to PBS airing, with merely a pledge drive and a single holiday causing the separation. Sadly though, airing Poldark in the fall didn't work out over there--with ITV airing Victoria in the exact timeslot opposite, the BBC saw the show's ratings take a tumble. So this year they've moved Poldark back to closer to its original spring airing, with a debut coming within the next week--and leaving US viewers with a Downton like eight-ten week wait between the end of the show's run over there and the debut over here.
So how is one to cope with such a frustrating wait before we find out the fates of Ross, Demelza and Elizabeth, not to mention Dwight and Caroline? Never fear! We've rounded up five programs to watch while we wait.
Missing Aidan Turner and Ross' smolder? We recommend And Then There Were None.
The BBC has recently turned back to English mystery writer Agatha Christie, commissioning an entire slew of adaptations of some of her more famous tales. The first came out just over a year and a half ago, in 2015. The famous tale And Then There Were None is the "true story" of ten strangers, picked to live in a house, discover they are all murderers together, and have their lives ended. Find out what happens, when people stop being polite, and start getting real… The original three part miniseries was recut into two movie-length episodes when it ran in the US on Lifetime. 
Starring, among others, the great Charles Dance from Game of Thrones, Burn Gorman from Torchwood and Miranda Richardson of Harry Potter fame, Aidan Turner plays Philip Lombard, the closest thing to a romantic hero in the series. (The happy ending version has him and Vera Claythorne escape the island and marry. Spoiler alert: this is not the happy ending version.) But if you want to know if Turner is just as hot with his curls shorn and his short on, we highly recommend you check this out. The answer is yes.
Missing Eleanor Tomlinson and Demelza's sensibility? We recommend Death Comes To Pemberley.
Another murder mystery, Death Comes To Pemberley is PD James' famous take on Jane Austen's Pride and Prejudice. Imagine, nearly a decade after Elizabeth and Mr. Darcy have gone off to the world of happily ever after, a hysterical Lydia appears on the doorstep crying "Murder! Murder!" There's no way a scandal can be avoided with that sort of opening. The three part miniseries--which was once again edited down to two movie-length installments for an American audience, this time on Masterpiece--plays a bit like Agatha Christie, but the styling and the camera work feels like a very odd Midsomer Murders period piece. (This is not a bad thing, merely an observation.)
At the time PBS aired it, they hyped Jenna Coleman's role as Elizabeth's sister Lydia, since she was at the height of her Doctor Who fame. If they were to do so again today, they would probably push Eleanor Tomlinson, who plays Darcy's sister Georgiana, and who has not one, but two suitors at the time of the scandal. Fans of Pride and Prejudice might be a little surprise how much less shy she is in this version, but then again, when you've managed to escape the caddish Mr. Wickam, you might have grown up a little in the process. 
Missing Ruby Bentall and Verity's dreaminess? We recommend Lark Rise to Candleford.
Lark Rise to Candleford, the BBC adaptation of English author Flora Thompson's novels, ran for four seasons over in the UK from 2008-2011, and was one of the series that helped launch WETA-UK back in 2012. Based on Thompson's childhood, the series in set in Oxfordshire at the end of the 19th century at the end of the Victorian era, in the small town of Lark Rise and the more urbanized Candleford one town over. Olivia Hallinan stars as the our heroine Laura Timmins and Julia Sawalha (of Absolutely Fabulous fame) as her best friend Dorcas Lane. 
Ruby Bentall joins the cast as the show expanded from 10 episodes to 12 in season 2, as Minnie, Dorcas' housemiad, who is just as dreamy, yet unlikely to have those dreams come true as Verity in Poldark's first season. Bonus feature: we finally get to see her wearing some other color than beige. 
Missing Kyle Soller because OMG They Killed Francis? We recommend The Hollow Crown: The Wars of the Roses: Henry VI part 2.
With apologies to the famous BBC America ad, Kyle Soller is secretly American! But you'd never know it, not from Poldark, and not from his other major turn on the BBC this past year, in the long awaited follow up to 2012's The Hollow Crown, which featured Richard II, Henry IV parts 1+2 and Henry V. Welcome to 2016's The Hollow Crown: The War of the Roses, featuring Henry VI part 1, Henry VI part 2+3 and Richard III.
Just about everyone is in this BBC three-part miniseries. Sophie Okonedo stars as Queen Margaret, and walks off with the entire thing. For the Downton-heads, Hugh Bonneville stars as Gloucester in the first installment, and for the Poldark fans, Soller stars in the second as John Clifford, 9th Baron de Clifford, and a major figure in the Lancastrian army. Sorry to say, his survival in 15th century England doesn't fare much better than his survival in 18th century Cornwall, and he only is featured in the middle episode, but his performance is such that it's worth streaming.
Missing Phil Davis and Jud's working class sensibilities? We recommend Whitechapel.
Another mystery series based on historical events! Whitechapel, which aired on ITV from 2009-2013, is, unlike everything else on this list, is set in modern times. The original show was four seasons long, the first two being three episodes each, and the second two being six episodes a piece. When BBC America aired it over here starting in 2011, they smooshed together the first two seasons into a single six episode run, so that everything was the same length. The twist is it features mysteries and crimes that are based on the crimes of such famous figures as Jack the Ripper, the Kray twins, and others, as copycat killers go all historically accurate on their victims.
Phil Davis stars as D.S. Ray Miles, alongside Rupert Penry-Jones (of Spooks fame, known as MI-5 here in the states) who plays D.I. Joseph Chandler. Miles is a hard bitten working class detective who believes in getting his hands dirty, while Chandler is more of a textbook and logic guy ("a paper policeman" as Miles calls him). The two of them learn to work together in this unlikely buddy cop paring. 
Bonus: Missing Caroline Blakiston and Aunt Agatha's clear eyed thinking? We recommend Return of the Jedi.
Yes, the actress who plays Poldark's Aunt Agatha, Caroline Blakiston, was the original Mon Mothma in 1983's Return of the Jedi. Really.
Just remember that next time she whips out those tarot cards--that was the woman who lead the Rebel Alliance and brought down the Empire. You're welcome.
---
By
for on May 30th, 2017
More to Love from Telly Visions