By
for on September 28th, 2013
Having Withdrawal Now 'Broadchurch' Has Ended? Here's What to Watch Instead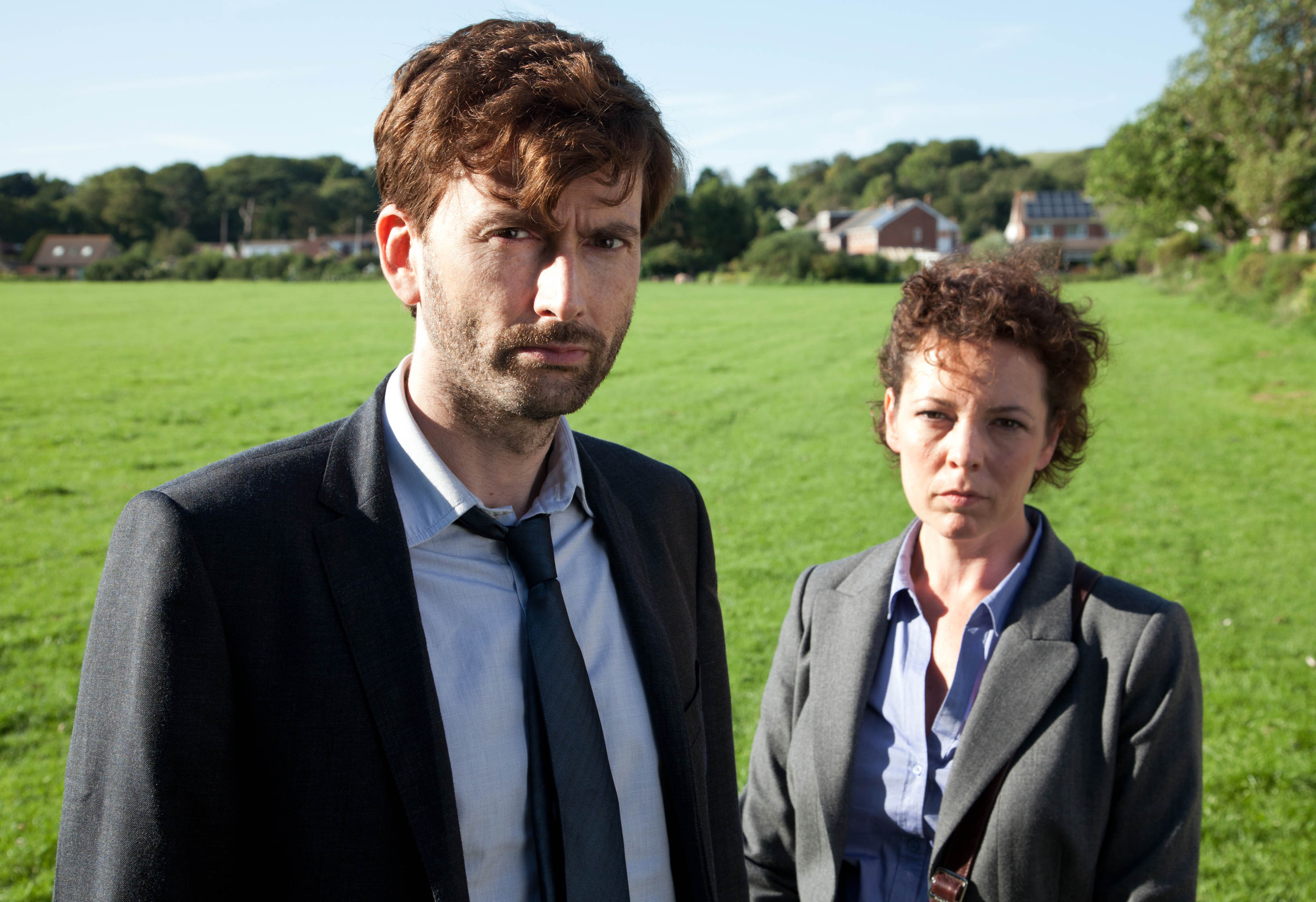 It is done. The final episode of Broadchurch: Series 1 aired on BBC America this week. After eight weeks of multiple dead ends and a few red herrings, we finally know who killed Danny Latimer.  And quite a bombshell it was!
Understandably you might be experiencing a bit of withdrawal now that all the suspense and excitement is over.  But never fear! The detective mystery is a genre that the Brits basically own. Just consider how many times the stories of Agatha Christie alone have been dramatized.  
The next series of Broadchurch isn't set to return until sometime next year so if you're feeling a bit out of sorts and need a little whodunit pick-me-up, may I suggest a few series that might fit the bill?
Whitechapel. This police detective drama stars Rupert Penry-Jones as Whitechapel murder squad Detective Inspector Joseph Chandler; Philip Davis as his Detective Sergeant, Ray Miles; and Steve Pemberton as Edward Buchan, a self-proclaimed Ripperologist who assists the team in their investigations of historical copycat crimes. 
Like Broadchurch, Whitechapel initially focused on one case per series. Series 1 follows a mystery in which the Whitechapel district of London is terrorized by a disciple of Jack the Ripper. Without giving too much away, it transpires that the murderer has been under the police's noses the whole time, also similar to the Broadchurch scenario. 
Series 2 finds the police trying to solve a succession of crimes that mirror the 1960's gangland activities of the Kray twins.  Subsequent series feature more than one case, but they still have historical connections. Whitechapel is available to stream on Hulu, Amazon Instant Video, or to rent on Netflix disc.
Five Days. As we learned from Broadchurch, crime investigations take time.  Five Days, a BBC/HBO collaboration, produced two series with completely different plotlines and casts but with the same format – viewers witness the progress of a police inquiry over the course of five non-consecutive days.
Series 1 concerns a missing mother and her two children, while Series 2 follows the investigation of a train accident which it turns out is actually a murder. I decided to watch this show on the strength of the cast members alone, as it features a range of great talents such as Hugh Bonneville, Penelope Wilton, Janet McTeer, Suranne Jones and David Morrissey.  
Five Days is available on Region 1 DVD and through Netflix on disc.
Sherlock. A common element in most good mysteries is the rapport between the investigative team. Broadchurch's DI Hardy and DS Miller's uneasy relationship was one of my favorite elements of the whole series. That being said, no whodunit list would be complete without some incarnation of the brilliantly eccentric Sherlock Holmes and his overshadowed yet loyal colleague, Doctor John Watson, a classic detective duo for the ages.
And well, this is Telly Visions after all, so do you think we'd go with anything other than the Benedict Cumberbatch/Martin Freeman rendition?  (Editorial Insertion: Just imagine Lacy smiling at this line, okay? Because that's totally what happened. Even if this is a scene from the original unaired pilot episode and not "A Study in Pink," she would like to point out.) 
Sherlock is available to stream on Hulu, Netflix and Amazon Instant Video or you can rent or purchase the Region 1 DVD sets.
Appropriate Adult. If Broadchurch's extensive interview/interrogation scenes brought out your inner investigator, Appropriate Adult might be your cup of tea. A mini-series based on the true story of famous Gloucester serial killer Fred West (Dominic West), the purpose of this particular investigation is not really to find out whodunit, but rather to determine how many women were killed and who the brains of the operation was. As seen through the eyes of Janet Leach (Emily Watson), West's assigned appropriate adult during the course of his questioning, we delve into the manipulative and tortured mind of a murderer.            West, Watson and Monica Dolan (who played Rose West, Fred's wife and partner in crime), all won BAFTA awards for their performances in this series.  Appropriate Adult can be viewed on Amazon Instant Video and Region 1 DVD.
The Fall. In police inquiries like the one into Danny Latimer's death, time is of the essence in order to prevent the possibility of another murder. In The Fall, the Belfast police department finds itself in a race against time to apprehend a serial killer who is terrorizing and killing young professional women in the area. Gillian Anderson plays Detective Superintendent Stella Gibson who is seconded to Northern Ireland from the London Metropolitan Police to help review an unsolved, sexually motivated murder case. When a few more women are found strangled and posed, Stella insists that they are connected and demands to be put on the case.
The unusual thing about The Fall is that while the police are desperately trying to stop the murderer, the audience has full access to his identity, motivations and home life.  Paul Spector, played by the disturbingly handsome Jamie Dornan, is a loving father, a grief counselor and, on the surface, appears to have a happy marriage.  But underneath, he is a meticulous and malevolent man with a lot of rage. 
Though darker and more disturbing, The Fall has Stella Gibson as its tenacious, workaholic outsider leading the investigation much like Broadchurch's Alec Hardy.   The Fall can be streamed on Netflix or purchased on Region 1 DVD.
Blackpool. And as a final option, I always like to recommend something a little out the ordinary for those adventurous telly watchers out there.  May I introduce you to Blackpool?
On the surface, Blackpool is your traditional murder mystery.  Local high flyer Ripley Holden (David Morrissey) has just opened a fancy new family entertainment center, really just a glorified gaming arcade.  But Ripley has much bigger plans on the horizon that include a leisure complex of hotels and casinos.  That is until a dead man is found dumped on the floor of his establishment just a day later.  Enter DI Peter Carlisle (David Tennant) on the scene and Ripley's life will never be the same.  
So not only have we come full circle with Mr. Tennant transforming from the cheeky DI Carlisle to the world weary DI Hardy, but we have another whodunit deeply immersed in hidden family secrets and set in a seaside community. And bonus! Blackpool boasts about four musical numbers per episode complete with choreography... 
[This video is no longer available.]
Blackpool is not as easy to find as some of the other offerings listed and Region 2 DVD may end up as your only option, besides some clips on YouTube.
These are just a few among the plethora of British detective dramas out there that may help ease your Broadchurch addiction.  Which titles pique your interest? And please share your favorite whodunits by commenting below.
---
By
for on September 28th, 2013