By
for on November 19th, 2022
Lost Seasons of 'The Great British Baking Show' Finally Available on Streaming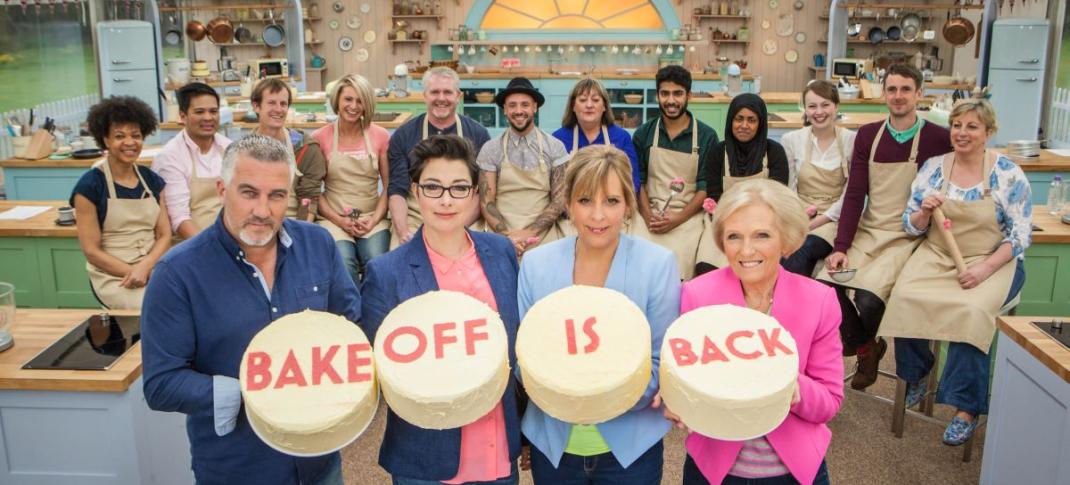 The Great British Baking Show is over for another year, though U.S. viewers have both episodes of The Great British Baking Show: Holidays Season 5, which arrived along with Season 13's finale on Netflix on Friday, November 18. However, Netflix subscribers who have been missing their Sue & Mel fix or Mary Berry judgments can rejoice because, for the first time, episodes from those early years are available to stream in America, and it's all thanks to Roku.
That's right. Roku.
Netflix users may have noticed "Collections 1-4" were no longer on the service when they tuned in to stream the Season 13 premiere. The streaming service lost the rights to the old BBC/PBS seasons that were initially aired out of order (and caused all the number confusion in the first place). It now only has those that are "Netflix Originals," aka Season 8 onward, when the show moved to Channel 4. But this is good news for fans, even if it might not sound like it.
As we covered in 2018, when Love Productions first left the BBC for Channel 4, trying to find the different seasons of The Great British Bake Off in America was a puzzle. (No, seriously, we made a chart and everything.) But the truth was, as anyone with eyes could see, Netflix was overcomplicating everything by insisting on sticking to the original out-of-order PBS numbering. Instead of just starting with "Season 8," it tried to call everything "Collections" and numbered starting from "5" even though PBS aired Season 3 as Season 5 already.
But Roku, being sensible people, got rid of that confusion, and now, for the first time, Nancy's win is no longer the show's first season, but GBBO Season 5, as it was in the U.K. Frances and her crazy creations are in Season 4, Nadiya takes first place in Season 6, and Candice and her lipstick are right back in the BBC's final episodes, Season 7, where they always were. Roku did that because it doesn't just have the PBS seasons. It has all the BBC seasons in their original order, including Seasons 1 and 2, which never aired in America or streamed on Netflix, which are a revelation if you aren't aware of how the series began.
It also has the never before seen special The Great British Wedding Cake, which is included in with the Season 1 episodes and the first two "Festive Specials" the BBC did after Season 7 which also never made it over here in the confusion of the move. Roku's collection also has all the Masterclasses Mary did with Paul Hollywood, including the early never-before-seen one-off Masterclasses specials for Season 2 and Season 3 that never ran on PBS. However, unlike Netflix, which grouped those episodes under a different heading, Roku has redistributed them across the seasons.
That's 25 new-to-you GBBO episodes in all for fans to enjoy this season. And that's not all! Roku also has 2013's Paul Hollywood: Bread series that lasted exactly one season (and we all know why). It has the three BBC seasons of the GBBO aftershow, An Extra Slice, hosted by Jo Brand, that correspond to Seasons 5-7.
But perhaps most exciting of all: Roku has all ten seasons of the Celebrity Baking Show charity specials, both the BBC and Channel 4 episodes, 45 episodes in all. The episodes include stars like Bonnie Wright (Harry Potter), John Lithgow (The Crown), James McAvoy (His Dark Materials), Russell Tovey (Years & Years), Warwick Davis (Willow), Michael Sheen (Good Omens), Jameela Jamil (She-Hulk), Daisy Ridley (Star Wars), Joanna Lumley, and Jennifer Saunders (Absolutely Fabulous), to name a few.
Don't feel bad if you are confused about all this moving to Roku. Up until recently, the company was just hardware people bought to access apps that had the content. But when the short-lived streaming service Quibi went under less than six months after launch, Roku bought out their original content stock. From there, it has started building its own slate of "exclusive" programs to convince everyone they should be streaming content on a Roku, not unlike what Amazon does with Prime Video and the Firestick. Roku even recently released its first original movie, starring Daniel Radcliffe (Harry Potter) as Weird Al Yankovic.
Until now, we here at Telly Visions have not paid much attention to Roku, as its offerings were small, primarily American fare. But in getting its hands on the original and best seasons of The Great British Baking Show, that is no longer the case. This holiday season, give thanks to having one if that's how you stream your apps because Mary, Sue, and Mel are now there too.
---
By
for on November 19th, 2022
More to Love from Telly Visions