By
for on December 7th, 2018
The State of 'The Great British Baking Show' Online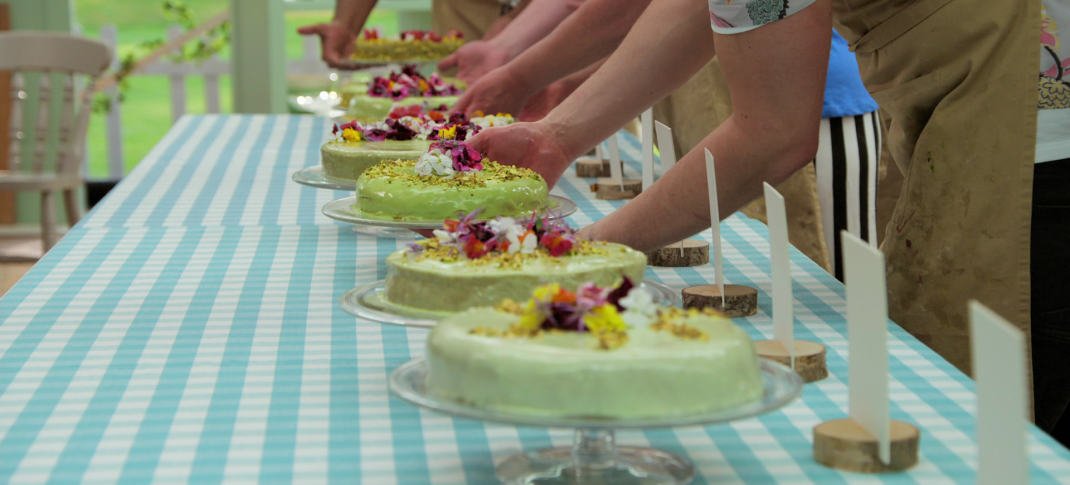 New episodes of The Great British Baking Show are here, including holiday specials, but now they're only available on Netflix.
Recently, I've been bombarded with questions by fans of The Great British Baking Show, trying to understand the recent changes regarding the series and its availability. So, here's what's up, in as easy-to-understand a format as possible.
Netflix has added not one, but two seasons of the series in the space of about 90 days, neither of which previously aired on PBS. It also added more Masterclasses, a series called Great British Baking Show: The Beginnings, and a two-episode Holiday Special. With so much content arriving so quickly, let's have a sit-down, and try to talk through what's going on. 
At this point, most fans of The Great British Baking Show realize things have changed in the tent. Sue Perkins, Mel Giedroyc, and Mary Berry have departed. In their place are a goth-looking dude, a lovely Scandinavian lady, and a judge who put a lot of thought into making sure her glasses frames match her statement necklaces. These are hosts Noel Fielding and Sandi Toksvig and judge Prue Leith. 
The need to change the cast came about when Love Production, the producers behind the (originally titled) Great British Bake Off, attempted a £25 million shakedown of the BBC to keep the series on the government-sponsored airwaves in the fall of 2016. It failed. Love Production found their bluff called, so they took the series to someone who would pay that much for it: Channel 4. But none of the judges came through Love Productions. The BBC had hired them.
Moreover, PBS, the distributor of the series in the US market, was also contracted via the BBC. In the end, Channel 4 discovered they'd paid £25 million for an empty tent. Of the cast, only judge Paul Hollywood agreed to shift networks along with the show (assumedly for a substantial sum of money).
A Netflix Original Production
While the original contract brought the series to the U.S. via their local PBS stations, many fans discovered it via PBS's second-run distribution deal with Netflix. When it became clear this year that PBS was staying with the BBC, to the point that they aired a season from 2012 as "Great British Baking Show Season 5" this past summer, Channel 4, which has already seen GBBO's live ratings fall thanks to the move, discovered they needed a new entry point for the U.S. market. Cutting out the middleman and heading straight to Netflix was only logical.
Netflix has been working hard over the last year to beef up its stable of in-house shows, spending a reported $13 billion on "Original Programming." Quite a bit of this budget goes into splashy dramas like The Crown. But Netflix has discovered a secondary, cheaper way to get this original content. Find networks with budget shortfalls and agree to fill the gap in exchange for the right to call the show an Original Production outside its home country. This is why Bodyguard, a BBC production, was labeled a Netflix Original here in America. This is why Riverdale, a CW production in the U.S., is a Netflix Original in the UK. Did you accidentally find yourself on the hook for £25 million to pay for an empty tent? Netflix is here to help; just let them call it a "Netflix Original Production" in the U.S.
In the wake of this deal, the streaming service picked up The Great British Baking Show right where the PBS series left off, continuing the numbering with Season 5 as if nothing had happened.
However, to make things even more confusing, Netflix has a contract with PBS to second run their series. That includes last summer's Baking Show, which PBS had numbered Season 5. But Netflix already has a Season 5; they used it to number the first Channel 4 series they added before PBS' series arrived. To remedy this, Netflix put it under its own Great British Baking Show subtitle: The Beginnings. They also rounded up all of the Masterclass episodes PBS hadn't put much stock in and uploaded them. 
As for the Holiday Special, this is last year's Channel 4 Christmas and New Year's specials, smooshed together into one two-episode season. The U.K. consider these sort of episodes a tradition for this time of year, and now that Netflix is paying for them, you bet they do too.
Are The New Episodes Worth Watching?
I admit I was not prepared to let the Channel 4 episodes of Baking Show into my heart, but they won me over. Prue, who was recruited from a neighboring BBC series, The Great British Menu, sounds so much like Mary; if you're not looking at the screen, you might forget the judging slot was recast. On the other hand, Noel's schtick may be funny to some, but I don't love him, and the male voiceover is hard to get used to. 
But then there's Sandi. The British-Danish comedian is on her way to Dame-hood for her contributions to comedy (she has an OBE), and her performance here shows why. It takes her a couple of episodes to get comfortable, knowing she's stepped into an ugly situation. (This is most notable in the first Holiday Special episode, where the contestants from the BBC seasons are nervous at the new faces.) But once she does and starts owning the show at every turn, she's worth her weight in gold. 
As for the series itself, it's notable that without Sue and Mel, there's more crying that makes it on camera in the tent. But the contestants are still lovely, gentle creatures who want to get their bakes right, which makes the show tick in the end.
What's Up With the Numbering?
When The Great British Baking Show first came to U.S. shores, it had already been on the air for four seasons on BBC Two. In the BBC's eyes, those early seasons weren't good enough to send to American audiences. The first season was a charity special. The second and third seasons were the show finding its legs. (Not to mention the American Pie showstopper disaster.) Season 5 was when the show moved to BBC One and upped its budget. Seeing this as "the first season" of this new era, PBS dubbed it Great British Baking Show Season 1. When the show was a surprise hit, the BBC fed PBS Season 4 to tide the U.S. market over, which subsequently became Season 2. The following two seasons from the BBC (Seasons 6 and 7) were labeled Seasons 3 and 4. This is the same numbering Netflix has, and they have continued it with the two Channel 4 installments (8 & 9) as Seasons 5 & 6. 
For those who want to watch the seasons in their original order, above is a handy translation guide to all the Baking Show episodes streaming under various titles in various locations.
I hope you enjoy all the new Great British Baking Show episodes as much as I do. I look forward to seeing what PBS airs this coming summer. Now, on your marks, get set, BAKE!
---
By
for on December 7th, 2018
More to Love from Telly Visions