By
for on July 28th, 2023
'Welcome to Wrexham' Season 2 Brings Another Year of Real Life Soccer Dreams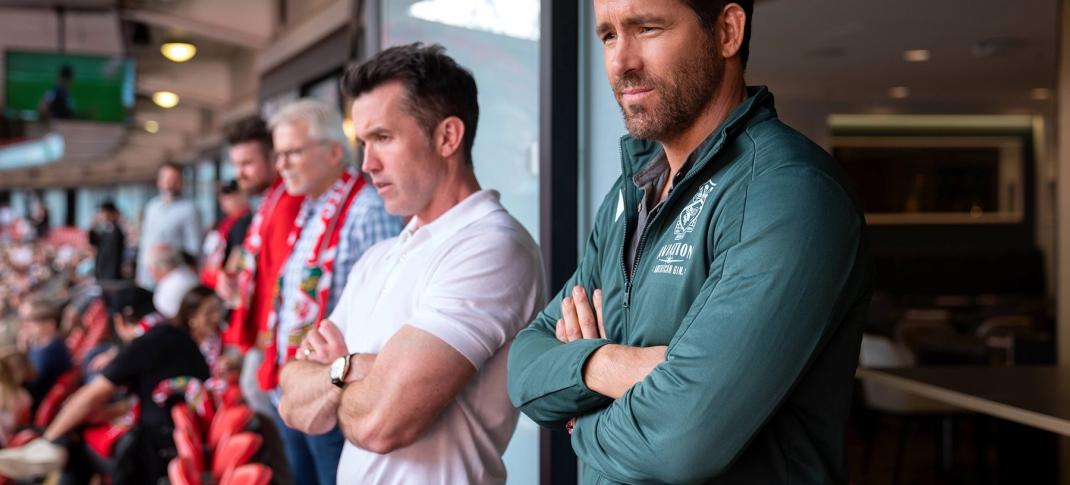 FX's decision to hop on the reality train with Disney+ UK to produce Welcome to Wrexham is one of the more oddball decisions out of the streaming era, but not the worst one by far. Ted Lasso's sudden popularity in 2020 made the idea of Americans and Britons coming together to produce football/soccer a popular story, and here was an American (and a Canadian) doing just that. Comedians Rob McElhenney (the American) and Ryan Reynolds (the Canadian) were already working with FX's Always Sunny and Disney's Marvel Studios when they decided to buy the Wrexham franchise and document the process, and the result was a no-brainer.
Moreover, due to the U.K. reality show editing talent that leans heavily on the good feelings and the tearful triumphs, the series was already angled to hit those true-life Ted Lasso emotional beats. Though Reynolds and McElhenney don't have a drop of Rebecca Welton's singing talent, their support of the team and their drive to genuinely help the town of Wrexham along with its football club is touching.
FX and Disney+ UK greenlit two seasons right off the bat, having seen what the pair had for the first one. Like Season 1 covered Reynold and McElhenney's first year of ownership, and the roster's fight to win games, Season 2 covers the team's second year under their regime and a near-Cinderella-like story as the football club manages to move up in the standings for the first time in ages. 
Here's the Season 2 synopsis:
The show follows the Hollywood stars' bid to run the third-oldest professional football club in the world, and Season 2 will spotlight quite the campaign, with the Red Dragons promoted from the fifth tier of UK football in dramatic fashion. The club is currently taking part in a preseason set of non-competition "friendly" matches against Chelsea, Manchester United and other clubs.
Since this is a reality/docuseries, the cast consists of the real-life team members, front staff, back staff, townspeople, and of course, the families of Reynolds and McElhenney. McElhenney and Reynolds executive produce alongside Josh Drisko, Bryan Rowland, Jeff Luini, Nick Frenkel, George Dewey, and Boardwalk Pictures' Andrew Fried, Alan Bloom, Dane Lillegard, Sarina Roma, and Jordan Wynn. The series is produced by Boardwalk Pictures.
Welcome to Wrexham Season 2 debuts Tuesday, September 12, 2023, on FX at 8 p.m. and follow a weekly episode schedule, streaming on Hulu the next day. 
---
By
for on July 28th, 2023
More to Love from Telly Visions