By
for on July 20th, 2022
FX's First Look at 'Welcome To Wrexham' Leans Into 'Ted Lasso'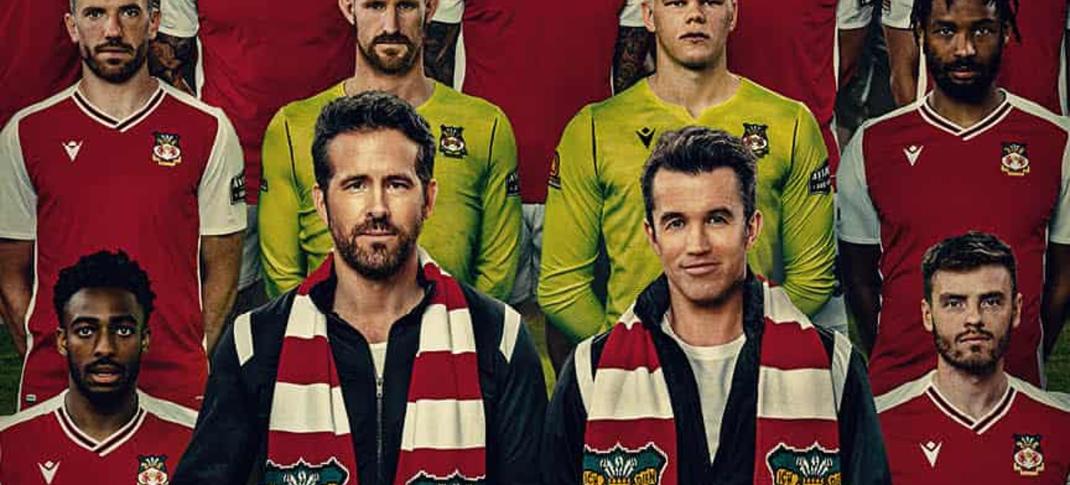 The new season of Ted Lasso would normally be premiering on Apple TV+ right about now, but delays in filming the third and final season means production is still ongoing. However, those looking to fill that "Americans try to save a football team" hole in their schedule are in luck. FX's newest series, Welcome to Wrexham, is the real-life chronicles of a Hollywood actor who did just that. And though the results aren't quite as sweet as Lasso, the big heart and cross-culture love of sport stays true.
It's not often this blog has the occasion to mention Ryan Reynolds, one of Hollywood's more ambitious strivers and a self-made Marvel superhero success. But the Canadian comedian took his A-list clout and millions and teamed up with Rob McElhenney, an American actor. The latter is not as well known (unless you're a big fan of It's Always Sunny In Philadelphia). While most of us huddled at home in lockdown in the early months of 2020, Reynolds and McElhenney bought the Welsh football team Wrexham AFC.
In most cases, most people would overlook the odd purchase of a small-time club of a sport that's not all that marketed in the U.S. But Reynolds also took his clout and millions over to his Disney masters, pointed out what a great story their venture would make, and now there's a docuseries produced by FX and streaming on Hulu. Moreover, the trailer looks like it might be exactly what viewers want from sports stories.
Here's the series synopsis:
In 2020, McElhenney and Reynolds teamed up to buy the Red Dragons in the hopes of turning the club into a team the whole world could root for. The worry? They have no experience in football or working with each other. From Hollywood to Wales, from the pitch to the locker room, the front office to the pub, Welcome to Wrexham tracks their crash course in football club ownership and the inextricably connected fates of a team and a town counting on two actors to bring some serious hope and change to a community that could use it.
Since this is a reality/docuseries, the cast consists of the real-life team members, front staff, back staff, townspeople, and of course, the families of Reynolds and McElhenney. It's also guaranteed a second season, as FX decided to give the reality show a double order to provide the project time to develop. Considering the first season begins with the purchase of the team, that seems like a wise decision.
Welcome to Wrexham will debut on FX Wednesday, Aug. 24, 2022, at 8 p.m. and air new episodes weekly. Episodes will stream starting the following day on Hulu.
---
By
for on July 20th, 2022