By
for on January 15th, 2022
Watch Jodie Comer in the Trailer for Acorn TV COVID Drama 'Help'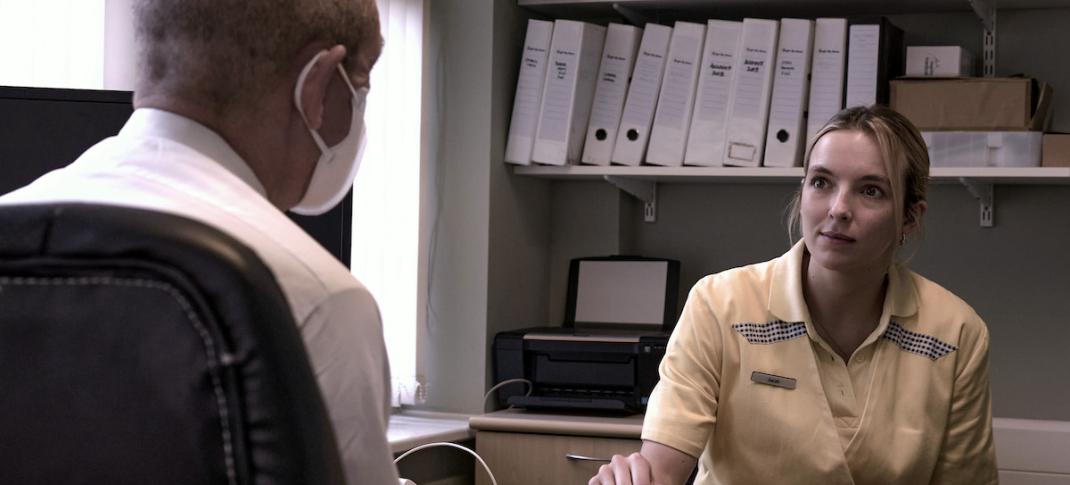 Most viewers are used to watching dramas based on real-life people or those that include incidents based on events that actually took place. (It's the basis for at least half the historical series that exist, after all.) But we're also used to series that dramatize events that are firmly in the past - some that we may have experienced ourselves, but more than likely have not. This is, of course, not the case about the coronavirus pandemic, which is still raging around the globe even as I type this. And, as a result, our pop culture isn't entirely sure how to treat it. 
Sure, there are shows that don't even acknowledge that the pandemic exists, and allow their characters to happily truck along in their everyday lives without stressing about what kind of face mask to wear in indoor social settings. (The HBO drama Succession actually prided itself on the fact that its billionaire Roy family was in fact so rich that no global public health crisis could touch them.) There are those who treat it all like a quaint memory, a terrible thing we all had to go through together, but certainly not as something that needs to be factored into any of our conversations or decisions right now. And then, there are those that try to include the reality of COVID-19's impact on our lives and force their characters to confront it. It's shouldn't come as much of a shock that most of this latter group are medical dramas, or shows that feature a character who works in the healthcare profession in some way. 
Help, the critically acclaimed U.K. drama starring Killing Eve's Jodie Comer and Line of Duty's Stephen Graham, is firmly in that latter category. The film is set in a long-term care facility, ground zero for the first COVID wave when information was scarce and personal protective equipment even more so. It follows the story of Sarah, a newbie nurse who develops a sweet, caring relationship with early-onset Alzheimer's patient Tony and finds herself in an impossible situation as a mysterious virus begins to wreak havoc on their facility - and the rest of the world. 
Acorn TV has released the trailer for the American premiere of the film, slated to premiere at the end of the month. Watch for yourselves below. 
Help, which won the Rose d'Or Award for best drama, is directed by Marc Munden (Utopia, The Third Day) from a screenplay by Jack Thorne (His Dark Materials, Enola Holmes). 
"Help was written in extreme anger about the state of care – not just in the U.K. but around the world – and the lack of priority it was given around the world," Thorne said in a statement. "Too many disabled people died in the pandemic because their needs weren't prioritized. It was also written as a love song, to the care industry, my mom was a carer and I saw firsthand the beautiful effort she put in to looking after her clients and residents. An underpaid job, that is vital in our times, and those that kept going into those homes, despite the risk to themselves, and despite the poor pay, are our true heroes." 
Help will premiere on January 31 on Acorn TV.
---
By
for on January 15th, 2022