By
for on March 26th, 2017
Watch: Highlights From Red Nose Day 2017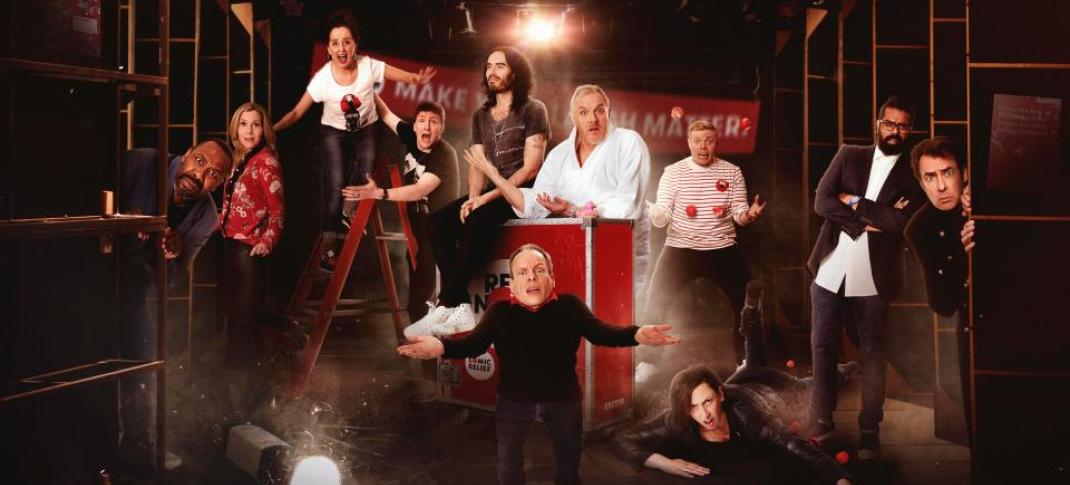 It's hard to believe two years have passed since my last Red Nose Day wrap-up. That means those wonderful folks at the Comic Relief organization including co-founders writer/director Richard Curtis and comedian Lenny Henry have put on another spectacular show for charity. Red Nose Day is one of Comic Relief's two major fundraising campaigns and is held every other year on a Friday in mid-March.
After last Friday night's televised fundraising drive, Red Nose Day brought in £71,308,475 in pledges and boosted their 30+ year total to well over one billion pounds.  Comic Relief funds projects which address the causes of poverty and social injustice primarily in the UK and Africa. The money contributed by viewers helps children like these in Ebola-stricken Liberia.
And these troubled young people in the UK.
I so look forward to this biennial event because it's not just a telethon where celebrities entertain for donations while the public passively sits in front of their televisions. In the weeks leading up to Red Nose Day, the public are encouraged to be silly while raising money in their schools, work places and communities. It's become a beloved institution and a national holiday of sorts.
And this year an auction for some truly fantastic experiences was organized. Fans were given the opportunity to bid on or buy raffle tickets to win a breakfast meeting with seven of the Doctors including David Tennant, Matt Smith and Peter Capaldi, a galloping session with Miranda Hart or an afternoon baking a cake with Mary Berry!
Red Nose Day just warms my heart and that's why I have scanned the internet to find as many clips from Friday's gala event as possible. What I'm sharing here are what I consider the most amusing and touching snippets which represent the spirit of Red Nose Day.
Let's start with what I assume was the opening sequence of the evening- a musical parody/homage to La La Land. It features the event's emcees -Lenny Henry, Warwick Davis, Jonathan Ross and Miranda Hart to name a few - singing and sort of dancing their way to the evening's venue, the O2 Arena. I give you Ha Ha Land…
Next let's talk about James Corden. He has been a supporter of the charity for almost a decade. In fact the 2011 Red Nose Day skit in which he reprised his role as Gavin &Stacey's Smithy was the genesis for his now famous Late Late Show Carpool Karaoke segment. This year James offered up a special Red Nose edition with the beloved British "boy band" Take That. You may know them from their one and only US hit song, "Back for Good". But perhaps Mr. Corden can help them Change That. See what I did there?
Dawn French and Jennifer Saunders reunited and attempted to make comedy magic with their own version, Almost Carpool Karaoke, with their rendition of "Total Eclipse of the Heart". For me, however, the sketch fell somewhat flat. Here, I'll let you be the judge.
Red Nose Day weekend also saw the finale of Let's Sing and Dance for Comic Relief. This four week-long talent competition program challenged TV celebrities to perform classic pop hits in front of a panel of VIP judges. Presented by former The Great British Bake Off  hostesses Mel Giedroyc and Sue Perkins, this year's Let's Sing and Dance was won by an unlikely group of performers, the quizmasters and mistresses from the ITV gameshow The Chase. They won the hearts of the public and the judges with their medley of songs from The Wizard of Oz.
Other familiar faces made appearances on the big night including eternally antagonistic teenager Lauren Cooper played by Catherine Tate.
And in one of my favorite pre-recorded segments, famed theoretical physicist Stephen Hawking returned to entertain Red Nose Day audiences with the difficult yet humorous dilemma of choosing a new voice for his speech synthesizer. The number and variety of A-listers vying for the job is hyseterical!
Finally, in likely the most eagerly awaited event in Red Nose Day history, the Love Actually sequel made its debut. This short film is the follow-up to the romantic holiday classic that captured the hearts of the world back in 2003. Entitled Red Nose Day Actually, this piece is also written and directed by Richard Curtis (the man behind the original movie), and catches us up on the lives of many our favorite characters.
While this clip is only a teaser for the real thing, don't despair. American audiences will be able to see the full film in its 10-minute entirety during the US Red Nose Day broadcast on Thursday, May 25th on NBC.
Do you plan on watching the US effort in May? Have you ever done something funny for money? Please express any and all of your Red Nose Day thoughts below!
---
By
for on March 26th, 2017
More to Love from Telly Visions