By
for on March 11th, 2019
'Four Weddings and a Funeral' Turns 25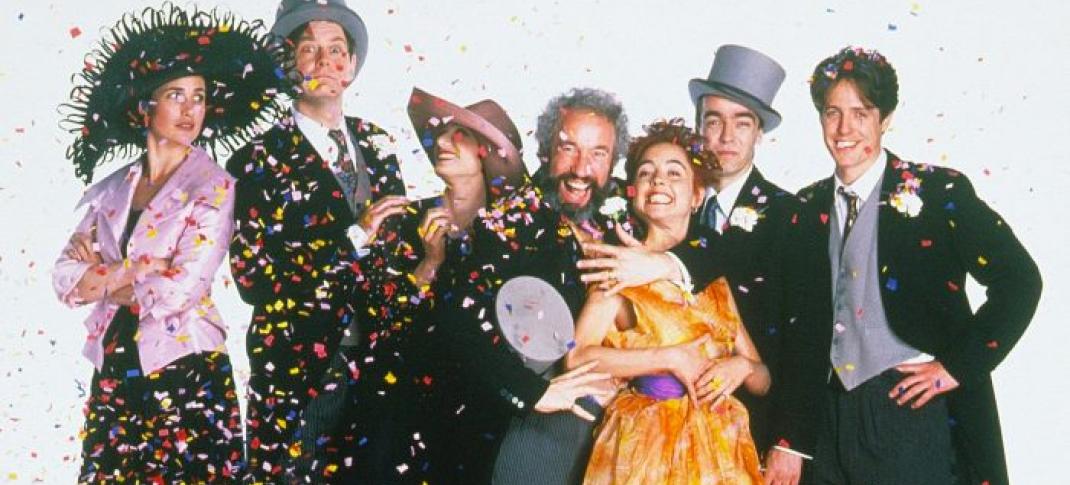 It may be hard to believe, but the classic British rom-com Four Weddings and a Funeral was released in the U,S. twenty-five years ago this week. It turns out that the film that made Hugh Grant a star, not to mention a Golden Golden Globe and BAFTA winner, was never expected to be a hit by anyone involved.
Penned by TV sitcom writer Richard Curtis (Blackadder and Mr. Bean) and helmed by Enchanted April director Mike Newell, Four Weddings was the embodiment of "the little film that could." Made in six weeks on a budget the studio cut to less than £3 million, the intial screening was reportedly disastrous. At least according to Hugh Grant, who reminiscend about it during a 2006 SAG-AFTRA interview.
"I thought we'd screwed it up. When we went to watch a rough cut, all of us, me, Richard Curtis, Mike Newell, the producers, all thought this was the worst film that's ever been perpetrated. We're gonna go and emigrate to Peru when it comes out so no one can actually find us. And then they had a, a few cuts later they took it to Santa Monica for a test screening and everyone loved it. And it was a great surprise.
Eventually this quirky little movie became the highest-grossing British film in history at the time by raking in $245.7 million worldwide. It found critical success as well, receiving Academy Award nominations for Best Picture and Best Original Screenplay.
Four Weddings and a Funeral featured an ensemble cast who portrayed their overwhelmingly upper-class characters as endearingly self-deprecating bumblers - as only the English can do. We didn't know what they did for a living or indeed how most of them even knew one another. We just cheerfully tagged along with Charles (Grant) and his friends through eighteen months of less-than-perfect nuptials and one very sad farewell to a larger-than-life character.
At this point in time, a recap might be in order:
The action begins with the wedding of Angus (Timothy Walker) and Laura (Sara Crowe). Best man Charles is chronically late and woefully unprepared. Fortunately his buddies have his back and his quirky flat mate Scarlett (the late Charlotte Coleman) saves the day.
It's also at this blessed event that Charles meets the captivating Carrie (Andie MacDowell). The sole explanation for this American beauty being on the guest list is that she apparently worked at Vogue and "only gets out with very glamorous people". This is also where Charles adorably stutters through his best man's speech.
Three months later, Charles and company witness the joining of Bernard (David Haig) and Lydia (Sophie Thompson) in holy matrimony. This time the best man is Tom (James Fleet) who has remembered the rings but judged the tone of his speech very badly. The stand out scene from this wedding, however, is the exchanging of vows mangled to within an inch of their lives by newly minted vicar, Father Gerald (Rowan Atkinson).
At this shindig, Charles is seated by a number of ladies with whom he has had failed relationships, including the very emotional Henrietta (Anna Chancellor) a.k.a. Duckface. These gals needle him about his serial monogamy, but it's obvious Charles is finally prepared to commit. Unfortunately the object of his affection happens to be engaged to another man.
A month passes and we find Charles and his comrades dragging themselves up to Scotland to witness Carrie and her old fiancé Hamish (Corin Redgrave) tie the knot. You may have wondered, as I have, what kind of masochist travels the length of the United Kingdom to attend the wedding of his unrequited love. 
There's some Highland dancing at this fancy to-do, Charles learns that his acidic, platonic pal Fiona (Kristin Scott Thomas) has been carrying a torch for him since they met and, sadly, the gregarious Gareth (Simon Callow) keels over from a heart attack. (In an extras interview, Callow said it was unusual for a gay character to die from anything other than AIDS in movies around this time period.)
This inevitably leads to the one funeral referenced in the film's title. Here we discover that Matthew (John Hannah) and Gareth were a couple which came as something of a surprise to the rest of their admittedly self-involved friends. The man who had encouraged all his singleton mates to seek out a true love match never let on that he had already found his.
After this solemn detour, we find the gang ten months on preparing to give love another chance. Charles has decided to abandon his unrealistic expectations and settle for the good enoughness of Henrietta. While his friends prank the groom into thinking he's late for his own wedding, the real gut punch comes when Carrie shows up at the ceremony. She breaks the news that she has recently separated from her husband which puts Charles into something of a sweary panic. When the moment of truth finally arrives and the minister asks if anyone knows a reason why the couple should not be married, Charles' brother David (David Bower) comes to his rescue - sort of.
After the jilting at the alter, there's a confession of true love and a non- proposal in an English downpour. And just in case we weren't certain of a happily ever after for everyone, the audience is treated to a delightful montage of wedding and family photos set to Elton John's version of "Going to the Chapel".
If reminiscing about one of the most successful British romantic comedies of all time has left you feeling nostalgic for more, you're in luck. The team of Curtis and Newell have joined forces again to create a mini-sequel to benefit Comic Relief entitled One Red Nose Day and a Wedding. The reunited cast will be reportedly be attending the wedding of two undisclosed characters.
One Red Nose Day and a Wedding will premiere exclusively during the 2019 Red Nose Day telethon on BBC One on Friday, March 15. It will also be aired as part of NBC's American Red Nose Day broadcast on Thursday, May 23.
What's your favorite part of Four Weddings and a Funeral? Are you looking forward to the mini-sequel? The comments section awaits!
---
By
for on March 11th, 2019
More to Love from Telly Visions