By
for on October 22nd, 2013
Watch: Extended Trailer for the Fifth and Final Series of 'Misfits'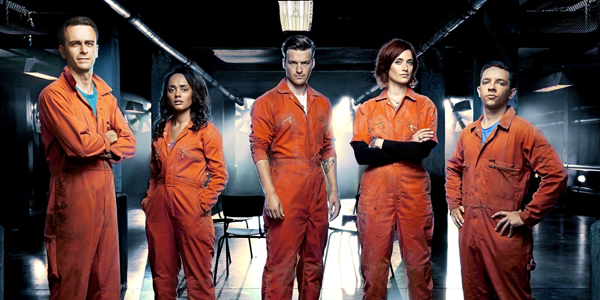 The fifth and final series of teen superhero drama Misfits is set to premiere on E4 beginning October 23 in the UK. It was previously announced in the Spring that this would in fact be the show's last season, and so everyone's curious as to how our favorite foul-mouthed, super-powered teens bow out.
The show, which chronicles the adventures of a group of teenagers forced to do community service who also happen to develop extraordinary abilities in the wake of a freak lightning storm, has been something of a cult hit for the network, even though the show underwent a few growing pains during its fourth season last year, after introducing an almost entirely new cast.
The final season looks to be more coherent – and, thankfully, the powers that be behind the scenes were aware that this was the end for the show, and have had time to really wrap things up for its characters. Series 5 kicks off just one year – yes, really, apparently one year in Misfits time equals like five in the real world – after the storm arrived that gave original Orange Jumpsuit Gang of Nathan, Kelly, Alisha, Curtis and Simon their special powers.
The final eight-episode run will feature returning characters Abbey, Finn, Jess and Rudy, but questions still remain. Perhaps, now that the show's ending, it's finally time to answer them. Will we finally get an explanation for the storm? Will its effects ever wear off?
Get a look at the extended trailer for the final series – complete with violence and swearing, so consider yourselves warned – below. 
[This video is no longer available.]
Online streaming service Hulu has the US rights to Misfits and while there's been no word about when the site is planning to make the new episodes available, if the previous season is any indication, it shouldn't be too long after UK transmission.
While it's sad to see Misfits go, I can't help but wonder if a defined end date was exactly what this show needed. With all the cast shifts in the past couple seasons, it's no wonder that the show has lost its way a little bit, and hopefully the impetus provided by a finale to tie things up and actually find a purpose to the stories of all these characters will help bring it back to form.
Fingers crossed anyway.
Thoughts? Will you be sad to see Misfits go? What would you like to see happen in the final series? 
---
By
for on October 22nd, 2013
More to Love from Telly Visions