By
for on January 14th, 2014
British Actors You Should Know: Robert Sheehan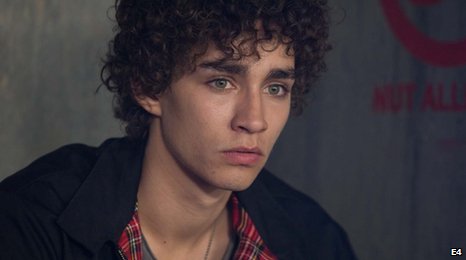 Sometimes when you watch a young actor on screen you just know they're something special.  They have charisma, a presence, something that makes them shine beyond their cast mates. 
Irish actor Robert Sheehan is just shy of his twenty-sixth birthday and he's already made a pretty big name for himself - and not just because he's got the loveliest green eyes and tousled dark hair. He's got acting chops aplenty.  Let's look at some of Sheehan's performances over his already decade long career to see why he's on so many up-and-coming lists.
Nathan Young in Misfits (2009-2010).  I first saw Sheehan in this supernatural dramedy about a group of young adult delinquents brought together to work their probation community service hours. When a freak storm comes out of nowhere, all five are struck by lightning and shortly thereafter start developing unusual superpowers.
Nathan is at once offensive and charming, but in such a way that you can't stay cross with him for too long.  Though he's the last of the gang to discover his power, wouldn't you know the annoying bugger would get the flashiest one of all? 
Sheehan only stayed with Misfits for two series, but his character definitely made an impression. If you'd like to see him in action, Misfits is available to stream on Hulu and Amazon Instant Video or on DVD from Netflix.
BJ in the Red Riding Trilogy (2009). This trio of movies offers a disturbing look at serial murder, child abuse and police corruption.  Set in the area of West Yorkshire in three different years, 1974, 1980 and 1983, each story focuses on an investigation that builds on the last, including the true case of the Yorkshire Ripper. 
Sheehan appears in all three films as B.J., a flamboyant yet skittish male prostitute who tries to assist the few good men who are searching for the truth about the crimes and cover-ups by the West Yorkshire Constabulary.  In the third film we learn that B.J. has a very tragic past which has led to his dangerous and lonely lifestyle.  Sheehan is a true stand out in this small recurring, yet risky role. 
Ivan McCormick in Killing Bono (2011). The McCormick brothers are young musicians hoping to hit it big in the Irish rock scene of the 1980's.  Older brother and lead singer Neil (Ben Barnes) is driven by big dreams and ambition while Ivan (Sheehan) just wants to play some gigs. On a whim, Ivan auditions for a group of school friends who are forming a new band.  The band wants him on rhythm guitar, but when Neil gets wind of the news, he asks the group's leader Paul to not take his brother on because he has his own plans for Ivan. No big deal until you find out that the Paul is Bono and his band becomes U2. 
The rest of the film is about the brothers' struggles to make it in the music business.  At every turn, Neil sees his dreams thwarted by Bono which leads him down the road of temporary madness and estrangement from his brother Ivan. Sheehan playing the loyal, patient and more rational Ivan is a change from the more intense characters with which he's come to be identified. 
If you grew up in the early 80's, I'm sure you'll appreciate the cultural references and bad pop music hair and clothes as much as I did. An interesting side note, Barnes and Sheehan actually performed the songs for the film. Killing Bono can be streamed on Netflix or is available to buy on Region 1 DVD.
Darren Tracey in Love/Hate (2010-2012).  My son got me started on this gritty Irish crime drama about a dysfunctional "family" of drug smugglers and dealers in modern day Dublin.  Sheehan's Darren is the most sympathetic character in the bunch – a young man who loves his family, is loyal to his friends, and an unusual trait for this gang, is kind and respectful of women.  
Don't be fooled, Darren has a tortured conscience but when he makes up his mind to do a job, he's the most competent and efficient henchman of the lot. You can find this addicting RTE drama to stream on Netflix, Hulu and Amazon Instant Video.
Billy in Me and Mrs. Jones (2012). This one looks to be a bit more mainstream than most of Sheehan's previous work.  Gemma Jones (Sarah Alexander) is a divorced mum of three who struggles with the demands of her children, career and immature ex-husband (Neil Morrissey).  When her grown son returns home from his world travels, he has his fetching friend Billy (Sheehan) in tow and things start to get intriguing to say the least. 
[This video is no longer available.]
Besides the allure of a much younger man, Gemma apparently has another more appropriate love interest (Nathaniel Parker) waiting in the wings.  When it rains it pours, eh?  Despite the fact that Me and Mrs. Jones was not picked up for a second series, I'm looking forward to seeing our Mister Sheehan in a boy toy scenario.  So far I've only found the series on YouTube in English with some distracting foreign subtitles. (Editorial note from Lacy: Me and Mrs. Jones has been picked up by several PBS stations around the country, so check your local listings or inquire with your local station. It's currently airing on our own WETA UK!)
Simon Lewis in The Mortal Instruments: City of Bones (2013). And finally, Robert Sheehan makes the jump to the American teen blockbuster as Shadowhunter Clary Fray's (Lily Collins) best friend, Simon.  As Clary discovers her powers and a world invisible to most humans, Simon tries to comprehend the chaos around him. I believe Sheehan must have been cast for his expertise in witty banter as you can see in this fan clip below, but what touched me most when he confesses his feelings to Clary and at the same time realizes she doesn't feel the same way. It's a heartbreaking piece of acting. 
[This video is no longer available.]
The Mortal Instruments: City of Bones can be streamed on Amazon Instant video or purchased on Region 1 DVD.
Does one of these TV shows or films peak your interest? Do you have a favorite Robert Sheehan role or performance?  If so, please share in the comments below.
---
By
for on January 14th, 2014
More to Love from Telly Visions