By
for on February 19th, 2017
'Victoria' Season 1: 'The Engine of Change' Recap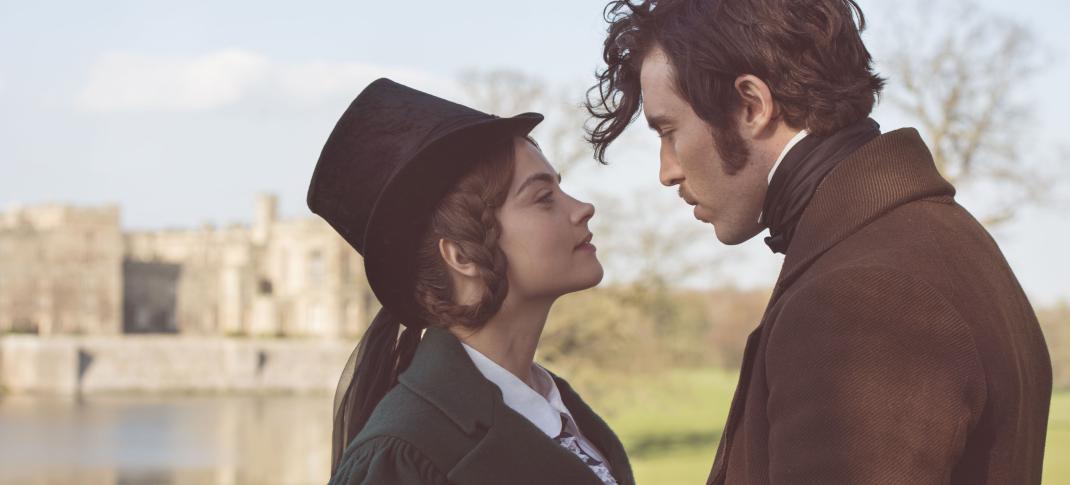 Previously on Victoria: The queen and her new husband return from their honeymoon, where they've discovered they quite enjoy being married. So much so, that Victoria would also like to discover how to not get pregnant just yet. (She wants children, of course – just, not right now.) Unfortunately, Lehzen gives her completely ridiculous advice on the subject.  Albert struggles to find something to give his new life in England purpose, while Victoria does her best to get him the respect her deserves from her court.  
This week's episode is quiet, but generally charming, and for all that Victoria and Albert may not exactly be a sweeping romance, they're becoming a pretty great partnership. And that may be a better thing, in the end. 
The Queen's Happy News. As we all pretty much expected, Victoria's birth control method of jumping up and down on the furniture failed miserably. The queen is pregnant, and everyone from the prince on down is ecstatic about this news. You know, since Victoria's main job is to produce an heir and all.
For her part, Victoria isn't that excited about parenthood. To be fair, it doesn't seem as though she dislikes children. She's just very afraid of dying in childbirth. And given the fact that Victoria is herself queen precisely because Princess Charlotte died in labor, this is a perfectly reasonable way to feel. Victoria is also bristling over the prospect of losing control of her throne. Everyone's telling her that she ought to stop working so hard, eat increasingly disgusting mushy food, and even stop getting out of bed for most of the day. They encourage her to pass her duties off to Albert or her ministers and just worry about being pregnant. Victoria, who takes being queen very seriously, resents this attitude. (And quite rightly, too.)
One of the more awkward aspects of the queen's pregnancy is that she has to name someone to be her Regent. You know, just in case she should happen to die in childbirth while the baby survived. This person would be in charge of everything while Victoria's son or daughter grows up. Victoria immediately picks Albert, of course. But, she quickly learns that, like so many other things, her choice must ultimately be approved by Parliament. And that may not be so easy, given that people still don't like Albert very much, and aren't that enthusiastic about the prospect of being ruled by a German. 
Turns Out Albert Really Loves Trains.  Meanwhile, Albert is doing his best to settle in to life in England. He's been studying up on the country's different regions – their major cities, industries and exports. He's chomping at the bit to make himself useful, and to get more involved with issues he cares about.
A Royal Expedition. Victoria decides to journey north to Staffordshire. This serves multiple purposes: She's bored and feeling hemmed in by all the dumb new rules associated with her pregnancy. She and Albert can try to endear themselves to a more Tory-friendly part of the country. And they can use it to help make the case that Albert would be a suitable choice as Regent.
On the downside, they have to stay with the Giffords, who are complete garbage people. The snooty couple is openly catty to the queen, rude to Albert and constantly looking down their nose at them both. I mean, these people aren't even trying to cover up their dislike. It all turns out okay in the end, because Victoria's snarky rejoinders and Albert's terrific skill on the shooting field help put the Giffords in their proverbial place. But, ugh, these people are awful.
It turns out that Sir Robert Peel happens to live on the next estate over, and comes by to have lunch with the royals, the Giffords, and their assorted hangers on.  Albert gets especially earnest and enthusiastic about industry, and how it can bring England together. He goes on about the railway and its importance again for a bit, an excitement that it turns out Sir Robert shares. As it happens, Peel just happens to have a locomotive sitting on the edge of his property right now. He invites Albert to go see it, though Victoria jumps in to decline before her husband can say yes. (Awkward.)
Albert's particularly jazzed about the prospect of the railway. He finds it both technically impressive and culturally useful. According to the Prince, steam engines are the future. They'll make travel easier, and bring down barriers between people, since they'll be closer to one another than ever before. (Oh, Albert, what a darling dream this is.) Trains, industry – these things are the future. And he very much wants Victoria's reign – their reign, together – to be forward looking in this way. To really embrace the possibilities springing up all over England right now as technology leaps forward. And it's really rather smart marketing too – the two of them are young, lively, starting a family. They're exactly what the country wanted after being ruled by a problematic parade of old men no one really liked. Of course, these new royals should become champions of technology and innovation. They are the future, and the country sees it every time it looks at them. 
Hey, The Servants Are Still Here.  Francatelli and Miss Skerrett/Nancy/Whatever Her Name Is are the focus of this week's obligatory downstairs plot. And it's even more boring than you might have expected. For the third week in a row, we don't really pick back up on any of the (also stupid and generally dull) servants' plots, such as who that woman with the child actually is to Miss Skerrett, how Francatelli managed to pay to move them both to a nicer neighborhood in 24 hours or less, or why he doesn't seem to have a problem with the fact that Skerrett's entire life at the palace is a fabrication. But there's lots of chocolate this week, so I guess that's okay.
Francatelli decides that his best chance for romance with Skerrett is to woo her with food. So he spends the episode crafting increasingly complicated desserts for her to taste. He even ends up staging an elaborate dinner date, complete with candles, linens and fancy dishware, right in the Buckingham Palace parlor. How exactly he gets away with this, when the Duchess of Kent is still in the building, I have no idea. I can't even imagine that Penge or whichever servant's been left in charge would have been okay with this happening ever, but what do I know. Skerrett looks very impressed by his chocolate custard thing, at least. (What Francatelli makes is a bombe surprise, which is kind of like a cousin of Baked Alaska, from what I can tell. I'd definitely eat it.)  
Making Friends with Tories. Despite Victoria's wishes, Albert sneaks out to go check out the locomotive for himself. Of course he's completely enraptured with it. (And his enchanted little smile with Peel while they're riding around? Adorable. I'm not made of stone.) Their little railway ride together seems to cement an actual friendship between the two men. The prince finds the future Prime Minister to be direct and forward thinking, and he respects that. (Not to mention that by this point he also seems to rather like him for himself as a person as well.) And we've already seen that Peel doesn't share some of the more…embarrassing and overbearing viewpoints of his party. Particularly where Prince Albert is concerned.
After their little bromance bonding session, Peel decides that he will support Albert being named regent. Not only that, he'll help strongarm the entire Tory faction into supporting it too. It really is always about who you know, huh? Good for Albert
Unfortunately, Victoria is less than pleased when Albert returns from his unplanned trip. The two have a rather expansive and quite heated argument about it, and the tension between them is palpable. (And also pretty great. It's probably the first time that the playing field, as it were, between these two feels something close to even. Or, at the very least, like they're both arguing from two understandable positions.
Albert, for his part, wants to make a difference. He wants some influence of his own, and wants to work to help causes and projects he cares about. That's understandable. But, so are Victoria's concerns. She's the anointed ruler, not him. She can't let him run her country for her, nor does she want to. She knows that allowing Albert too much public power could seriously undermine her own authority, if people start looking to her husband for leadership first. This is a dangerous position for any monarch to find themselves in, and doubly so for a woman, who must spend half her time working to prove that she deserves the position she's in in the first place. It's a legitimate concern – and one that can't be dismissed out of hand, no matter how much she might want to make Albert happy.
Victoria Looks to the Future. For some reason, Victoria decides that even though she's still furious at Albert, she wants to investigate the train for herself. So she heads off with Lehzen to ride the locomotive in Peel's yard as well. Of course, she ends up loving it. And when Albert suddenly appears out of nowhere to sprint alongside the carriage shouting at her to tell him what she thinks, it's almost as charming as it is cheesy. (I mean…seriously.)
Anyway, this whole event has taught Victoria that she's an industrialist after all. She tells the Giffords that she likes the railway, and admonishes them to keep up with a world on the move. Albert apologizes for going behind her back with Robert Peele, but Victoria isn't angry anymore. In fact, she decides that she can – and should – give Albert a bit more responsibility in the day-to-day operation of England. She allows him to sit with her while she's working through her massive stack of government papers, and even shoves a stack of them at Albert to deal with. She says they're all concerned with various industry-related things, and that's far more his area than hers. Awww, teamwork!
On the plus side, Victoria's slow and steady maturation over the course of these last two episodes or so has been rather amazing to watch.  She's learned to compromise, and how to work with those she doesn't like. Albert's constant whining and/or complaining that he's being left out of getting to do things has grated, to be sure. But this episode found a better balance between the two characters, both personally and professionally. It didn't feel so much like Albert was blaming Victoria for something she couldn't help, nor did it seem as though Victoria was clinging quite so hard to everything because she was afraid she'd lose it if she didn't. Maybe that's what growing up is?
---
By
for on February 19th, 2017
More to Love from Telly Visions