By
for on May 1st, 2014
'Vicious' Starring Ian McKellen and Derek Jacobi to Premiere on PBS Stations in June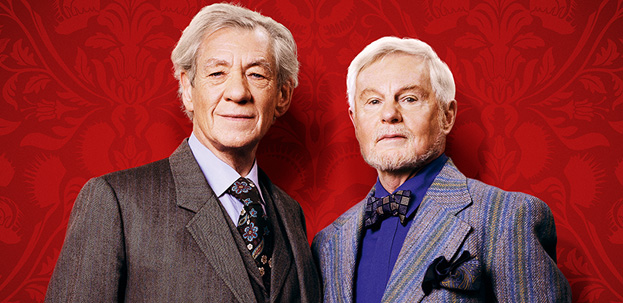 It's official: Gay British comedy
Vicious
– which stars acting legends
Sir Ian McKellen
and
Sir Derek Jacobi
– will make its American debut this summer
on PBS stations nationwide beginning June 29
.
Vicious follows the story of elderly gay couple Freddie (McKellen) and Stuart (Jacobi) who have been living together in the same Covent Garden flat for nearly 50 years. An incredibly co-dependent duo, their primary activities seem to be centered around bickering with one another, making sarcastic comments and walking the dog, but there is, nevertheless a deep love between them. However, the couple finds their lives turned upside down by the arrival of their new young upstairs neighbor, played by Game of Thrones' Iwan Rheon in a much, much less creepy role then you're generally accustomed to seeing him on Sunday nights these days. 
The show, which was originally known as Vicious Old Queens before it got a name change that I still wish hadn't happened, marks an interesting foray into comedy for PBS primetime these days, and is a trend that we can only hope continues. (There are dozens of popular Britcoms that could use a path to American audiences, so let's cross our fingers, shall we?) 
Watch the ITV trailer below: 
The comedy has already been renewed for a second season by ITV, though when that might go into production is anyone's guess, given the rather busy schedules of its stars. McKellen in particular has had a packed calendar of late: performing on Broadway opposite his BFF Sir Patrick Stewart, promoting the upcoming X-Men prequel/sequel Days of Future Past, and gearing up to play Sherlock Holmes for director Bill Condon. But, hope springs eternal, right?
Vicious will air from 10:30pm to 11:00pm on Sundays, and will run from June 29-August 3. As always double check the listings for your local PBS station, particularly around the show's June premiere, as many stations may be just wrapping up a pledge period at that point and things could shift around. (It's unlikely that late in the month, but it could happen, so better to be safe than sorry!)
Viewers will actually end up with a double-dose of Derek Jacobi this summer, the second series of the iconic actor's drama series Last Tango in Halifax will also bow on June 29, and will air through the bulk of the summer in the 8pm timeslot. Masterpiece Mystery series Endeavour, a prequel to the beloved Inspector Morse series, will air its second season at 9pm. So, you'll end up with a trio of pretty great British shows to wrap up your weekend.
What do you think of the sound of Vicious? Are you planning to try it out? 
---
By
for on May 1st, 2014
More to Love from Telly Visions