By
for on August 5th, 2015
'Vicious' Season 2 to Premiere on PBS Stations This August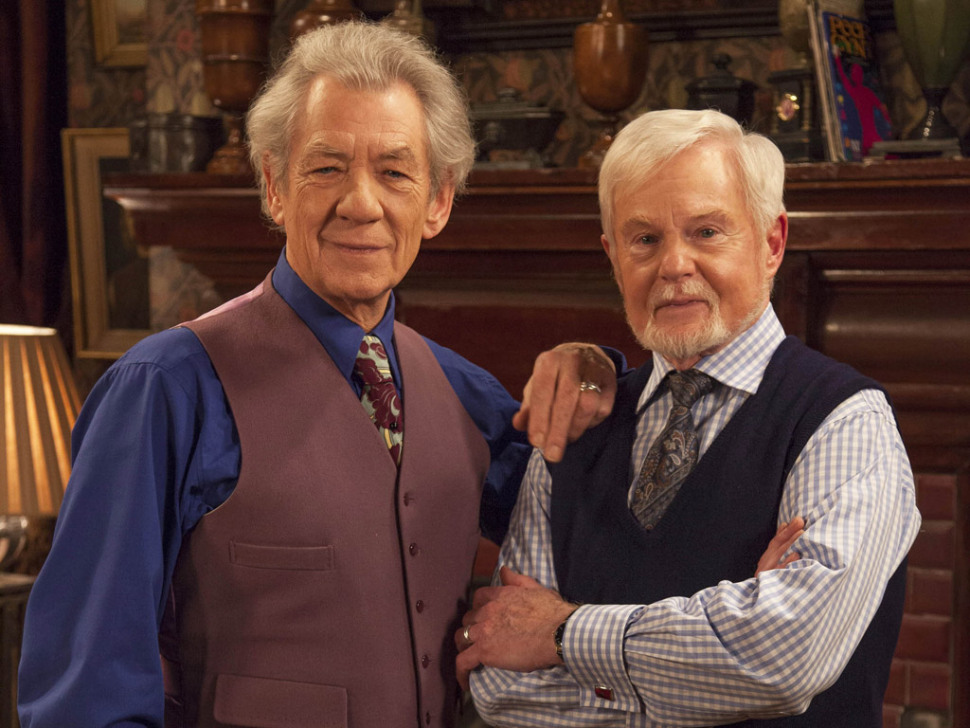 The highly anticipated second season of
Vicious
, the ITV sitcom starring acting legends
Sir Ian McKellen
and
Sir Derek Jacobi
as a bickering, co-dependent gay couple is coming to America at last!
This is great news, since we've been waiting quite a while for the show to continue – Season 2 was commissioned way back in September 2013 and originally aired here in the US last summer. Due to the very busy schedules of both its leads, it took quite a bit of time for new episodes to be produced, but now we can finally see the continuing adventures of Freddie and Stuart for ourselves. 
So, here's the deal: Season 2 will officially debut on PBS stations nationwide at the end of August. There's a tricky bit though - if you're a Vicious fan you absolutely need to check in with your local station about when you can expect to see the show. As many of you probably know, August is usually a pledge period for many public television stations around the country, and while you may see August 23 announced as a national premiere date, it's very possible that that could actually change where you live.
For example, here in the DC area, Vicious Season 2 will get under way on Sunday, August 30 at 10:30pm when we'll air the first and second episodes of the season back to back. This is because we're still in the middle of a pledge drive on the 23rd, and, therefore, things have to be shuffled around a bit. I'm very positive we're not the only station that's in this situation, so please make sure you ask your local station about the premiere date.
The second season will be comprised of six episodes, and will see Freddie and Stuart attempt to deal with many changes in the lives of their friends. Violet has married a mystery man who now seems to have gone AWOL. Ash is all loved up with new girlfriend Jess (played by guest star Georgia King). And ditzy Penelope and no nonsense Mason continue to be baffled by everyone around them. Throughout the new series we'll see our family of friends try ballroom dancing, discover what the inside of a gym looks like and try sushi for the very first time.
Plus, the always amazing Celia Imrie is going to be popping up as Violet's sister. So there's a lot to look forward to!
Check out the new PBS preview for Season 2 below: 
[This video is no longer available.]
What do you think? Are you looking forward to more Vicious? 
---
By
for on August 5th, 2015
More to Love from Telly Visions