By
for on September 6th, 2023
Allen Leech Turns Detective in 'The Vanishing Triangle'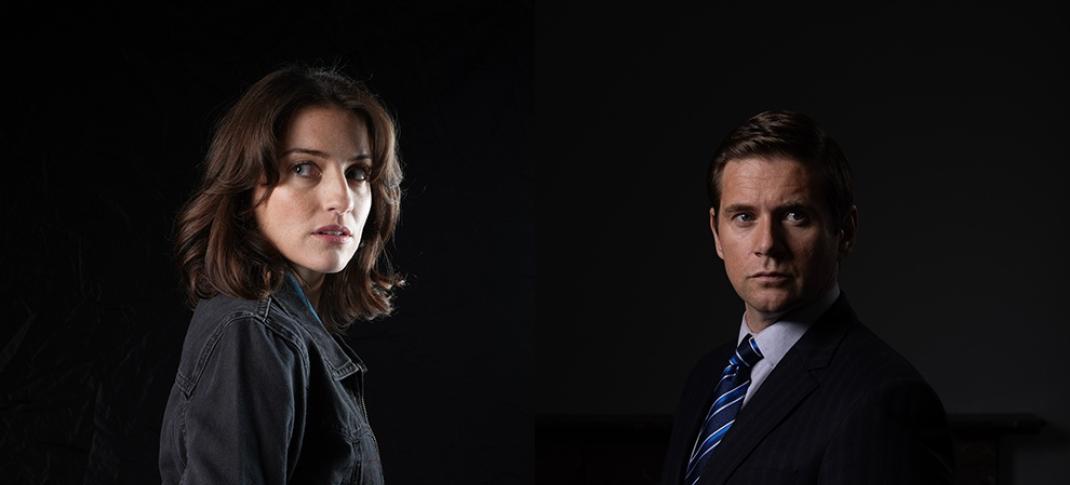 Sundance Now has picked up the upcoming true-crime thriller The Vanishing Triangle just in time for Spooky Season. The six-part mystery series stars Downton Abbey fan-favorite Allen Leech as DCI David Burke, one half of the fictionalized investigative team who will guide viewers on a journey through some of the most famous unsolved set of disappearances relating to Ireland's famous "Vanishing Triangle" area. Leech will be joined by India Mullen (Normal People) as investigative journalist Lisa Wallace, who is determined to find answers.
Ireland's so-called "Vanishing Triangle" was initially dubbed as such by the media in the mid-1990s as the number of reported disappearances of young women between 1993-1998 began to skyrocket along Ireland's eastern shore. The "triangle" mostly covers the Leinster area, with cases as far north as Dundalk (along the border of Ireland and Northern Ireland), as far south as Bridgetown on the Irish Sea coast, and coming to a point in Tullamore in the midlands region of County Offaly. These murders first caught national and then international attention in 1993, when American woman Annie McCarrick was reported missing, with eight more disappearances bearing the same hallmarks occurring at regular intervals through 1998.
Currently, twelve cases in all are linked to the "Vanishing Triangle," with three more disappearances prior to 1993 believed to be part of the overall scope, going as far back as 1987. The disappearances ceased in 1998 after the Gardia launched "Operation Trace," looking into violent men who "have shown serious sexual violence against women." Despite the manhunt, the killer (or multiple killers; the Gardia never confirmed this was the work of one person) has never been identified.
Here's the series synopsis:
After publishing an article about her mother's murder, Journalist Lisa Wallace gets a chilling letter from the killer, taunting her with pictures of the murder and of a new victim. Soon, news comes of Amy Reynolds, a woman who's gone missing. Lisa and Detective David Burkely begin fighting through Garda red tape as more girls go missing. Meanwhile, the killer plays psychological torture games with Lisa, making her choose his victims and even threatening her in person. Lisa and David's path leads them into the crosshairs of the deeply corrupted core of the Garda. To cover their tracks, high-ranking Garda members blackmail David with his own secrets. This threatens to destroy them both as they get closer to facing off with the killer who murdered Lisa's mother all those years ago.
Leech and Mullen are joined by an ensemble cast of Adam Richardson (The Dry), Sarah Carroll (Sanctuary), Stephen Hogan (Ridley Road), Fionnuala Murphy (Game of Thrones), Philip O'Sullivan (Harry Wild), Maura Foley (Kin), Kiera Crawford (Clean Sweep), Laoise Sweeney (Dead Canny), Carolyn Donnelly (As Luck Would Have It), and Brian Moore (The Irish Mob). Park Films co-founder Ivan Kavanagh (Son) is the series creator and co-wrote all six episodes alongside Sally Tatchell (The Bay) and Rachel Anthony (Lucky Man). Director Imogen Murphy (Dead Still) helmed five out of six episodes.
Originally developed by Park Films and Screen Ireland, the series is a joint production from Ireland's Park Films, the U.S.'s Paper Plane Productions, and the UK's 87 Films, with Sundance Now and Virgin Media signing on to stream the series before filming began. Murphy and Leech are credited as executive producers, the latter for Park Films along with AnneMarie Naughton and Ana Habajec, Alon Aranya for Paper Plane, Patrick Irwin for 87 Films, and Adam Barth and Lucy Roberts for Eccho Rights. 
The Vanishing Triangle premieres with two episodes on Thursday, September 28, followed by one a week through October 26, 2023.
---
By
for on September 6th, 2023
More to Love from Telly Visions