By
for on August 30th, 2023
Adrian Scarborough Delights In Season 2 of 'The Chelsea Detective'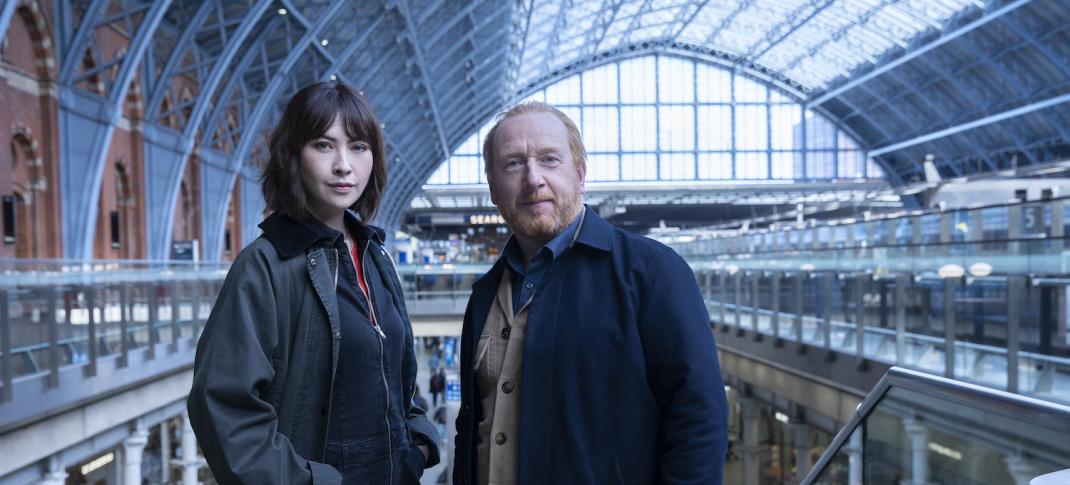 Acorn TV's The Chelsea Detective is back for a second season, and the good news is that it's better than ever. Season 2 still offers complex plots but features a tighter feel, fewer yawning holes, and a diverse cast that includes several much-loved stars of British TV, all against the spectacular backgrounds of the River Thames and west London. Directed by Richard Signy (Death in Paradise) and Sarah Esdaile (Call the Midwife) and written by Glen Laker (Vera), Peter Fincham, Liz Lake (Riviera), and Laura Poliakoff (Devils), Season 2 consists of four feature-length episodes, as new cast member Vanessa Emme (Dublin Murders) replaces Season 1's Sonita Henry, who played DS Priya Shamsie.
As Season 2 begins, the elite of Chelsea gather at a high-end art gallery for a private showing of a new exhibit of East German twentieth-century art. Gallery owner Rebekah Chaban (Rachael Stirling) arrives with her super-wealthy husband Benoit (Felicien Juttner), checking in with her PA Cassie Lyall (Emma Cunniffe), in charge of the catering. Once, they were close friends, but Rebekah's marriage and attitude as Cassie's employer have changed the relationship.
Greg Milton-Elwes (Tomiwa Edun), who runs the gallery with husband Chris Milton-Elwes (Samuel Holmes), chats up a stranger, Toby Hansard (Jack Ashton). Toby is alone, out of place. He lacks the others' posh accents, and we learn later he's Rebekah's fitness trainer. Whether Greg is being genuinely friendly/doing his job of welcoming potential buyers/hitting on him, we don't know, but Toby rebuffs him, more interested in the art. Later that night, Greg returns to the gallery to check the security system was properly set and finds Chris dead, with four of the pictures missing, three cut out of their frames, including The Blue Room.
Esme's DS Layla Walsh joins the team as they're called in, meeting DC Jess Lombard (Lucy Phelps), DC Connor Pollock (Peter Bankolé), and Chief Forensics Officer Ashley Wilton (Sophie Stone). But, as in Season 1, Adrian Scarborough (Killing Eve) as DI Max Arnold is the heart of the show. He's short, ginger, bearded, eccentric, a lover of coffee, books, Bach, and vinyl; Max prefers his bicycle to a car, carefully signaling turns even if no other traffic is around. Diligent and sardonic, Max learned to use his dyslexia to pick up on visual cues, his phone camera at the ready.
Max lives aboard a slightly scruffy houseboat; Chelsea is known as a glamorous spot inhabited by the very wealthy, and property prices are exceptionally high, with residences ranging from historic mansions to narrow Edwardian and Victorian terrace houses (initially built for working-class inhabitants) to modern high-rise apartment towers. That being said, the population is diverse, with all the problems of any London community. As in Season 1, he still yearns after his estranged wife, Astrid Fischer (Anamaria Marinca), and is besties with his Aunt Olivia (Frances Barber), currently cutting a swathe through the female population of Chelsea, hinting her nephew should do the same.  
Astrid is Max's art expert on call. She saw the exhibit poster of The Blue Room and texted him. It's her favorite art period; she wasn't angling for a plus-one. This is Astrid and Max in a nutshell; they adore each other as much as they annoy and hurt the other. She didn't attend the opening as she bid to show the exhibition in her gallery, but the Chabans muscled in, grabbing the opportunity despite not having a gallery yet. (Their new building was previously the Olive Branch, a restaurant Astrid and Max loved.) As an art professional, she points out that Chris would never have risked damage by cutting paintings. Also, once a painting is stolen, its value increases dramatically.
Max and Layla interview the Chabans, who live in a huge spectacular house, complete with a climate-controlled special vault in which to store art. On the way out, Layla recognizes the Chabons' driver, Roy Colin (Kevin Eldon, Rev. Hankins in Sanditon), an ex-cop suspected of helping himself to embezzled funds. The station rallied behind Roy except for Layla, who was ostracized, hence her move to London, about which she isn't altogether happy. Roy himself left the force soon after. He has an alibi for the time of the murder, as apparently does everyone else.
Greg is interviewed about his husband's murder and the Eurostar tickets to Paris in his pocket. He wasn't worried about Chris being out all night, but he had noticed him talking to Toby. Chief Forensics Officer Ashley Wilton (Sophie Stone) reports that Chris died of manual strangulation that fractured his hyoid, but in addition, he had a brain tumor and possibly had less than a year to live. Greg is baffled. He had no idea, and he suspects Chris didn't know about it.
Jess and Connor consult an expert in stolen art, dealer Gulliver Bauer (Jonny Phillips), who's heard nothing of the stolen paintings and, although he has done business with the Chabans, has no further information. Flaunting his superior education and status, Connor quotes Latin at Jess to impress her; Jess quotes Latin back to him: Audere est facere (to dare is to do). Connor is very impressed until Jess tells him it's the motto of Tottenham Hotspurs' football team, which she memorized from her boyfriend's tattoo.
Rebekah becomes trapped in her paintings vault when the power goes out, leaving her locked in with no phone, light, or oxygen supply. When she's found the next day, she's rushed to hospital, as Max and Layla examine the paintings and ask Astrid to identify if any are stolen. She finds one, a portrait of a woman stolen years ago from an exhibit in Madrid. Rebekah claims she was protecting it from the black market. ("How noble," Max comments). She also reveals that her wealth, not Benoit's, supports their lifestyle. Unsurprisingly, this B plot is over Benoit's jealousy at her affair with Toby, of which he has photographic evidence. (Since we can't see said photos, they must be absolutely filthy.)
Benoit receives a ransom demand for the paintings, almost certainly fake, and arrives at a parking garage the next night with a bag of cash, which he leaves behind a pillar and drives away, recorded by Max and Layla. Another car drives up, and a young woman in black has a quick conversation on her phone and then grabs the bag and runs, pursued by Max and Layla, who loses her when she speeds away on a motorcycle.
Layla examines the footage from the parking garage and has a bright idea. She visits Ashley and asks her to lipread the young woman's side of the conversation, and Ashley teases her, pretending to be offended, and then gets down to business. The address is that of crooked ex-cop Roy Colin, and the woman is his daughter Kitty (Ella Gilling). Layla interviews Roy, and they have an odd rapport, two exiles from Exeter making the best of London. He doesn't have the paintings, but she arrests him for blackmail despite his protests that he was her mentor. (She doesn't think so).
Max realizes there's a reflection of a car showing in the glass of Astrid's texted photo, not the Chabans' Rolls-Royce but Greg's car right when he claimed he was at home. Greg admits Chris knew he was dying, his last wish was to return the picture, painted by his great-grandfather, to his family. Max realizes Chris left intact a service doorway concealed by a bookcase leading to the paintings and Toby's bloodstained jacket. Toby makes a break for it, but they arrest him. Astrid's suggestion Chris would be angry about cutting the canvases was correct. The two men fought, and Toby became enraged when Chris jeered at him, making fun of his accent; as they came from the same lower-class background. Case closed. 
Much like this first mystery, the other three feature Max, Layla, and the team investigating a luxury senior home which may or may not be acting illegally, a death that brings up the bloody history of apartheid in South Africa, and an entrepreneur's controversial attempt to make the noble sport of sculling more accessible to a new, young audience, which may not be as altruistic as it seems. Veteran stars Simon Williams (EastEnders), Rupert Vansittart (Yohn Royce, Game of Thrones), Sian Phillips, who memorably portrayed Livia in I Claudius (1976), and Ella Bruccoleri (Sister Frances in Call The Midwife). 
Meanwhile, Max, at home on the barge, has prepared a modest dinner for himself when he receives a call from Astrid. She's off to Richmond (via the pretty, sparkly Chelsea Bridge we see so often in this series). She's found that the Olive Branch moved there and invites Max to accompany her. Naturally, they argue about what time she should pick him up and whether it's actually a date, mostly from force of habit.
The first episode of The Chelsea Detective Season 2 is streaming on Acorn TV. Three more episodes will be released weekly every Monday through September 18, 2023.
---
By
for on August 30th, 2023
More to Love from Telly Visions