By
for on September 3rd, 2023
'Van der Valk's "Freedom in Amsterdam" Begins a Wild Urban Adventure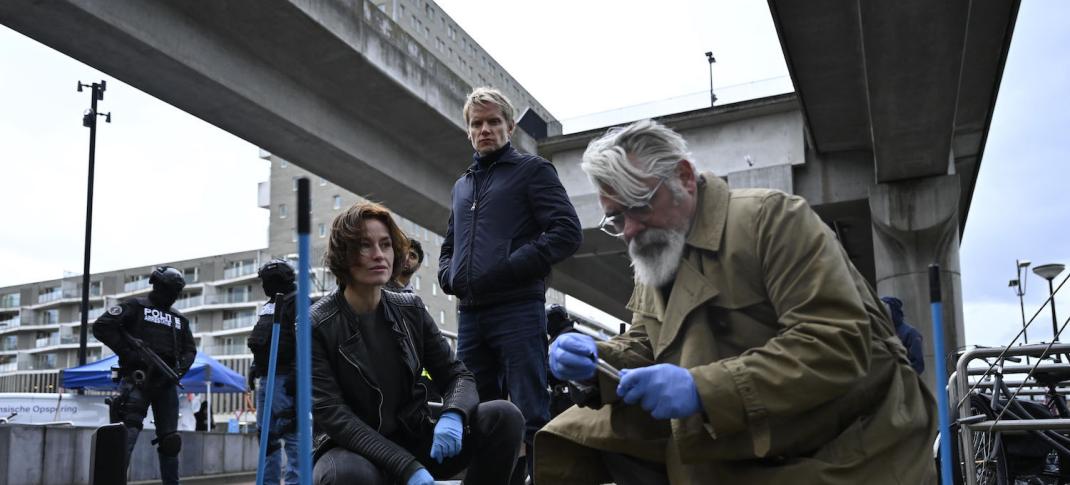 Van der Valk is back on our screens with a new time, format, and cast changes. Season 3 aired initially as three feature-length episodes in the U.K., the same as Seasons 1 and 2, but due to the PBS schedule, it has been edited to run as six installments, three two-parters. (PBS Passport members can still view the series in its original format.) It's Based on a series of novels by Nicholas Freeling. The series stars Marc Warren (Beecham House) in the titular role, penned by Chris Murray (Cannes Confidential), directed by Michiel van Jaarsveld (Stellenbosch), and filmed entirely on location in Amsterdam and surrounding areas.
Van der Valk: He's either very good or very lucky.
Commissaris Piet Van der Valk's brusque manner and perpetual frown hide a surprising, if rarely shown, empathy and sharp intelligence. He's not an easy boss, but he acknowledges good work from his crew. However, he's discomfited when his opponent in an impromptu outdoor chess game turns out to be his new Sergeant Eddie Suleman (Azan Ahmed). Even more embarrassingly, he believed Eddie's claim that he would win in his next four moves and now isn't sure whether that was true or a trick him into conceding the game. 
Eddie is keen to prove himself and gets the opportunity to do so when he is called out on a murder case that brings the team into the competitive world of Freerunning. Wikipedia defines Freerunning as "... an athletic and acrobatic discipline incorporating an aesthetic element and can be considered either a sport or a performance art, or both." Or, as Freerunner Gert Holst (Josh Bolt) explains, "It's an individual using his or her urban environment, wherever it is, whatever it is, to express themselves with freedom."
The Amsterdam Freerunning community is thrilled that Casper Yuliani (Patrick Aliev) won the Dutch championship; he's heading to Paris to compete internationally with girlfriend Marian Segers (Simone Giel), along with couple Sanne van Arle (Rita Bernard-Shaw) and Milton Paul (Roger Jean Nsengiyumva). As they leave, Casper tells Marian he has good news — Milton helped with "their problem," and they're free. Their elation doesn't last as a bullet through the windscreen kills Casper and Marian is injured. Sanne is on a video call with Marian, as Milton sees the shooting from a metro station above the road and runs, terrified.
When Van der Valk, Lucienne Hassell (Mamie McCoy), and Eddie arrive at the scene, they find pathologist examiner Hendrik Davie (Darrell D'Silva) already at work along with Traffic Sergeant Citra Li (Django Chan-Reeves). Hendrik announces she's "Bright as a button and twice as smart." Sanne receives a call from Milton's burner phone, telling her not to tell the police anything; she lies to Van der Valk it was "a call from a concerned friend" as he takes her to the hospital to see Marian. 
Van der Valk is taken aback to find his former girlfriend, Lena Linderman (Loes Haverkort), is Marian's doctor. The pair spar together; Van der Valk is still stubborn (according to her), and she's still evasive (according to him) until she offers to call him when Marian has improved, and he squeezes out a grudging thank-you.
Eddie and Lucienne break the news to Casper's father, Greg Yuliani (Loek Peters). He was Casper's manager and promoter and mentions Milton, who came in second in the Amsterdam competition, was his son's best friend and rival. Marian had been with Casper only briefly after ending her relationship with his mentor, the inventor of Freerunning, Lenny Holst (Thoren Ferguson).
Back at the station, Hoofdcommissaris Julia Dahlman (Emma Fielding) presents Van der Valk with a report from first responder Citra: "Detailed, accurate, and best of all, prompt. You could do well to take note." Grumpily, he puts it aside, noting they don't need any more officers. Citra entertains herself by trying to play Henrik's saxophone before being summoned to meet with Julia, who promptly hires her as part of the team. (We learn later Henrik was friends with Citra's parents; her mother died of cancer, and her father abandoned her.)
Gert breaks the news about Casper's death to older brother Lenny (now retired following a severe injury) and his group of Freerunners, but when Van der Valk and Lucienne show up, they are already back at work. Casper used to be part of the group, but they haven't seen him following a difference of opinion of what Freerunning represents. To them, it's a philosophy, an art form, but Casper made it all about money. There's a familiar face among the Freerunners: Finn Jonker (Chiem Vreeken), a known criminal. He claims he's a changed man, thanks to Lenny.
Stream Now
Van der Valk
Marc Warren stars in Van der Valk, an all-new series based on Nicolas Freeling's legendary
Image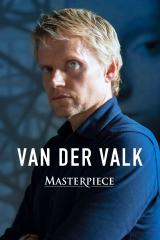 Lena texts that Marianne's awake and able to be interviewed. Lucienne accompanies Van der Valk to the hospital, where Sanne, who's just had a phone call with Milton, is visiting. Marian claims this is her fault but won't explain as Sanne leaves. The detectives ask about Milton, who they've seen on the metro station footage, and Marian's break-up with Lenny, but she cries until Lena tells them to leave.
Citra and Eddie follow Sanne and discover she's meeting Milton. Eddie takes the initiative to step out of hiding, a bad move; as Citra points out, they are Freerunners. Eddie does pretty well until he's faced with one particularly wide gap between storage containers and loses them; however, the pair are intercepted by Van der Valk and Lucienne driving in. Sanne is openly hostile, but Milton claims he came to wish Casper well and wanted to give him a crucifix.
As the team discovers Lenny's police records show a huge amount of drug activity, Citra sees Marian's phone, in the evidence pile, receiving threatening texts. As they head to the hospital, Lena tells Marian that her family has been in touch, except Marian's family isn't around. A gunshot shatters the window as the team arrives. Chaos erupts, the shooter disappears and Marian runs off. As she exits the hospital, someone knocks her unconscious, and the episode abruptly ends.
---
By
for on September 3rd, 2023
More to Love from Telly Visions