By
for on June 27th, 2021
'Us' Part Two Recap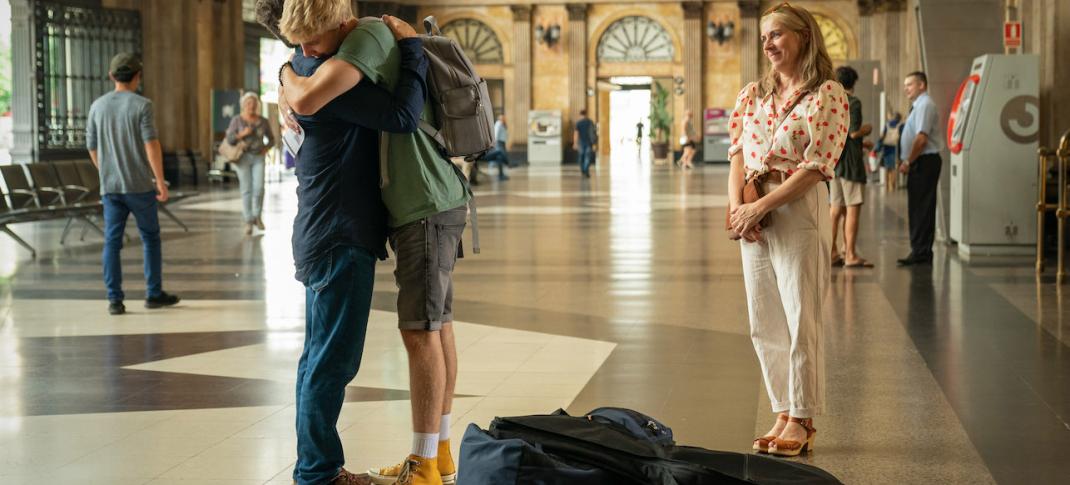 I don't know about you but this installment of Us was quite a rollercoaster for me. Douglas trying so hard to show how he can change, witnessing the unbearable pain he and Connie suffered early in their marriage and the sadness for both of them of letting go of the person you assumed you'd grow old with.
Before we jump into this week's eventful episode, let's take a quick look back at what brought us to this point. Douglas and Connie Petersen's marriage is on its last legs. The couple agrees to go ahead with a planned family holiday with their son Albie before he heads off to university. Douglas hopes this trip will allow him to bond with his aloof teenager and win back his wife. Alas, their trek becomes more fraught with tension as they journey farther into Europe. By Amsterdam, his angry and disappointed family has given up on the vacation. Douglas, however, refuses to admit defeat and follows the meager clues Albie has left behind in hopes of finding his only child and making amends. The full recap can be found here.
The emotional second half of Us begins with a recent flashback, a pub quiz night fundraiser at Albie's school. Douglas arrives to find that Connie and Albie have joined up with another team. An intellectually competitive Douglas takes over, arrogantly answering a majority of the questions. When Connie's team wins by a point, Douglas can't let it be and demands a recount.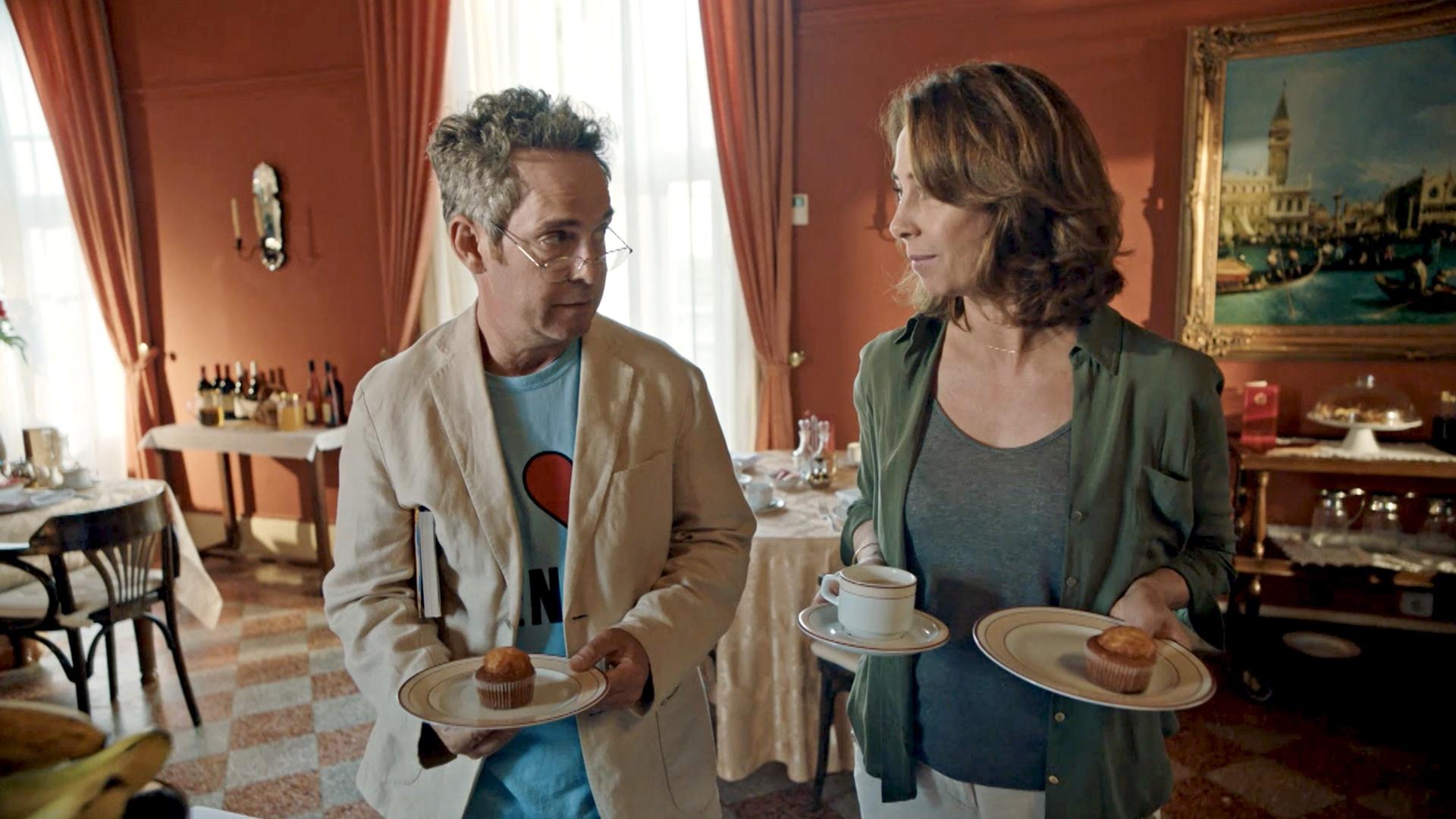 Back in Venice, Douglas and Freja cross paths again at the hotel buffet where they compare their lonely tourist stories. Freja obviously enjoys his company and invites Mr. Petersen to come sightseeing with her. We learn that she and her ex had a dental practice in Copenhagen and her husband left her for a hygienist. Freja's philosophy on breaking up is that it's undignified to hold onto the sleeve of one who wants to leave. Their pleasant morning is interrupted by a call from Connie, who has discovered a video online of Albie busking. Douglas recognizes the spot and abruptly departs to go look for his son, but the boy has moved on.
Later, Douglas goes to Freja's room to ask her to dinner on her last night in Venice. Connie calls again, but this time, Douglas ignores it. They share stories about their families and Douglas reveals that his infant daughter died of sepsis shortly after her premature birth.  Douglas's recollection of taking Jane's memory box to the car and sobbing at the sight of the baby seat in the back was heartbreaking.
He and Freja end up sharing a bed, albeit clothed. Douglas waits for her to fall asleep and then returns Connie's call. She tells him Albie has left Venice, possibly for Siena. Upset with himself for losing sight of his mission, Douglas leaves Freja with a kind note, another French exit of sorts.
Once at the train station, a starving Douglas miscalculates how long it will take for him to grab a bite at a café on the platform. His train departs with his knapsack of belongings on board. With only his passport, a handful of cash, and his dying mobile, he finds his way to Siena and falls asleep in the sunny town square.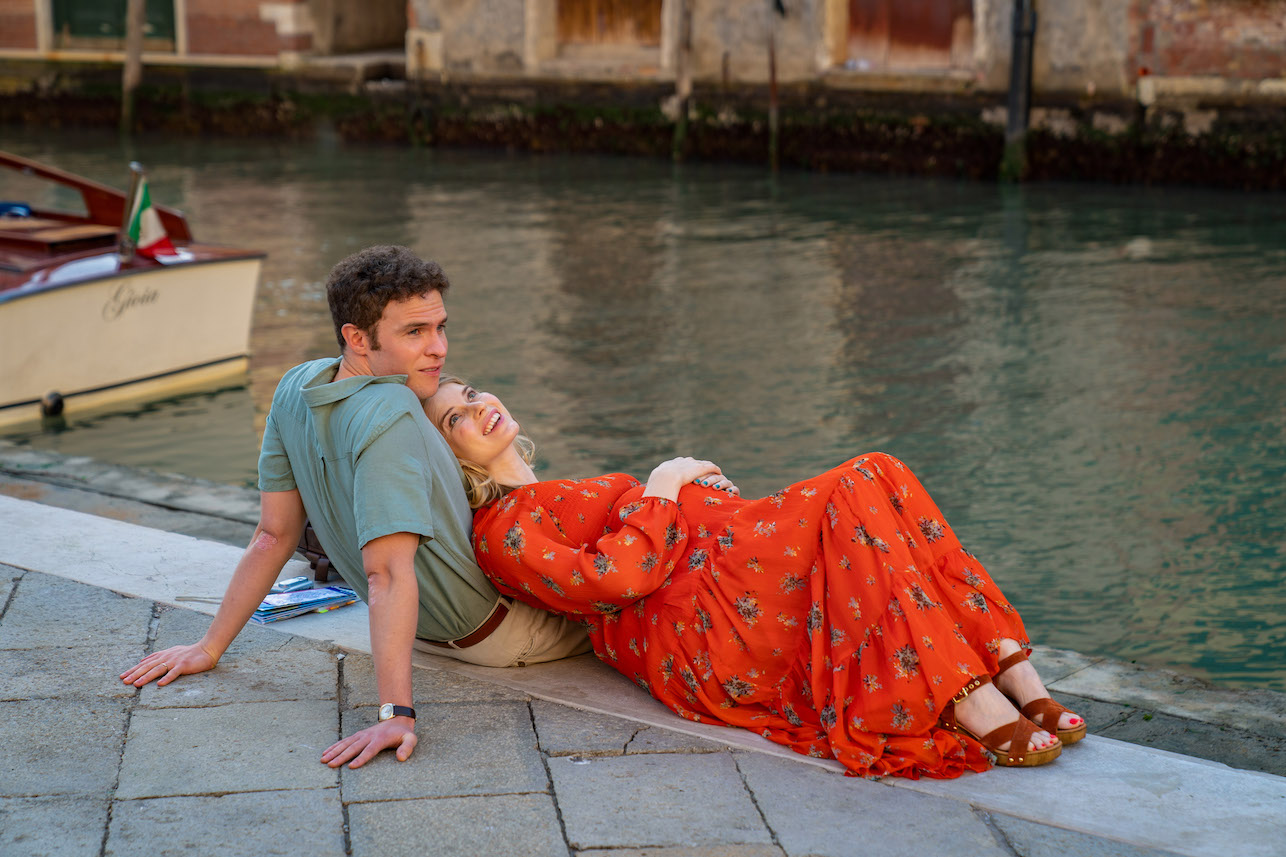 In a strange but ultimately fortunate coincidence, Douglas happens upon Kat playing her banjo for an appreciative crowd. Desperate to find out where Albie might be, he interrupts her performance, causing a tussle that attracts the attention of passing policemen. They arrest Kat for busking without a permit and take Douglas along to the station as well.
As they wait in the holding area, Kat discloses that she and Albie broke up and that he moved on to Barcelona. The pair are released by the cops but, as he's without funds at the moment, Douglas asks if he can stay the night in one of the cells. With his phone recharged by a sympathetic officer, he calls Connie to tell her he's coming home.
The next morning, however, Kat is waiting outside the police station with a plan in mind. She's sent a text to Albie suggesting she's pregnant and arranged a meeting near the "magic fountain" in Barcelona. Douglas can't pass up this chance, so with his money situation somehow suddenly rectified, he heads Spain-ward to reunite with his son.
We see flashbacks of Douglas and a depressed Connie going to Barcelona on holiday and then the birth of Albie before father and son rendezvous at the prearranged and rather spectacular fountain. Albie is angry at being tricked and still hurt by - well, a lot of things actually. The kerfuffle in Amsterdam, feeling that Douglas preferred the memory of his dead sister to him and an incident with their very different approaches to Lego building.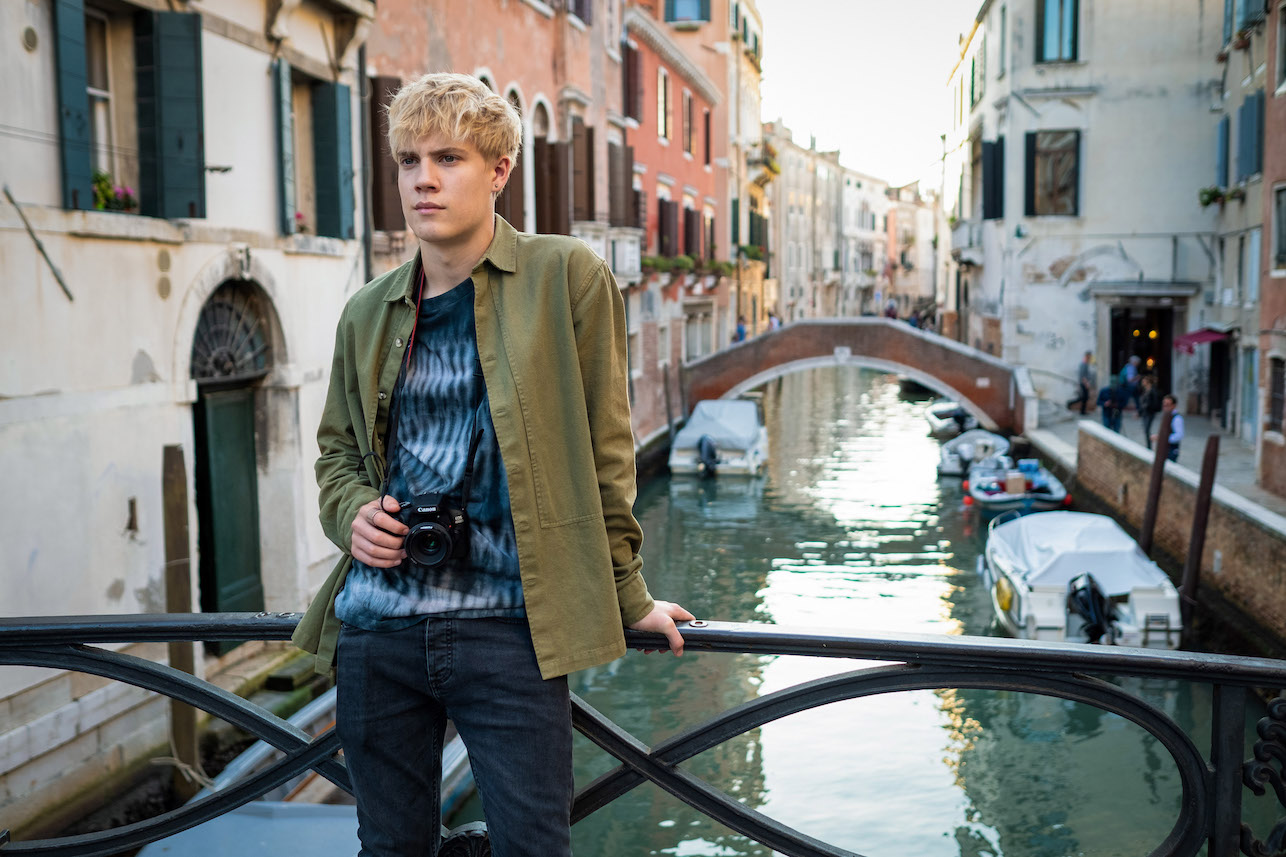 Douglas, rather uncharacteristically, takes the criticism pretty well and makes it clear he loves his boy very much. Albie softens towards his father. They go out to a nightclub together and Douglas loosens up a bit. He also notices his son flirting with a man at the bar and it suddenly becomes clear. Douglas approaches Albie about his sexual orientation, saying he's only sad that he didn't feel could come out to them. Albie said he didn't want to disappoint him again. They party til morning and then they leave the city for a final day at the beach before Douglas heads home to England.
While sunbathing Douglas gets too hot and decides to take a dip in the sea before returning to the hotel room. He's having a pleasant time until he floats into a school of jellyfish, sustaining some rather nasty stings. He leaves Albie on the beach and, while alone in the hotel room, has a scary cardiac episode. Worried about his dad, Albie comes up to the room to find him on the floor in massive pain. The young man calls for an ambulance and lies next to Douglas while they wait for help.
urns out Douglas must undergo a procedure to put a stint in. (In hindsight, he's been showing signs of heart problems ever since he set off to find his wayward teenager.) Albie stays by his side at the hospital and the next day, once he's come out of the anesthesia, Connie is right there as well. Albie finds his parents a nice flat to stay in until Douglas's medical restrictions are lifted. Proof of their improved relationship is that Albie gives Douglas a big hug when he leaves for Ibiza.
Douglas and Connie spend their time in Spain talking about changes they have to make – in diet, jobs, etc. and things look slightly hopeful. But back at home, reality sets in. He tries to make a case for Connie to stay but she doesn't sound convinced.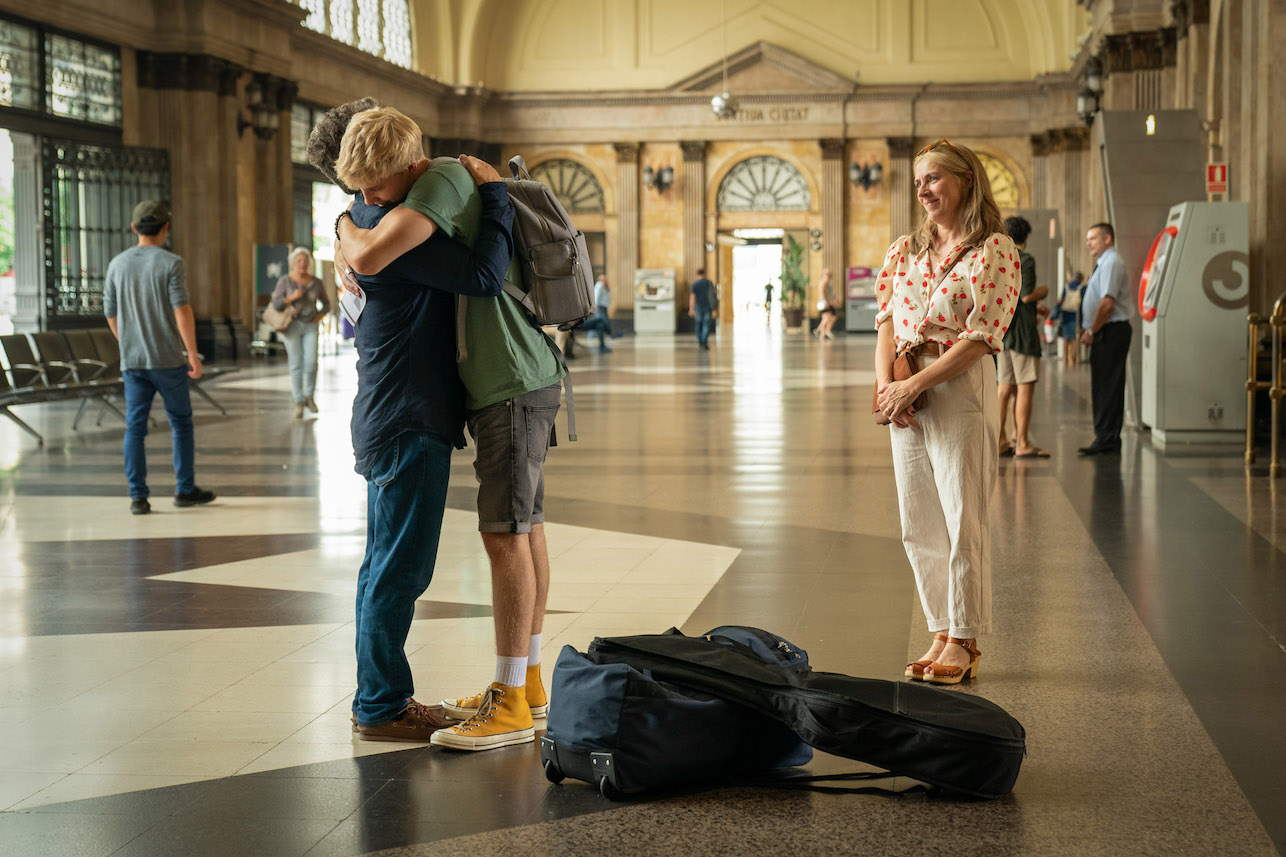 Apparently, weeks go by and the next time we see the Petersens dropping Albie off at university with a nice big group hug and crying in the car afterward. (How well I remember doing the same with my kids.)
And then maybe the most poignant moment of all, the couple return home to divvy up their belongings. Douglas and Connie are really breaking up! They toast to all the holidays, play old mix tapes and have one last intimate night together.
And in the morning, it's over. Douglas gives Connie Jane's memory box to keep.  Connie delivers that lovely pep talk about how marrying him was the best thing she'd ever done and how he mustn't think of their not lasting as a failure and life will go on being good. Oh my, I'm still crying as I write this.
But as Connie said, things are good. She and Douglas go to Albie's school photography exhibition- pictures of Douglas in hospital entitled Corazon to which he gives his seal of approval. It would appear the exes see one another on a regular basis which is comforting.
But what should probably come as no surprise is that Douglas and Freja are moving on together now. And that is also comforting because they seemed to suit one another from the moment they first met in Venice, didn't they?
Okay, I'm drained. How about you? Are you ready to pack your bags for a Grand Tour? Do you find yourself reevaluating your life? Well, perhaps not but if you enjoyed the series, I highly recommend reading the novel for more depth and detail. Let's discuss the journey of Us, both the geographical and emotional.
---
By
for on June 27th, 2021
More to Love from Telly Visions