By
for on June 20th, 2021
'Us' Part One Recap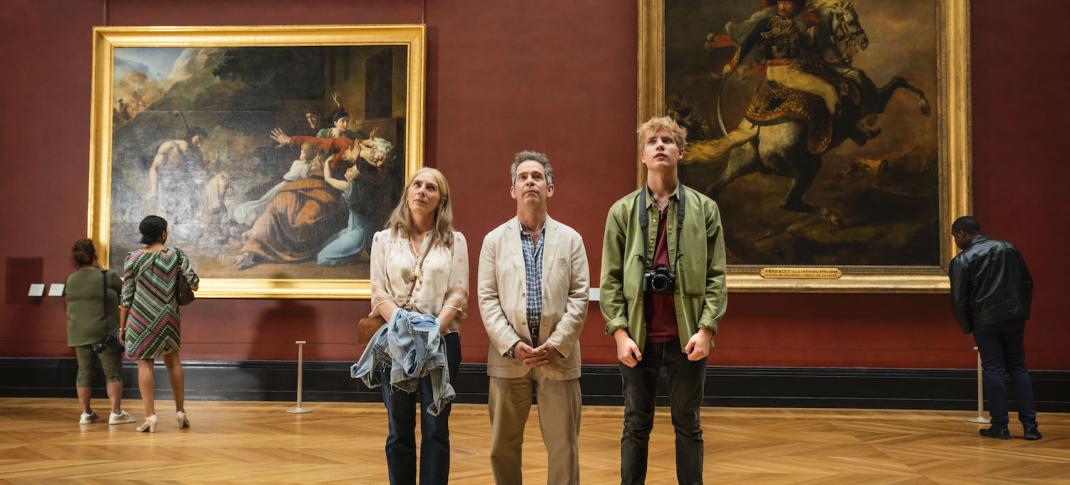 When I saw that Masterpiece was planning to broadcast the TV adaptation of David Nicholls's 2014 novel Us, I immediately put my hand up to write the recaps. I had read the book and listened to the audiobook narrated beautifully by actor David Haig so I was anxious to see how it would transfer to the small screen. The fact the Nicholls had also penned the episodes for the miniseries made me confident the project was in good hands.
What sealed the deal was the casting of Tom Hollander, who plays our protagonist, Douglas Petersen. I knew from past roles (particularly his starring turn in Rev) that he could nimbly walk the line between humor and heartbreak. But enough about my great affection for Us! Let's get on to the story.
Our very first glimpse into the life of a long-married couple, Douglas and Connie Petersen (Saskia Reeves), is not a happy one. Connie announces that she wants to leave the marriage. Their son Albie (Tom Taylor) will be going to university in the autumn and their relationship seems to have come to the end of its natural life.
Douglas is blindsided. As the couple hash this revelation out through the early hours of the morning, the fate of their impending family holiday, a three-week-long trek across the cultural capitals of Europe, must be decided. Douglas is hesitant to lose the deposits but concedes the trip would be a depressing proposition for everyone. After a cathartic jaunt to the dump, he's still not convinced that Connie's suggestion to go on the excursion for Albie's sake could be successfully endured.
That is until the next morning when the sight of Connie driving off to work lights a spark (of panic, most probably) in Douglas. He runs after her car, blocks traffic, and tells her he's changed his mind and agrees that they should go ahead with the holiday. He convinces himself this could be his opportunity to simultaneously bond with his moody, distant teenage son and, more importantly, win Connie back. Revealing his fun, spontaneous side might make Connie reconsider her decision to move on.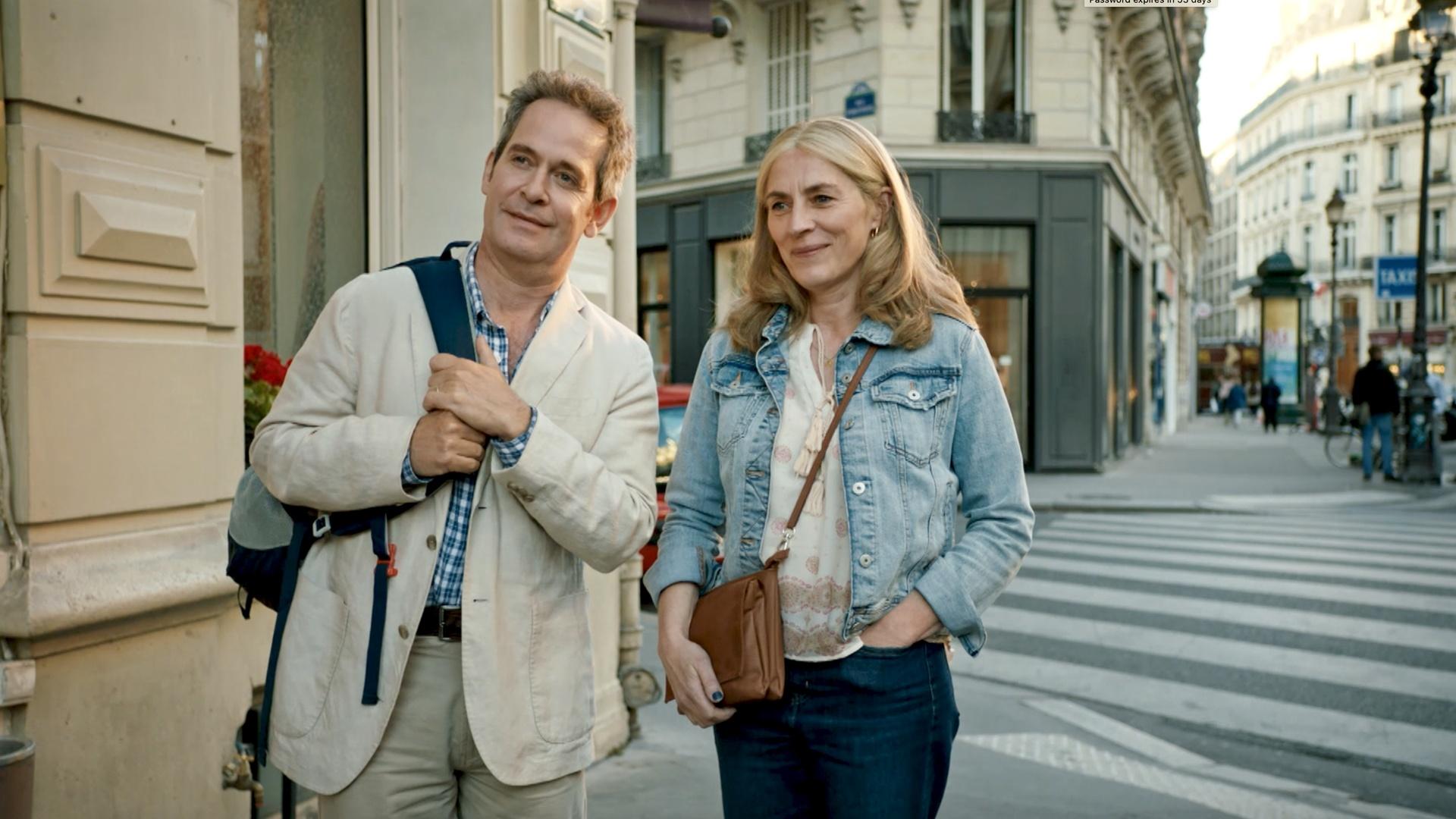 The problem is, as endearingly optimistic as Douglas is, he doesn't have an impulsive bone in his body. In contrast to his artistic wife and son Albie (who's dabbling in photography and music at the moment), dear old Doug is logical, practical, and a rule follower. As the Petersens set off through the Chunnel towards Paris, we may well wonder how Connie and Douglas managed to get together in the first place.
It was Douglas's sister who set things in motion by inviting him to a dinner party with a bunch of her bohemian friends. Straight-laced chemistry nerd Douglas stood out like a sore thumb, but aspiring painter Connie was a bit of a mess, just out of a bad relationship and a tad too familiar with booze and drugs. 
Over the course of several more flashbacks throughout the episode, we see that younger Douglas (Iain De Caestecker) not only has a stabilizing effect on younger Connie (Gina Bramhill), but possesses a rather unexpected sense of humor as well. She also finds his intelligence and passion for science a turn-on.  
Though still gun-shy in the commitment department, Connie confesses her love for Douglas, and he reciprocates. An undisclosed amount of time passes and, Douglas weds a very pregnant Connie.
Now back to the Grand Tour...
In Paris, Dad jokes fly fast and furious and Albie prefers to explore the City of Lights on his own. His parents actually have a nice evening out. Douglas lets go a bit and he and Connie ride electric scooters through the streets. Romance ensues and everyone gets lucky - despite how uncomfortable that may be for parents of a teenager to hear.
The next morning Albie introduces his parents to fellow street musician Kat (Thaddea Graham) who rubs Douglas the wrong way with her overly familiar and quirky manner and her buffet shoplifting.
At the Louvre Douglas struggles with how he's supposed to experience the art. (I get you, Douglas. More than once I've wondered how long I'm supposed to stare blankly at a painting.) He obviously feels like a third wheel.  Even trying to be more adventurous with food backfires when he inadvertently wipes chili sauce in his eyes. Douglas slips out of the restaurant, but Connie tracks him down. They discuss how confusing this endeavor has turned out to be, but both agree that they don't want to go home yet. So it's on to Amsterdam and plenty more father-son interactions fraught with tension and bickering.
The family check into a boutique hotel which everyone but Douglas insists is a brothel. They rent bikes and visit another museum which is a much more light-hearted outing than last time.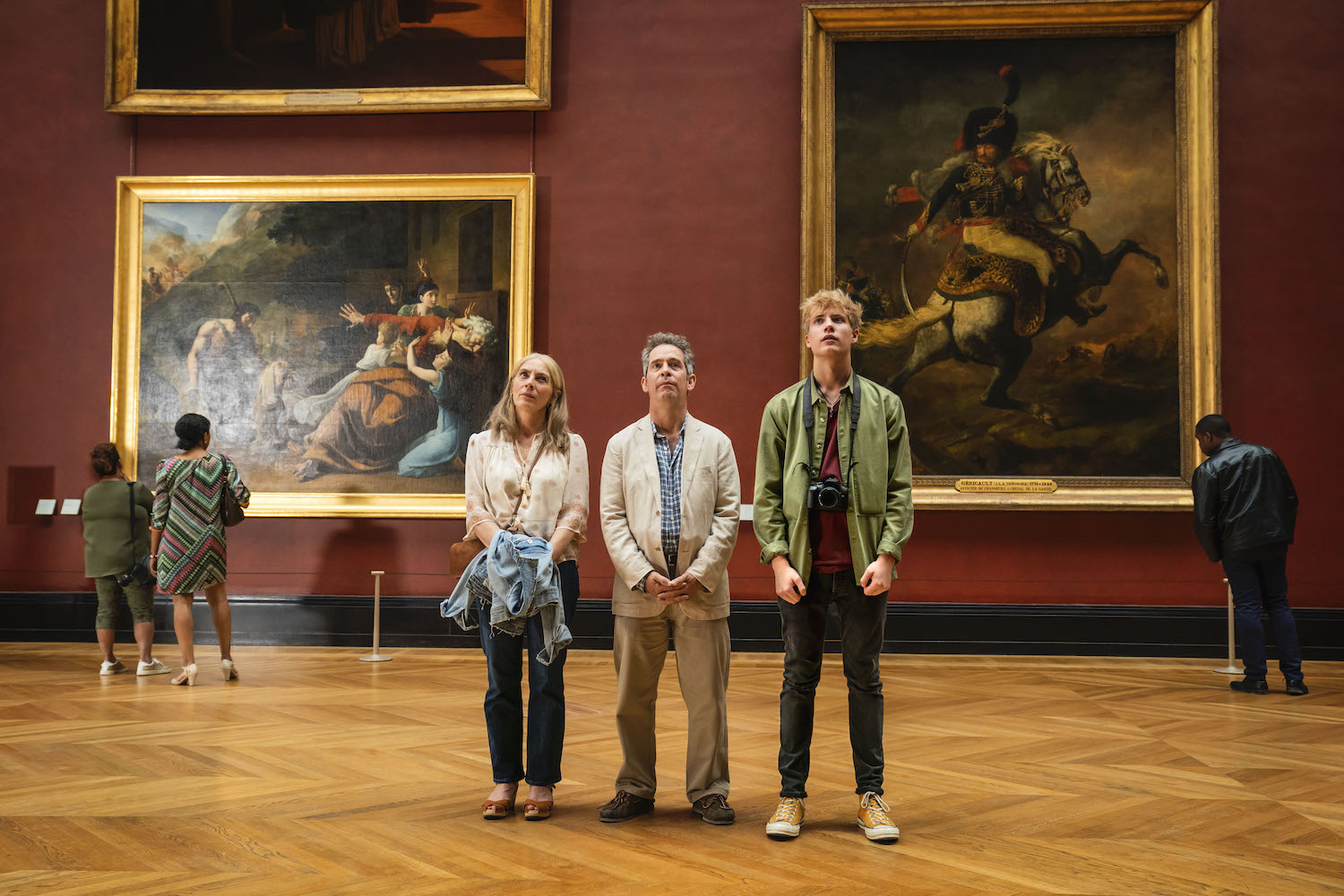 To Douglas's chagrin, Kat pops up again and offers to take the Petersens to a really great "coffee shop" she knows. Douglas bangs on about their itinerary and the Anne Frank house. But the good-time gang wins out and Douglas ends up moping around Amsterdam alone, banging up someone else's bike and getting rather drunk and a little high on his own. Too late he realizes that he should have just gone along with his family in the first place. It doesn't help that Albie ghosts his dad while assuring his mum that he's messaged Douglas as to their whereabouts.
Alas Douglas's moment of clarity doesn't last long. The next morning at breakfast, a table of rude, entitled businessmen harass a poor waitress. Kat goes over to stick up for the girl and then Albie enters into a full-blown tussle. Douglas intervenes, but rather than standing up for his son, he apologizes for his stupid behavior. Embarrassed and angry, Albie takes off. He leaves a note for his parents saying he's continuing through Europe without them and they shouldn't try to get in touch with him. Connie is also justifiably indignant and disappointed with Douglas. The Grand Tour is a bust and she's going home.
Despite a constant stream of previous misfortunes, Douglas catches a break when he receives a phone call from the hotel where they planned to stay in Venice. Albie contacted them to try and move up their reservation. Ever the cockeyed optimist, Douglas calls Connie as she's about to board the train home to say he's going on to Venice. He's going to find their son and finish what they started.
Once in Venice, Douglas spends the first day walking the city in a touristy t-shirt, recalling the events of his honeymoon 20 years ago and the unexpected early birth of their child.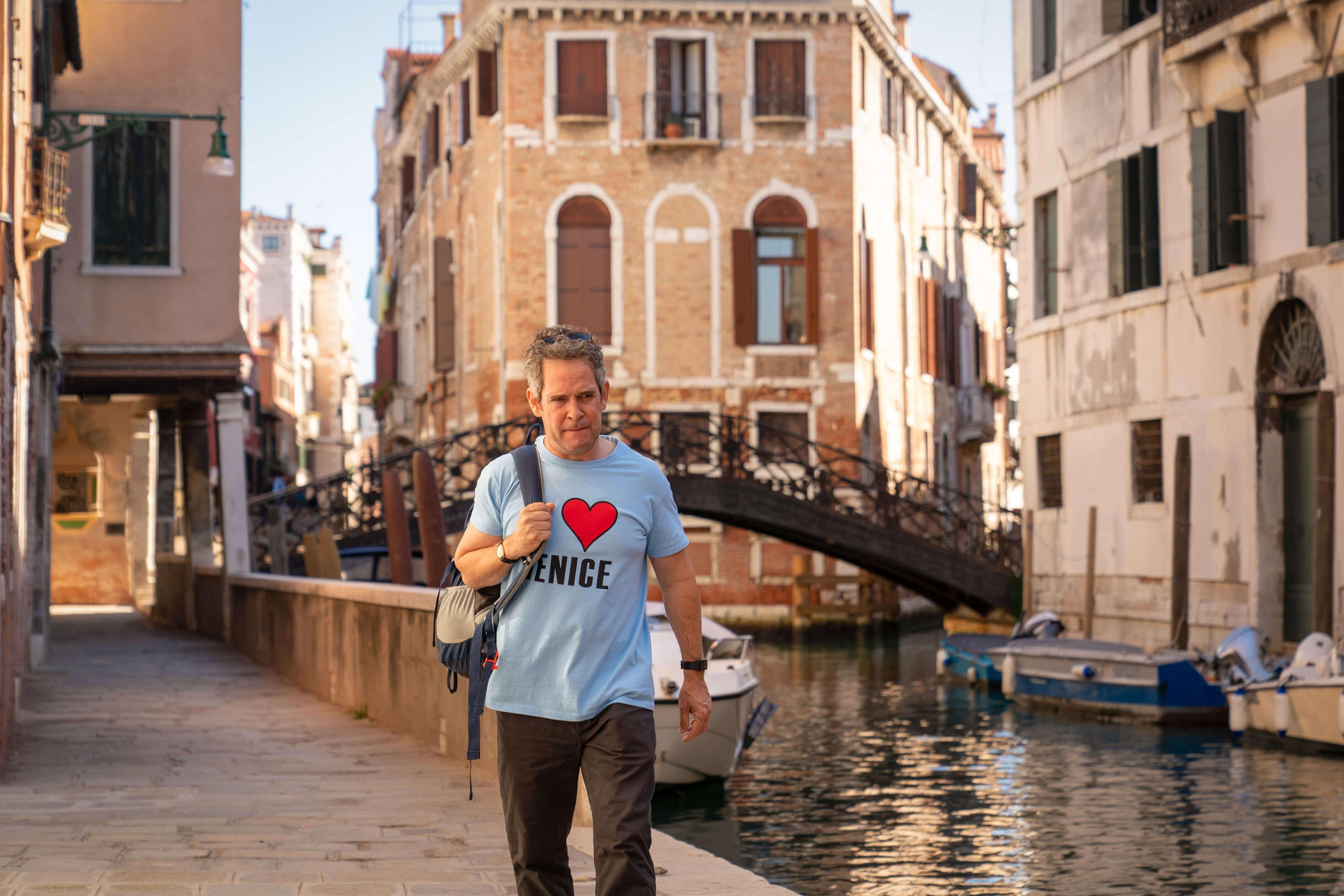 The next morning, he designs a methodic route around the city and makes copies of a picture of Albie to show other street musicians.  After several circuits, Douglas crosses paths with a fellow guest from the hotel. Freja (Sofie Gråbøl) is a recently divorced woman from Denmark who is exploring Italy on her own. She invites him to join her at a café and he shows her his plan which she seems to find perfectly logical.
At the end of the day, Douglas soaks his feet and talks to Connie on the phone. He feels that Albie is in Venice (he is, we've seen him), but she says it's because he wants him to be there. They're both tired and sad- about the breakdown of their marriage, the loss of their daughter (more on that next time), and the never-ending clashes between Douglas and the son he has desperately tried to connect with.
What a story for Father's Day, eh? How did you find this first installment? Has anyone else read the book? Do you relate more to one character than another? Let's chat about Us in the comments!
---
By
for on June 20th, 2021
More to Love from Telly Visions